CHESCA is all about creating unique moments and experiences. For her, it's about taking people into a fantasy world with every performance. The Puerto Rican pop star tells INLOVE Magazine that she has lots of new music underway and some big collaborations coming up.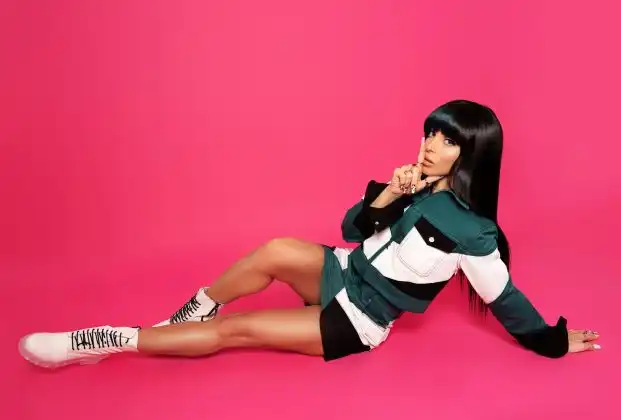 That's music to our ears. "Súbelo (Further Up)" with Static & Ben El and Pitbull, "Deja De Hablar," her debut single with Saban Music Group featuring Jon Z, and her electrifying performance of "Cinco De Mayo" at Univision's Premio Lo Nuestro 2020 with Pitbull, Lil Jon, and John Travolta is more than enough to whet our appetites. Fans recently got a taste of more when she and Pitbull teamed up again in October to do their version of "Te Quiero Baby (I Love You Baby)" on the Billboard Latin Music Award stage.
In between making new music, CHESCA is keeping fans happy with her live streams. "I continue to spread my voice and story to everyone who is inspired by what I do," she tells INLOVE.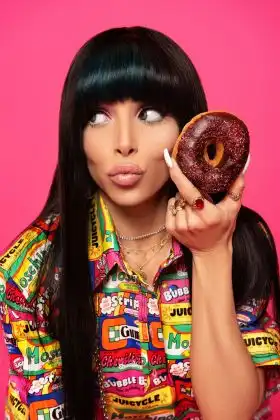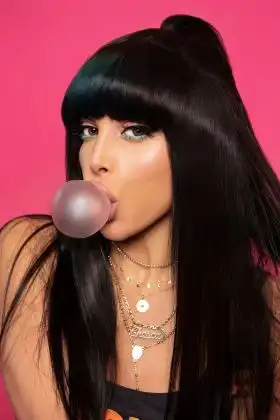 Sari: Tell me about your journey and when you first fell in love with music?
CHESCA: When I was introduced to Michael Jackson, I fell in love with the art and performing on a stage.
Sari: Did you have that "wow" moment when you began to feel like your dreams were coming true? What was your first significant milestone?
CHESCA: I've had a few of those moments. Even though my journey has been extremely difficult, I've always been grateful for the opportunities that have come and all the experiences I've had touring as an independent artist. One of my first "wow" moments was in 2015, performing for 40,000 people in Armenia and selling out 28 shows in China in 2014.
Sari: What are your plans for an EP? Can we expect one in English and one in Spanish?
CHESCA: I'm definitely working on creating a bilingual project aside from all of the Spanish singles we have down the pipeline. I want my EP to be in English and Spanish, hopefully releasing later this year.
Sari: You've had incredible support from artists such as J Balvin. What was something you learned from him in particular?
CHESCA: I met Balvin a while back. His advice has always been to work hard and persist until I succeed, which is something I live for every day. I have always been super persistent, and I don't take no for an answer [laughs].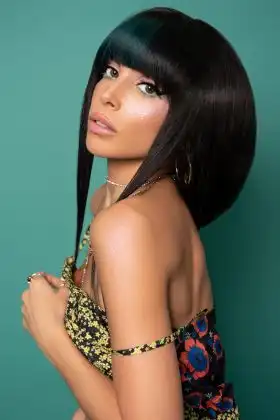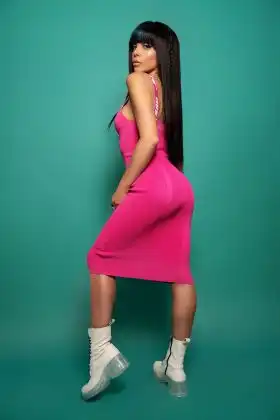 Sari: Let's get into working with Pitbull now. Please tell me how that happened. Talk to me a little bit about what you've created together so far and what your plans are for the future as collaborators.
CHESCA: I met Pitbull through a close friend and producer of mine, AJ Janussi. For four years, I worked close to his team, recording demos and just being supportive of everything they do. It was shortly after that, Pitbull noticed my work ethic and passion for music and asked me if I wanted to collaborate with him on a song. I, of course, almost fainted and said, 'HELL YEAAAAAH!' Now we've got about four songs together. He is like a big brother to me. The level of respect and appreciation I have for him is immense. It's rare to come across established artists who are willing to put people on.
Sari: Your performance at Univision's Premio Lo Nuestro 2020 was phenomenal. John Travolta even made an appearance! Describe for me what it feels like to be up on stage performing with other incredible talents in front of an audience like that?
CHESCA: It was my very first televised, big show. I still dream about it [laughs]. It was surreal, and I can't wait to be on a stage like that soon.
Sari: You exude talent, beauty, and kindness. What is a golden rule you live by that you'd like to pass on to others?
CHESCA: I've been through so much in my life that I believe I can motivate others to fight for what they want. I still have a long way to go. But as long as I love what I do, that's what matters to me. There are no limits. There's no age, race, religion, obstacles, or struggles that can stop anyone from doing what they are meant to do. You've just got to keep pushing. That's the message I want to pass along.
Sari: Let's talk about your style. Tell me what draws you to a particular look?
CHESCA: I created CHESCA – she's a multi-personality, badass character. She's got many looks, but she's always evolving and creating new ways to stay fresh and styled.
Sari: What are three essential pieces of clothing you own?
CHESCA: Fanny packs, wigs, and hats.
Sari: I want to get into a fun game now called "Have or Have Not." I'm going to list off a few things, and you tell me what category it falls under for you. "Have" or "Have Not."
Sari: Pets?
CHESCA: Have. I love small fluffy dogs.
Sari: Tattoos?
CHESCA: Have not – thinking of getting one, though.
Sari: A current crush?
CHESCA: I have, but it's a secret.
Sari: What's one thing everyone should have?
CHESCA: Pepper spray.
Sari: What's one thing everyone should not have – or could go without?
CHESCA: Gum!
Sari: Gotten starstruck?
CHESCA: Have not.
Sari: Do you have a bigger goal?
CHESCA: My own record label.
Sari Cohen
Advertisements