Amami Brooklyn
"My secret recipe is bringing soul to my food," says Amami owner and Sushi Master Nick Wang.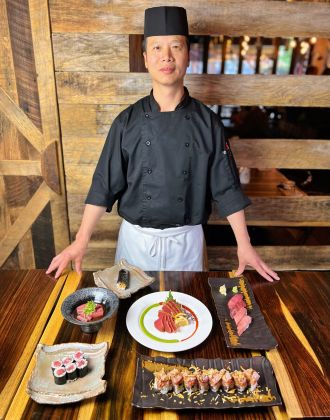 The Brooklyn staple is not only known for its delicious cuisine but the love and care that goes into serving a grateful community. Nick came to America in 1993 and worked his way up to create a space that centers on the happiness of its guests. From his humble beginnings as a kitchen porter, to the owner of Williamsburg's Ako Sushi, and now also Amami Bar & Restaurant in Greenpoint, Nick has mastered his culinary expertise, delivering the finest Japanese cuisine and an experience that keeps customers coming back. "I owe my love of food to my mother, who brought me to what I am today," Nick tells INLOVE Magazine.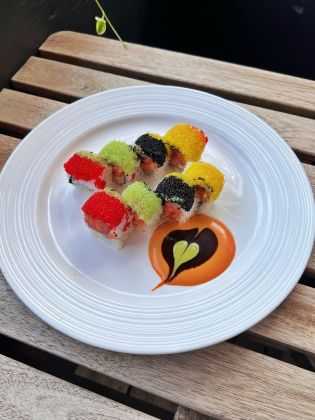 At the heart of Amami are the four elements: fire, water, earth, and air. It's the idea that creating a harmonious balance between the menu and the atmosphere will bring joy to the body and mind, providing fare on every level. The name Amami means "sweetness of the heavens," and Nick captures the theme in every way possible. From the reclaimed wood decor, preserved tree trunks, and living plants, to the ultra-clean and mineralized kaiki water filtration system, Amami is a special place designed for unique and enjoyable experiences.
The menu offers traditional Japanese cuisine such as Yakitori, Izakaya, Sushi, and Ramen. The presentation is artful. Every taste makes you feel like you're discovering a new sense. "Simple and fresh ingredients prepared with quality and passion speaks for the great food itself," says Nick. Amami sources dry-aged steak, free-range meats, farmed and sustainable fish from purveyors that have known Nick for over 20 years. Amami's selections come from the finest around.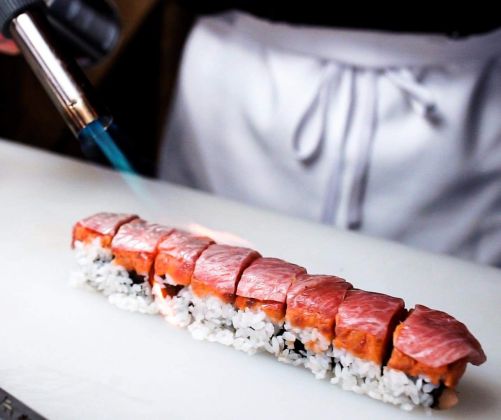 This summer, on the evening of July 26th, Amami will be spotlighting the second edition of their Live Tuna Cutting Ceremony by Sushi Master Nick Wang. The first one held in November of 2016, featured a prix fixe menu with unlimited premium sake included. For this 2022 Second Edition, there will be 100+ guests in a standing room style event utilizing all areas of the restaurant. From a gigantic freshly caught tuna, Nick and his team will prepare bite size delicacies to be passed throughout the restaurant for our guests to enjoy.  The rustic, warm and welcoming bar will offer unlimited premium selections from Beam Suntory brands.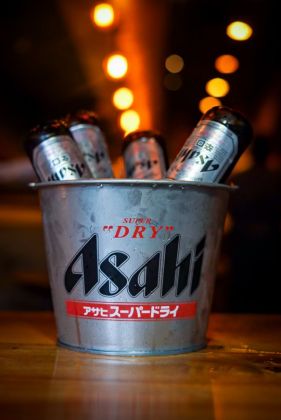 Also Asahi Beer and Kurosawa Sake will be having their own drink stations that will fill up great vibes to the rest of the space.  This event's menu is meticulously crafted and presents distinctive cocktails or neat pours that will perfectly pair with the food being prepared.
Tickets for this amazing event are available for purchase online on Resy.com
Nick's primary focus, as always, is on his guests. "I am driven each day seeing genuine smiles from each person that comes in and out of my restaurants," he tells INLOVE Magazine. Instead of putting his attention on profit, Nick perseveres to improve so that what he brings to the table will not only match but exceed ever-evolving expectations.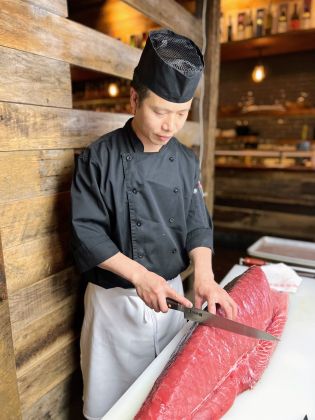 "Life is not a cookie-cutter," the Amami owner adds. "Just like my life in the kitchen."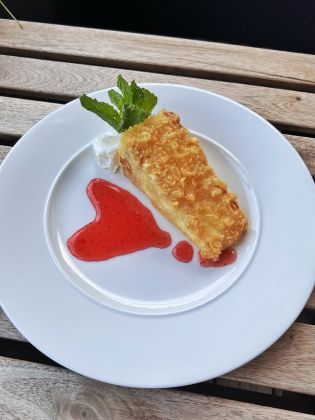 www.amamibk.com
Words by Sari Cohen
Advertisements