"Gotham" actress Kaley Ronayne stars in "The Right Stuff," a new scripted
series premiering on Disney+ on Oct. 9. Ronayne, who's also known for
Cinemax's "Quarry," TNT's "Public Morals," and Lifetime's "Army Wives,"
now takes on the role of Dee O'Hara, in the one-hour drama, based on the
book by Tom Wolfe.
"Ever since I can remember, I wanted to be an actress," Ronayne shared
with INLOVE Magazine. "I used to love playing dress-up and putting on
performances with my sisters and my cousins. I also used to love watching
black and white movies and TV shows; I was obsessed with 'I Love Lucy'
and the original 'Little Rascals.' Watching performances like that definitely
sparked an interest for me."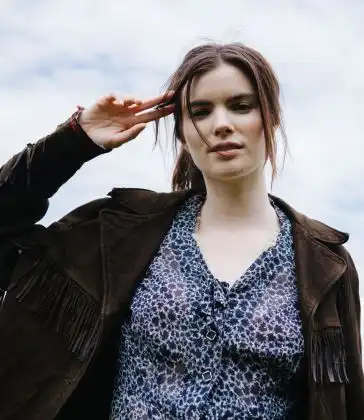 Sari: What are some of your career highlights? Moments that shaped
you?
Kaley Ronayne: One of the highlights of my career was doing a play in
New York called "Horse Girls." It really solidified my love for comedy, and I
met some of my best friends doing that show. As far as TV and film, I'll
never forget my first TV job, "The Carrie Diaries." It was my first time being
on a big set, and I learned a ton from that experience—mostly how to walk
in slow motion while wearing 6 inch heels.
Sari: Tell me about "The Right Stuff" and what we can expect from
your character?
KR: "The Right Stuff" is about the Mercury 7 program that put the first
American in space. Dee O'Hara was an integral part of this program and
remained close with many of the astronauts and their families throughout
their careers. Dee is a tough, determined woman with a great sense of
humor. Loyal and dedicated, a strong female presence in a male-
dominated world.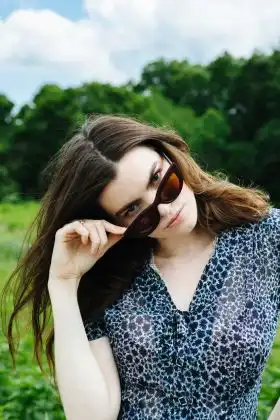 Sari: Do you have any audition go-to's that help you nail your roles?
KR: I practice meditation, which really helps me to get clear and focused so
I can do the best work possible. I also love to work on material with my
friends, bounce around creative ideas, and make ourselves laugh.
Sari: What's one beauty item in your cabinet that you can't live
without?
KR: Oh, I have so many! I love all of the iS clinical serums, my Wildling
Beauty gua sha stone, and my Serving Face First customized peel kit.
Sari: What's one fun fact about you that not many people know?
KR: I used to be an Irish dancer.
Sari: If you could work with anybody on the planet, who would it be?
KR: I love Kate McKinnon more than words can express.
Apart from the new series, Ronayne has a few other projects in the works
and is shooting an indie at the end of October. She's also an organizer of
Knock for Democracy. You can learn more about it at
www.KnockforDemocracy.org.
Sari Cohen
Advertisements