Tzarevna of NYC
Tzarevna, the daughter of the Tzar of Old Royal Russia, back from the 18th Century picked its residence in the trendy Orchard Street in New York City. Cozy, comfortable and elegantly simple setup with matreshki (Russian dolls) line up in all shapes and colors invite you to enjoy the true Russian Culinary experience you will hold close to your heart.
Now let's talk about the rich Russian Cuisine.
Russian cuisine dates to the 10th century. Old Russian cuisine became diverse by the 15th century. Of course, it was influenced by natural and geographical conditions. The abundance of rivers, lakes and forests contributed to the appearance of dishes made from fish, game, mushrooms, and berries. Russian cuisine is very colorful and unique. It is a ménage of various cultural, social, and historical backgrounds that make it feel like an adventure for the palate. Russian cuisine is made up of a variety of rich and abundant ingredients such as red meat, poultry, fish, vegetables, and fruit. The dishes range from delectable dumplings, pies, pancakes, noodles, rolls, roasted meat, baked poultry, and refreshing drinks.
Crepes with caviar and crab meat hachapuri below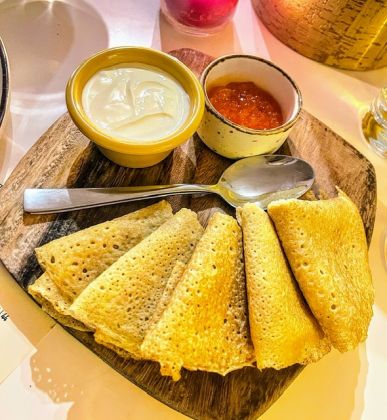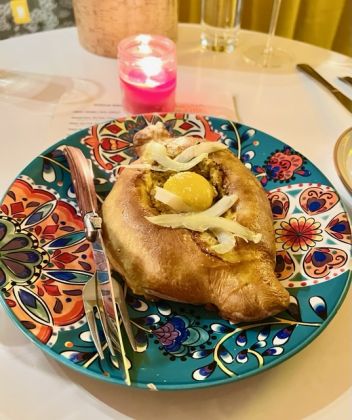 We chatted with Tzarevna's amazing Chef and owner Ricky Dolinsky, who took pride explaining the concept behind his culinary magic, where he took rich Russian cuisine to another level.
Chef Ricky let us in on his 5 favorites, check out his tips in video reel below.
Our favorite Zakuski aka Appetizers were House-made black bread with delicious scallion butter, House-made pickles assortment, House-cured fish board with crepes and caviar. My personal very favorite was also Mushroom julienne, baked in cheese gravy, seriously, it was out-of-this-world delicious!
Duck shashlik below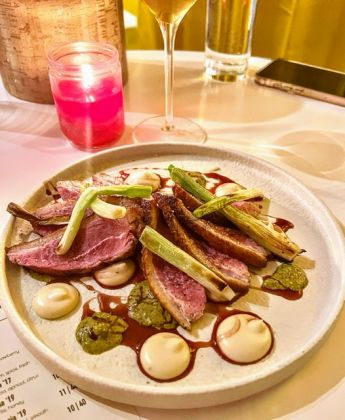 As for the Main Course dishes, Tzarevna Pelmeni aka Meat Dumplings in pomegranate molasses with sage sour cream just melt in your mouth! Another unique dish they prepare is Duck Shashlyk (the Duck literally tastes like butter!) and it's prepared in pistachio puree, charred onion, and pomegranate molasses. And for the kasha lovers, (honestly, I love grechka! Which is a buckwheat kasha) Chef prepared Wagyu Beef Stroganoff in mushroom cream sauce over buckwheat. Trust me, you cannot stop eating it.
Julien – Mushrooms in cheese sauce and Meat Dumplings below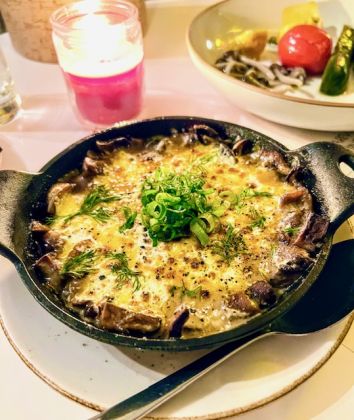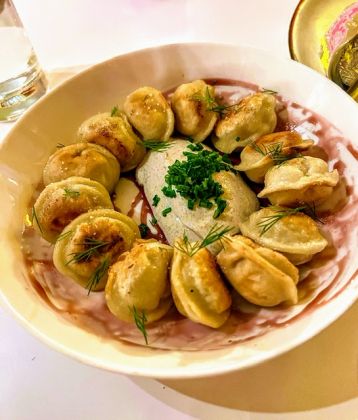 I am personally in love with skin contact – orange wines and I was so impressed with their selection of delicious Georgian orange wines. They are a must try!
To top it off, even if there's no space left in your stomach, please promise to try Chef's wife's Devine creation, The famed Russian Honey Cake. You will not be disappointed, only happily content, the desert is light and perfectly baked to compliment your after-dinner coffee or tea experience.
Honey Cake below.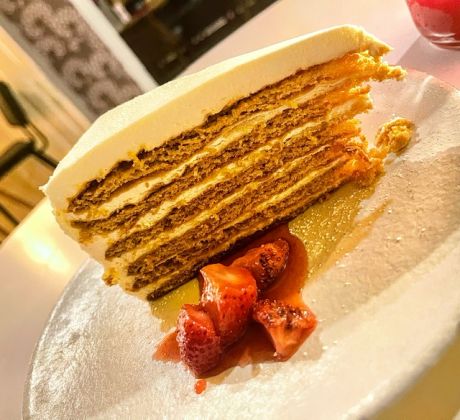 Tzarevna
154 Orchard St. New York, NY 10002
+1 917-388-2814
Words by Elle Taylor
Advertisements