In recent years, the explosion of Latin trap and reggaeton has led to chart-topping hits that seamlessly cross over into multiple genres. Songs such as Juhn's "Otro Dia Lluvioso" are influencing popular music in a way that's shaping a new generation of multicultural fans. "I feel like this explosion was inevitable. With all the crossovers that we are seeing within the different markets, it is something that was bound to happen. It feels really good that Latin trap and reggaeton are now references for people in all genres, and our music has now gained so much popularity," Juhn recently discussed with INLOVE Magazine.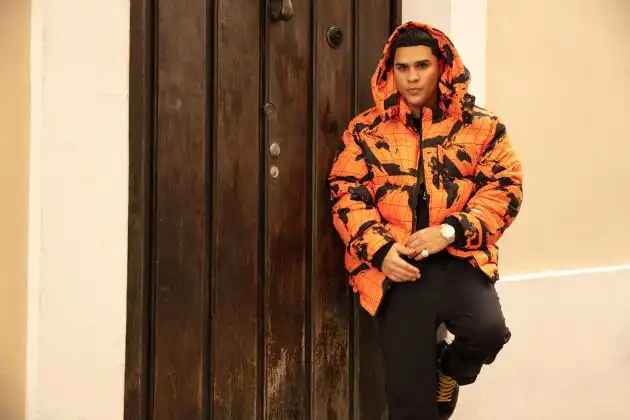 The Puerto Rican singer has been at the forefront of the Latin explosion for years. Whether it's writing or performing, Juhn is one of the most in-demand collaborators around. He's teamed up on projects with Maluma, Bad Bunny, Ozuna, Miky Woodz, and Bryant Myers, to name a few. Artists like Bruno Mars remain on his list of future dream collaborations, and if his past is any indication of things to come, that pairing would be a match made in heaven. Since being signed to Interscope Records in alliance with The Golden Army, a company helmed by Jonathan Gandarilla and renowned producer Santana, Juhn's musical influence is now worldwide.
"Otro Dia Lluvioso" is just the latest on the list of hits for Juhn. The artist, who also goes by "El All Star" and "El Fenomeno" of Puerto Rico, sparked a new flame with this reimagined version of his previously released single "Dias Lluviosos." For this cut, he called on Becky G, Dalex, and Lenny Tavarez, to help create a sizzling track. It was a perfect way to close out the summer.
INLOVE was on-site with Juhn during his shoot in Old San Juan. The focus was on the singer's heritage, using the buildings' architecture and the cobblestone streets to capture the vibe of Puerto Rico. The extraordinary walls and bold colors of Old San Juan were used as a backdrop. The vibrant colors served as Juhn's inspiration for the making of his video. The song, "Otro Dia Lluvioso," is about missing a lover on a rainy day. It was a theme that aligned just right with the island weather on the day of the shoot. While filming a video in the middle of a global pandemic posed some obstacles, Juhn and his team took every precaution. He also wants to get the word out to his fans that they should be cautious during COVID and wear a mask.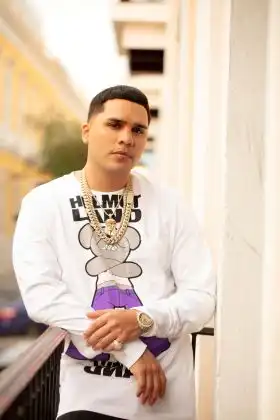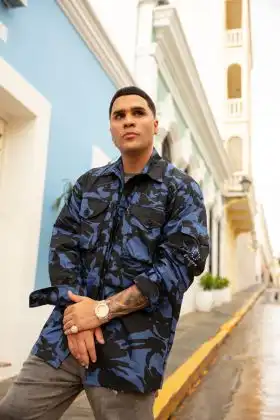 "2020 has been hard for all of us," Juhn said. "It's been like a full-on reset in our life. I've felt like it's taught us the importance of the home, family, and being able to do what you love. It's also helped me gained patience. But I cannot lie; one of my biggest hopes is to be able to fire up a stage soon!"
Juhn's passion for what he loves has always burned brightly. With his earlier sights set on a career in the NBA, his natural progression into music superstardom seemed almost fated. The music culture to come out of Puerto Rico has been at the root of the Latin explosion that's now taken over the world. Ricky Martin, Luis Fonsi, Daddy Yankee, Bad Bunny, Ozuna, Nicky Jam, Juhn; they've all blazed a trail in their own right.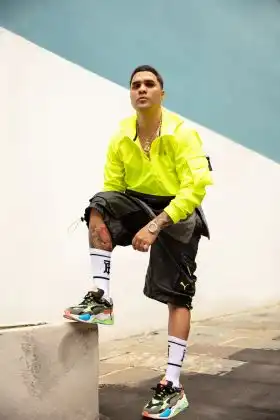 Juhn is currently working on a new single, and while he continues to put out music that his fans love, it's also important to him that he loves what he's creating. "I think of music as an escape and a way of releasing my thoughts and things I'm going through," Juhn expressed. "Music connects me to my fans. It feels great to get their feedback so they can see artists are normal people. We all experience all emotions, such as heartbreak, loneliness, failure, and happiness."
As we are all living at an all-time emotional high, it's artists such as Juhn that we have to thank for getting us through this time. They gift us with the music we want to hear, just when we need to hear it most.
Sari Cohen.
Advertisements