Dexter Darden: All In
Dexter Darden's recent role as Deandre in the Disney+ film Chang Can Dunk is just the latest in a line of unforgettable characters. He stole our hearts as Hags in The Binge, gave us all the nostalgic feels as Devante Young in Saved by the Bell, lifted us in hope as Walter Hill in Joyful Noise, and got our blood pumping as Frypan in The Maze Runner film series. With Half Baked 2 on deck, we all have high expectations for what's next.
Darden recalls falling in love with acting in middle school and credits his teacher, Mrs. Orme, who encouraged him to audition for the school musical. "I have always been in love with making others laugh and feel loved," Dexter Darden tells INLOVE. "So, having the opportunity to get creative with a character and find a way to bring me to it, or sing a song and make someone in the audience feel something from my performance – it was truly love at first creation. I have been in love with it ever since."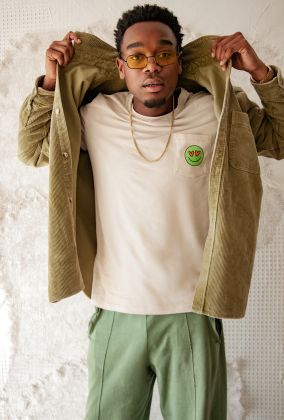 Sari: Acting wasn't your first love. How did you get to where you are today?
Dexter Darden: I have always loved the arts and entertainment. Dancing, singing, performing at a family party, anything I can do to be in the mix and get the party going, I'm excited for. I also loved basketball as a kid. Making the decision to start acting happened when I was 15 years old, and I found out that I could do the thing I loved in school on a stage bigger than I could ever imagine.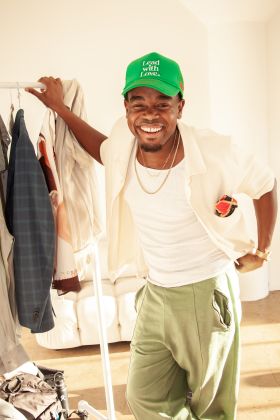 Sari: You do both drama and comedy really well. Who are your comedy and drama idols?
Dexter Darden: Wow, thank you for such an amazing compliment. I take pride in being able to do both drama and comedy, so being recognized as somebody who can truly do both is an honor. I draw inspiration from people like Eddie Murphy, Will Smith, Denzel Washington, Ryan Reynolds, Tom Hanks, Jamie Foxx, Leonardo DiCaprio, Brad Pitt, Margot Robbie, Oscar Isaac, and Cate Blanchett. These are all people who I think do a great job bringing whatever best serves the scene and character the best. That's what I mean to bring to everything I create.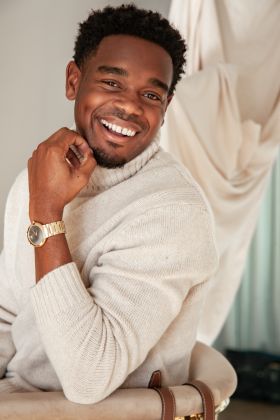 Sari: You did two seasons of Saved by the Bell. What was it like getting to reinvent such a cult favorite?
Dexter Darden: It was a blast. Tracey Wigfield, our amazing showrunner, did a great job of creating a world that was so honest and true to itself while still paying homage to the original series and honoring everything fans loved about the original in a really beautiful way. Playing Devante was a dream come true. Having the chance to be a series regular on a television show, incorporating comedy, having the chance to sing, and also learning and working with such a talented bunch of people was a great way to get my feet wet in the television space.
Sari: The Binge came out in 2020. I remember streaming it at home during the pandemic. I could hear my mom cackling from the other room when she was watching it. Looking back now, what was it like releasing that film at a point in history that really did feel like the end of the world as we knew it?
Dexter Darden: Hearing your story brings me so much joy because having a movie that could make families laugh in a time of chaos that the world was not prepared for makes me a happy man. It was honestly a bit bittersweet because Binge is a movie I would have loved to have seen in theaters; hearing the laughs and seeing the reaction to the ending would've been some really cool moments for my family and me. But I believe God has a plan for everything, and Hulu was the perfect platform to help spread some joy and laughter to people in their homes.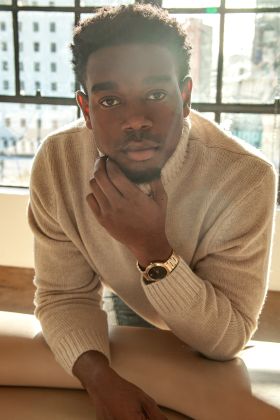 Sari: How did the pitch sound for The Binge sequel?
Dexter Darden: The pitch came to me, and I was honestly so surprised they wanted to bring us back. The thing that has changed the game about streaming is you don't really get to see the numbers and how good the film has done because there's no box office news like there is when there's a theatrical release. So it was just a joyous experience knowing the movie did well enough and people liked it enough to bring us back for a second film.
Sari: What kind of legacy do you think the character of Hags leaves as an onscreen hero?
Dexter Darden: I think Hags is the hero people don't know they need. He represents for the friends and people in your life who may not have it all together but have hearts of gold and always wants what's best for those he loves the most. He may not be the superhero you are used to saving the day, but he's the super friend you hope to have in your life.
Sari: What's been your biggest takeaway from playing "Frypan" in The Maze Runner franchise? What has that fan experience been like for you? What did it teach you?
Dexter Darden: My biggest takeaway from those movies will always be my castmates and the fans. Those are two relationships I have built in my life that I hope will stick with me for the rest of my life. The love and support we continue to have for each other are like no other, and I hope it remains that way.
Sari: Chang Can Dunk recently premiered on Disney+. What was your favorite part about playing this character and doing this film?
Dexter Darden: Playing Deandre in this movie was the role I needed at the time I needed it. He's a fun-loving, basketball-loving, good-hearted kind of guy who loves hard on those he gives his all to. So having the chance to play this role and move out of high school into the coach's room was a challenge I was excited for. I'm hoping people feel that same energy when watching this film.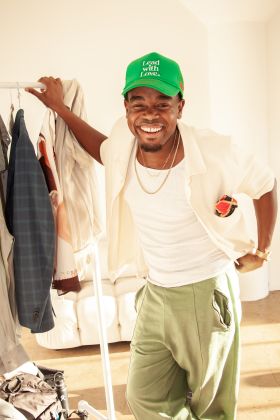 Sari: You are soon to be following in the footsteps of Dave Chappelle in Half Baked 2, the sequel to the 1998 cult comedy. PLEASE tell us everything you can about that so far. What can we expect or not expect from your character?
Dexter Darden: Thurgood Jenkins Junior is a slick-talking, friend-loving, weed-smoking, snack-eating young man who truly is looking to find a way to make his life matter, so when he's given a challenge that he must step up to the plate for I think you'll be interested to see how he rises to the occasion.
Sari: What will fans of the original appreciate about the sequel?
Dexter Darden: I think fans are going to find the heartwarming, silly laughs that they love from the first one, but grounding it in the modern day and age we live in now. Our director, Michael Tiddes, is a visionary genius, so being able to bring the work he had in mind to life has been so amazing.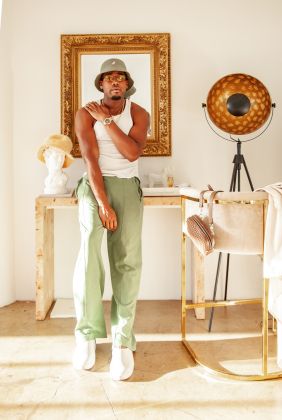 Sari: What was your experience like filming?
Dexter Darden: Filming was tough but fun. We worked long days and long schedules, but I think the movie will show the purest sign of that.
Sari: What's been the coolest part of doing this film?
Dexter Darden: The coolest part was working with Michael Tiddes. He trusted me in a way no director has and gave me a chance to be the lead of an iconic cult classic – but still add my own Dexter Darden spin on it.
Words by Sari Cohen