Mary Kate Wiles is no stranger to digital fame. Years of viral success (reaching over 100 million views) have earned her praise as an actress and producer. Along with currently producing two popular podcasts, Wiles also stars as Artemis in the Tin Can Brothers' digital series, "Wayward Guide for the Untrained Eye." The comedy/murder mystery also features "Glee" star Darren Criss and "The Lord of the Rings" actor Sean Astin.
INLOVE inquired more to find out what makes Wiles the digital darling that she is. From top career moments to comedy heroes, she answers a few questions that clue us in as to why audiences can't take their eyes off of her.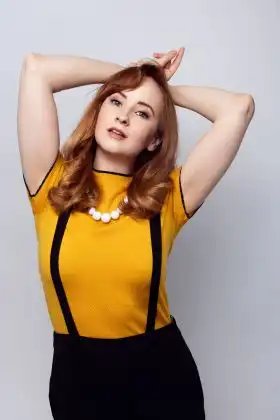 What are your top 3 career moments? 
1. Meeting my soulmate, Sean Persaud, on "Kissing in the Rain," is without a doubt the most magical and important thing to ever happen to me.
2. "The Lizzie Bennet Diaries." Winning an Emmy was pretty dang cool, and the fact that I got to be a part of bringing a rich, full, lovable, and flawed Lydia Bennet to life was a more incredible experience than I could have ever imagined.
3. Producing "Edgar Allan Poe's Murder Mystery Dinner Party" with Shipwrecked Comedy. What we managed to do with that production was nothing short of a miracle, and I've never been so proud of anything in my life.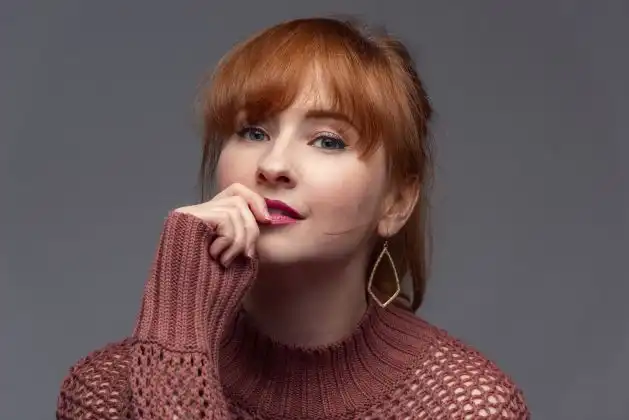 Who are your comedy heroes?
1. Amy Poehler
2. Taika Waititi
How do you think comedy is different from drama?
Honestly, I don't find them super different. I've been really lucky to be a part of projects that straddle the line, and I think that makes for really compelling storytelling. Comedies that find the drama and dramas that find the comedy – I think you need both to tell a compelling narrative. Because life is both, but when it comes down to it, being on set for a comedy is just the most fun. There's nothing better than laughing all day with your friends and being silly.
What's the coolest thing about digital fame?
Being a part of such well-loved internet projects has given me such an amazing community of support. There's nothing like it. I don't think any other medium gives you quite the same connection to your audience as digital storytelling does, and I'm so thankful for that. That's why we create stuff – it's for people to watch and enjoy it. And to get to see people watching and enjoying your work – creating fanart, speculating about where the story is going, asking you questions about the process on Twitter – it's so validating. And fun! Those people have gone on to help fund our projects in return. It's very communal.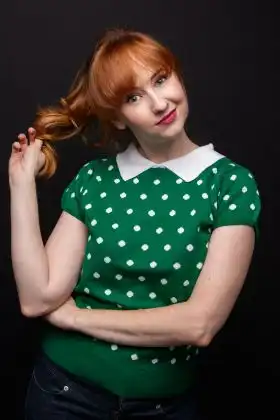 What's the best advice you've ever been given?
Two things I learned as an acting student at USC that have stuck with me the most are:
1.  "Listen" – my Acting 101 professor Charlotte Cornwell told us that on my first day of class, and it is the best acting advice one can have.
2.  "Work begets work" – the more work you do, the more work you'll get. And I have found that to be true.
Tell me about your current and future creative endeavors?
Right now, as always, I'm working on running my Patreon and providing all the perks that I do through it – like my "Anne of Green Gables" radio play/podcast project. I'm currently producing chapters of the third book, Anne of the Island, for my Patreon patrons. I'm working with Shipwrecked Comedy as we plan and work towards our next big project that we were originally planning on crowdfunding and shooting this year, but of course, that got put on hold. It's going to be our biggest project since "Edgar Allan Poe's Murder Mystery Dinner Party" – another multi-part series – and in some ways, it's a return to familiar territory for us while also being completely new and different. I am so excited for when we're able to get back on set again.
As for the future, well, I love creating things with my partner Sean, and I hope to continue to help make our ideas come to life. I can't wait to see what roles are in store for me in the future, and I can't wait to also work on creating some of my own roles as well. I hope Shipwrecked gets to tell stories for bigger audiences moving forward. I'm so excited about some of the worlds we've created and the stories we want to produce.
Sari Cohen
Advertisements