Winter. It's the longest and often the coldest of the seasons, but with chill and the snowfall comes the holiday season, and most treasured moments in cozy retreat of our home with the those we love and this fabulous new issue of INLOVE magazine. Who doesn't love curling up with a winter cocktail by the fireplace, snuggling up with a blanket, indulging in good food, favorite movies, and good reads?
Gifts of time and love are surely all the main ingredients of a truly Happy Winter.
The best gifts are always the gatherings with family and friends sharing love, gratitude, and hope. Winter is a season for the holidays that has inspired plenty of art and entertainment, including some of our favorite movies, music, and people. Winter Holidays is always an inspiration to reflect on the meaningful moments of the entire year in gratitude.
INLOVE Magazine celebrates our achievements moving into the New Year and gets to the heart of the season with the ultimate "Winter Celebration" with Jordan Fisher, Olivia Ponton, Rafael Cebrián, Diego Tinoco, Paloma Garcia-Lee, and more.
Paloma Garcia-Lee, who stars as Graziella in Steven Spielberg's big-screen rendition of "West Side Story," takes center stage as this issue's Main Cover. Garcia-Lee made her Broadway debut starring in "Phantom of the Opera" at 17 and has been dancing her way into our hearts ever since.
If Hollywood is consistent with one thing, it's finding that small percentage of people who have the "it" factor. Diego Tinoco, our Man-Cover star is proof of that. The "Teen Wolf" actor just wrapped a successful four seasons starring as Cesar Diaz on Netflix's "On My Block."
A whole lot of exciting things are happening for our Digital Cover Star, Jordan Fisher!
This handsome fellow has been charming his way into our hearts with shows like "The Secret Life of the American Teenager," "The Flash," and "Happily Ever After." "Hamilton" and the movie, "Work It," And we cannot help it, but fall in love with him over and over again.
Olivia Ponton will have us all under her influence as she steps into her power, starring as this season's Beauty Cover. Living in a TikTok world where Gen Z leads the way on trends, Olivia Ponton has become one influencer who has the power to change things for the better.
This new 2022 is surely out with the old, and in with the new: from new destinations to new movies and great shows to explore. New York culture and long-awaited Broadway. We got you covered with the latest beauty trends and elite events. There's a flow of inspiration in this new issue: fashion, beauty, wellness, entertainment highlights and the latest trends.
Freshly cold air smelling of snow and pine, sparkly stars dancing around the moonlight, fills our souls with wintry night dreams. "Blessed is the season which engages the whole world in a conspiracy of love." – said Hamilton Wright Mabie.
Our Winter issue is celebration of love!
Because love is such a wonderful and beautiful gift. Love is the only thing in the world that covers up all the pain and makes someone feel wonderful again. Love is the only thing in the world that does not hurt.
Wishing peace and love to all, healthy family, and hope in every moment.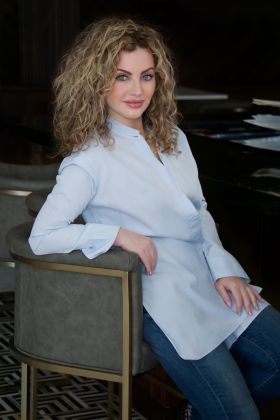 With love and gratitude,
Elena Vasilevsky
(Editor-In-Chief)