Noriel is an artist who breaks trends and makes trends. The rapper-songwriter is at the forefront of the Latin trap movement and has helped thrust the subgenre into the spotlight. His cutting-edge collaborations and distinct sound have made him one of the most sought-after musicians in the industry.
"It all started in my beautiful island of Puerto Rico when I was just 14 years old," Noriel tells INLOVE Magazine. "Like many families in Puerto Rico, we struggled a lot to make a living. At 14, I started rapping in my neighbourhood at block parties, and with older friends who were already in the industry. They were trying to get me into the music industry as well. I worked very hard ever since to make sure that people heard my music and to give my family a better life than what we had."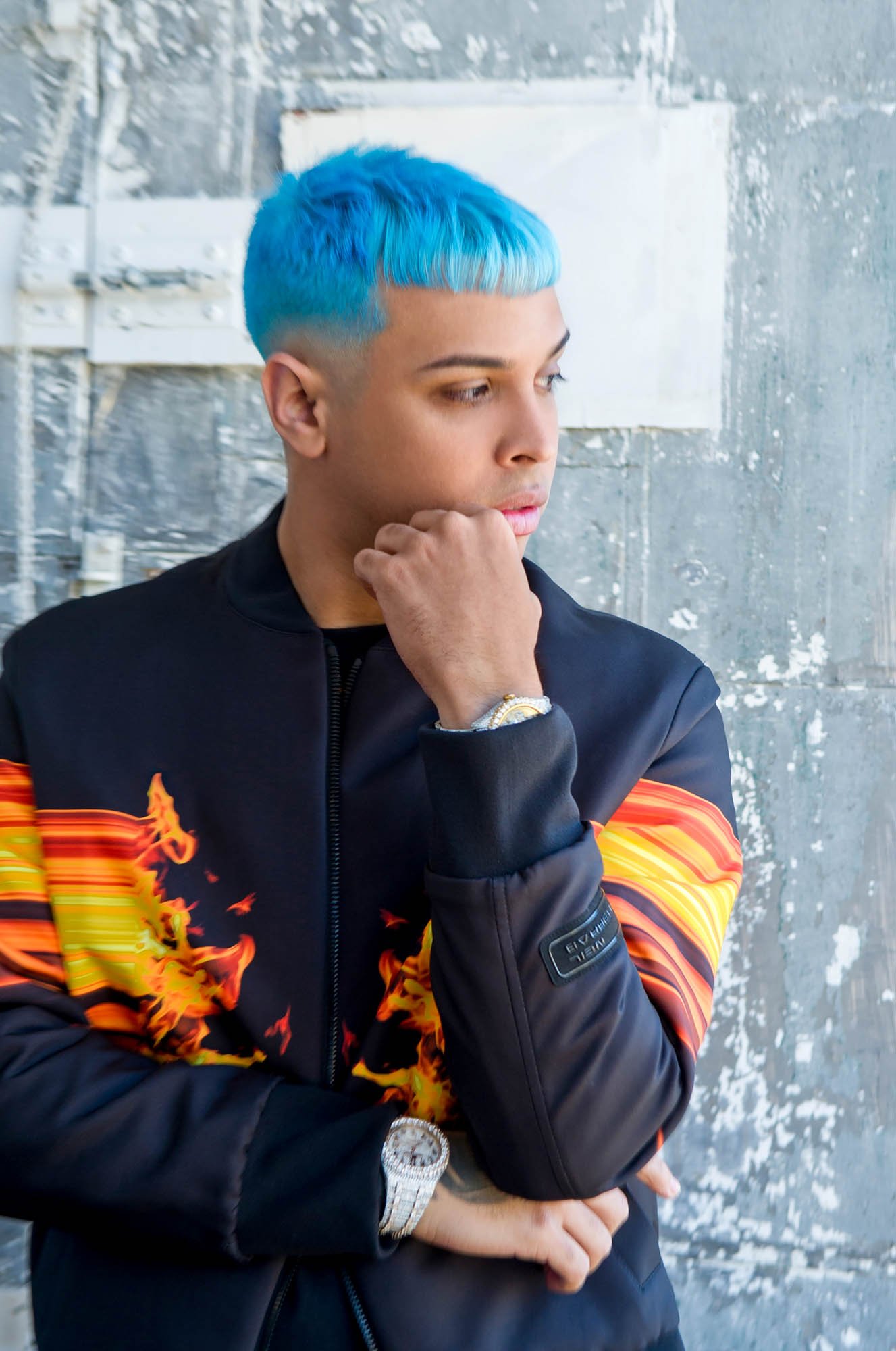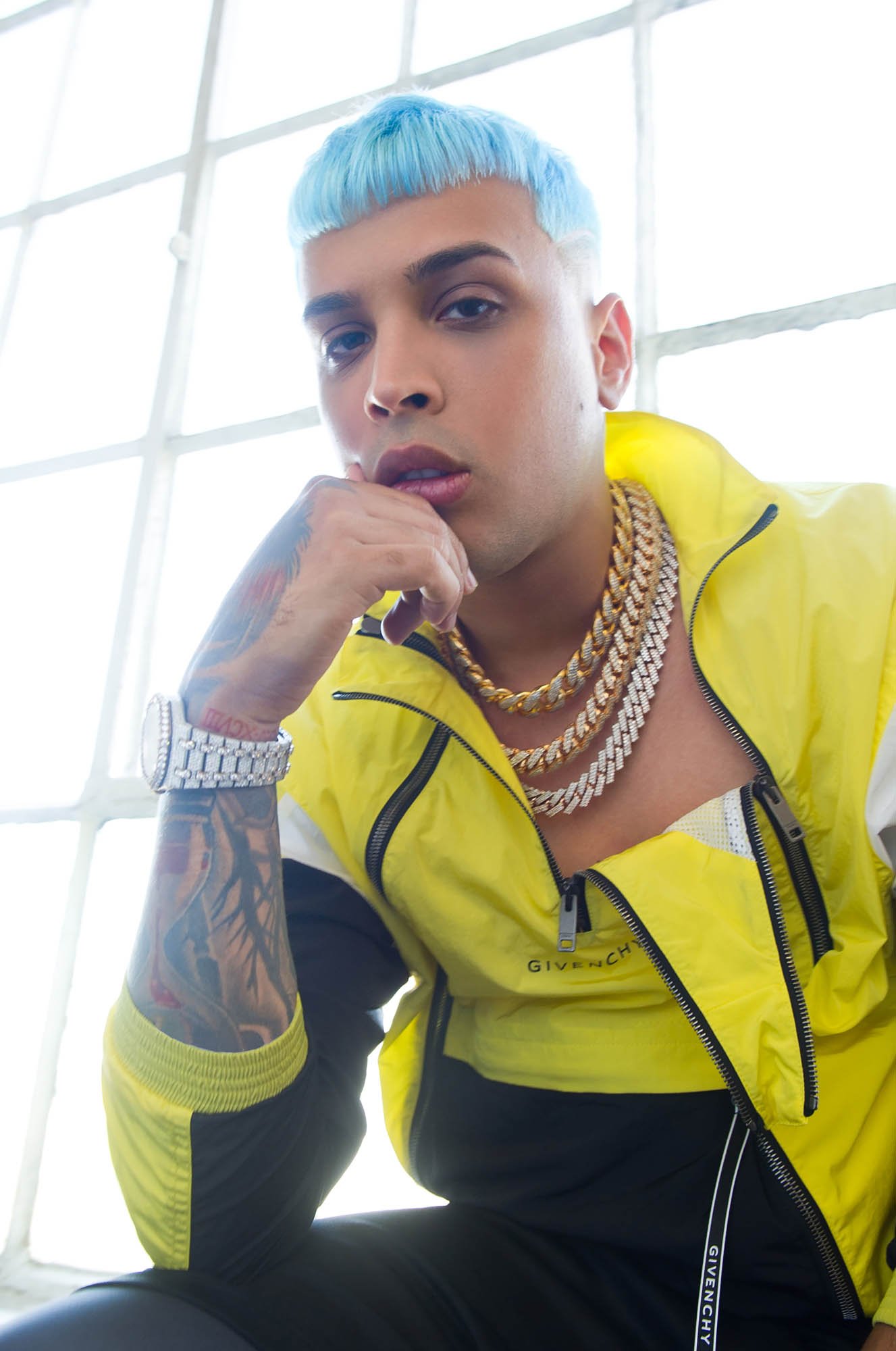 Sari: Take me back to what it was like collaborating with Maluma and the part of that experience that you loved the most.
Noriel: Working with Maluma was an incredible experience, and I'm proud to call him my friend. He's very talented and disciplined. Although it was a banging record, "Cuatro Babys" became very controversial among critics, but people and fans reacted the opposite to it, and they loved it. I love Colombia and the people from there. It was a pleasure to work with Maluma; just like with other artists like the Turizo brothers on my latest single "No Te Hagas La Loca," which was a great pleasure for me. The Colombians are bringing new rhythms that adapt amazingly with the genre.
Sari: You have worked with some incredible artists over the years, what's the best part about teaming up with another talented artist and bringing a joined vision to life?
Noriel: I feel extremely blessed to have worked with my brothers like Bad Bunny, Maluma, Wisin y Yandel, Farruko, Prince Royce, and my little sister Leslie Grace. I think the best part of many of us working together is that the genre keeps growing and expanding around the world.
Sari: You have been such an essential figure in the Latin trap movement. Tell me how you've seen it rise in popularity and where you see the genre heading in the future?
Noriel: Latin trap is an underground type of music rejected by many, accepted by a few, but thanks to the support from the people of Puerto Rico towards our own artists like Bad Bunny, Juhn, Darell, Darkiel, Tainy, and Brytiago, we've put Latin trap on the Billboard charts for many weeks. This has been an amazing movement for Latin trap.
Sari: When it comes to what you like to wear, how would you define your sense of style?
Noriel: I think my sense of style is very relaxed and it's very important for me to feel very comfortable. I like to wear nice clothes that align with my music. I don't wear many jeans, but sweat pants are my go-to item and big shoes; I love big shoes. Something else I like to wear is something we call it "ice" [bling bling]. I love to come to New York and make a stop at our friend's jewelry store and get loaded in some accessories.
Sari: What inspires you when it comes to fashion?
Noriel: If I like something that I see, if it feels comfortable, then I buy it; whether it is from Givenchy or Zara. And again, big shoes are my big thing, especially when you're on the go all day. [I love] the new FILA sport shoes.
38"IT ALL STARTED IN MY BEAUTIFUL ISLAND OF PUERTO RICO WHEN I WAS JUST 14 YEARS OLD," NORIEL TELLS INLOVE MAGAZINE.
Sari: Are there any fashion trends that you like to follow, or do you prefer to make your own trend?
Noriel: I don't really follow trends. I love cool clothes in general. I like to portray my personality through some of the clothing that I wear. I like to make my own trends. Right now, I'm obsessed with my blue hair. I feel like it fits me perfectly with my personality. I like to be unique. I like to combine some of the hats I own with some "ice." That's my own trend that I follow.
Sari: Do you have a favorite designer?
Noriel: Coming from a small town in Puerto Rico, there wasn't a lot of access to a lot of big-name brand clothing stores, but I can say that I'm dressing a lot better these days. I also like to impress on red carpets and special events, but I also like to dress down when I'm in the studio. However, I've worn DIOR at special events and red carpets in the past, and I like him, he has really nice things.
Sari: What goes into picking out the perfect outfit when you're on stage performing or shooting a video?
Noriel: Over the years, my performance outfits have grown, but since I changed my hairstyle and color, I feel that I can play more with my clothes. Something that I've been trying lately is a lot of neons and bright colors. Feeling comfortable with what I'm wearing is really important to me because I want to make sure that it makes me feel and look good. Also, from time to time, I bring in my stylist who knows me very well and complements my outfits with special accessories that I love. I put my trust in him because he knows better than me for every occasion.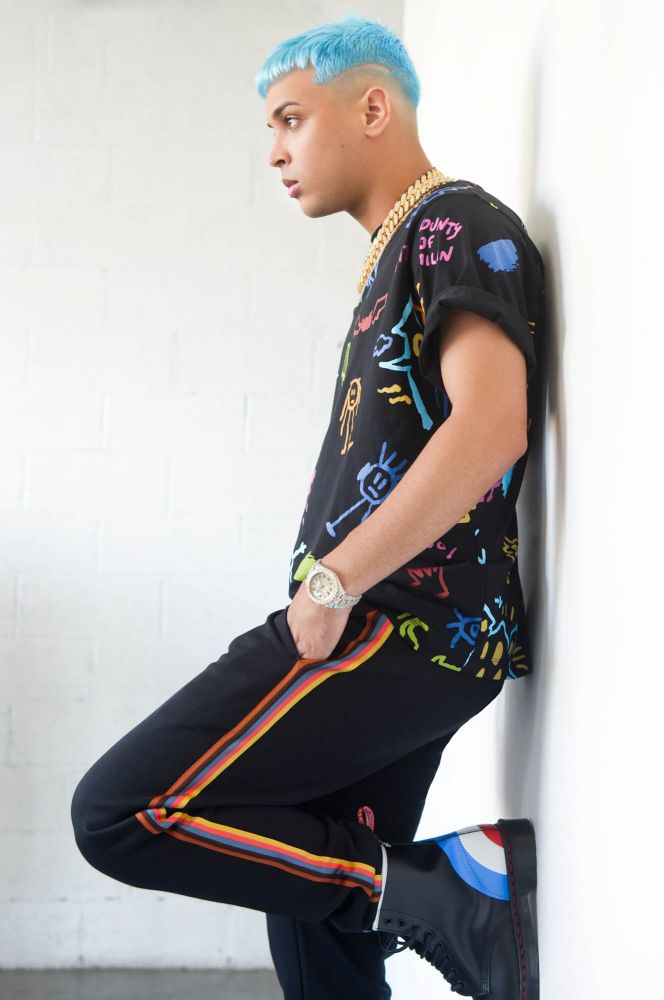 "LIKE MANY FAMILIES IN PUERTO RICO, WE STRUGGLED A LOT TO MAKE A LIVING.
AT 14, I STARTED RAPPING IN MY NEIGHBOURHOOD AT BLOCK PARTIES, AND WITH OLDER FRIENDS WHO WERE ALREADY IN THE INDUSTRY. THEY WERE TRYING TO GET ME INTO THE MUSIC INDUSTRY AS WELL. I WORKED VERY HARD EVER SINCE TO MAKE SURE THAT
PEOPLE HEARD MY MUSIC AND TO GIVE MY FAMILY A BETTER LIFE THAN WHAT WE HAD."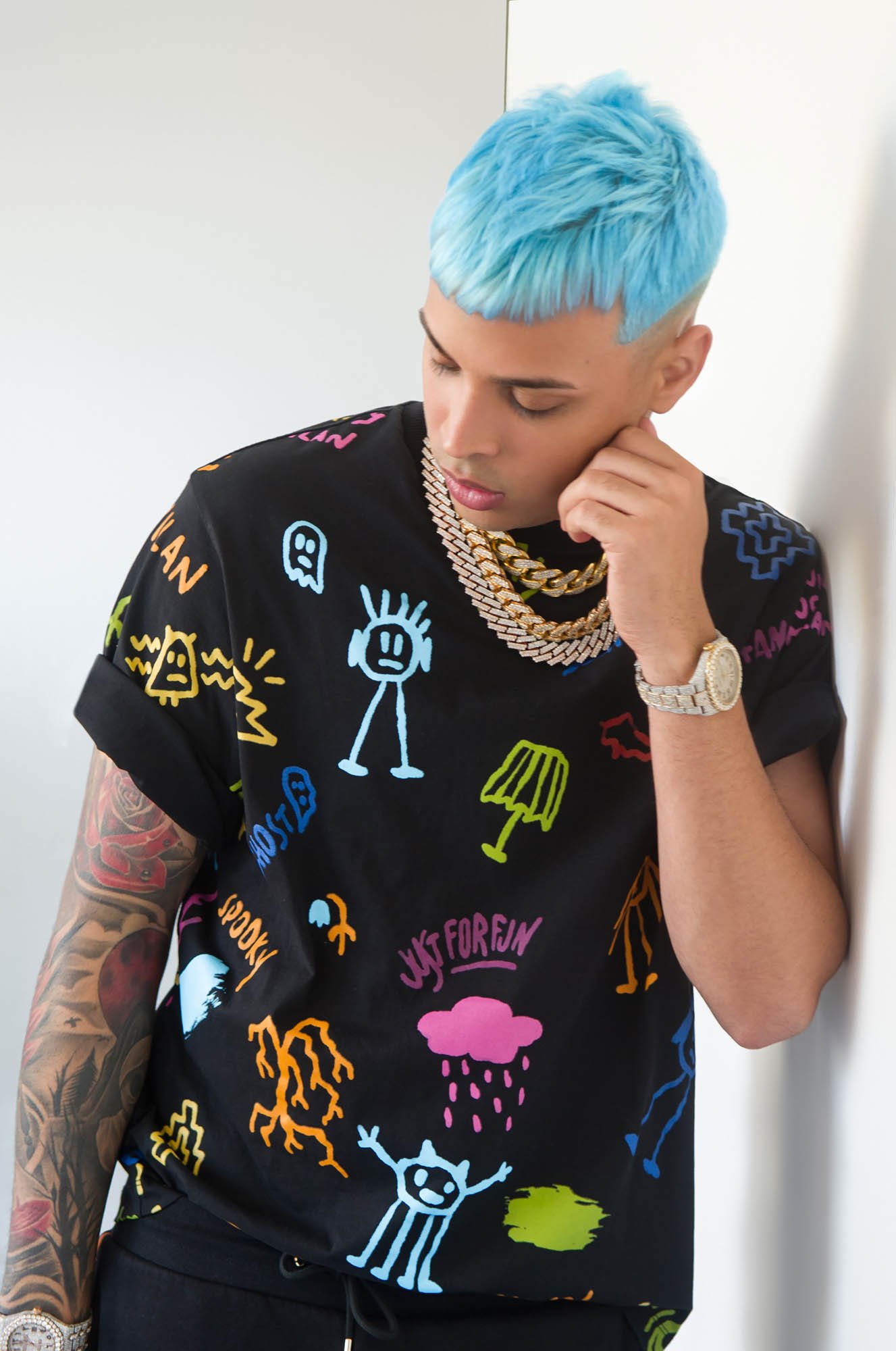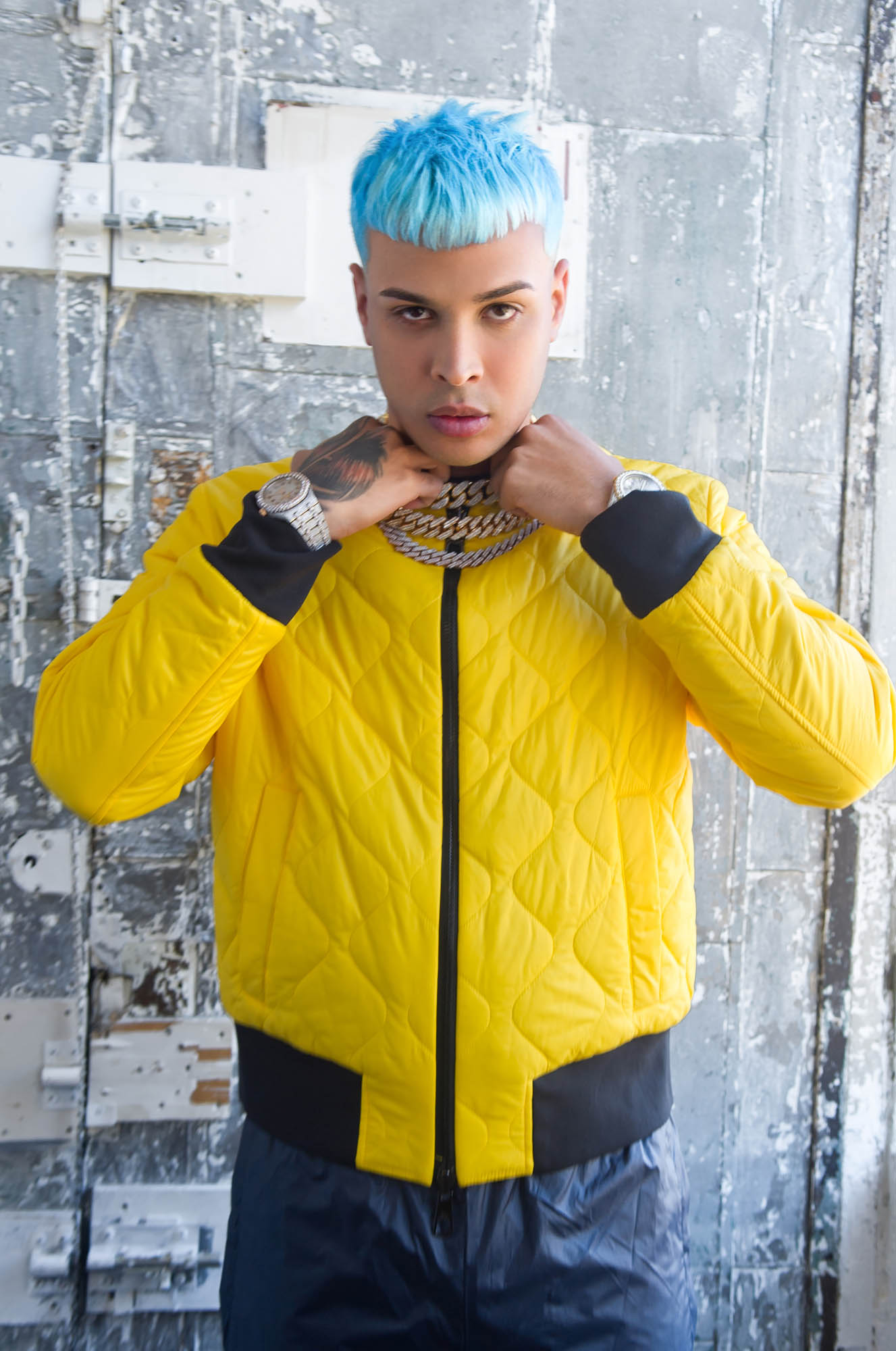 Sari: Do you have any advice for aspiring artists who are searching to find their own style – both in fashion and music?
Noriel: The advice that I always give to anyone who is looking to get in the music business is to be persistent, dedicated, and disciplined. You have to have a true desire for what you want to do; be original and, most importantly, be yourself. People appreciate that. People notice that. As far as style, my recommendation is always to wear what goes with your personality and with what makes you feel comfortable.
Sari: What do you love most about doing what you get to do?
Noriel: What I love the most about what I do, if I'm on tour, I get to be in a different city every day, and I also love performing. Every time I have a big concert in a different city or country, it amazes me to see the reaction from my fans; how they sing along to my songs, and how they support me. It is truly a blessing. The energy that I receive from anyone is indescribable and something that I can't really explain.
Sari Cohen
Creative Director / Stylist: Elena Vasilevsky
Photographer: Vital Agibalow
Production: INLOVE Media & Production
Groomer: Jamie Dorman
Music Director: Omar Torres-Reyes
All Fashion can be purchased at Saks Fifth Ave