With albums such as All I Wanna Do, and hit songs like, Young & Stupid (featuring T.I.), Travis Mills, formerly known as T. Mills, has become a global sensation. Over the years, the performer/songwriter has collaborated and toured with artists including Ty Dolla $ign, Lauv, Mike Posner, Freddie Gibbs, Boi-1da, Ricky Reed, and Wiz Khalifa.
With a talent for spotting and setting trends, Mills carved out his path. He ventured into the world of fashion. He began writing and producing for other artists. He has also taken on acting; starring opposite Will Arnett in Netflix's, Flaked and in Amazon Prime's, Alone Together.
Stepping into the role of host with his show, "Travis Mills" on Apple Music's Beats 1 Radio Network, and his podcast "ADHD with Travis Mills," is a natural evolution for the charismatic 29-year-old.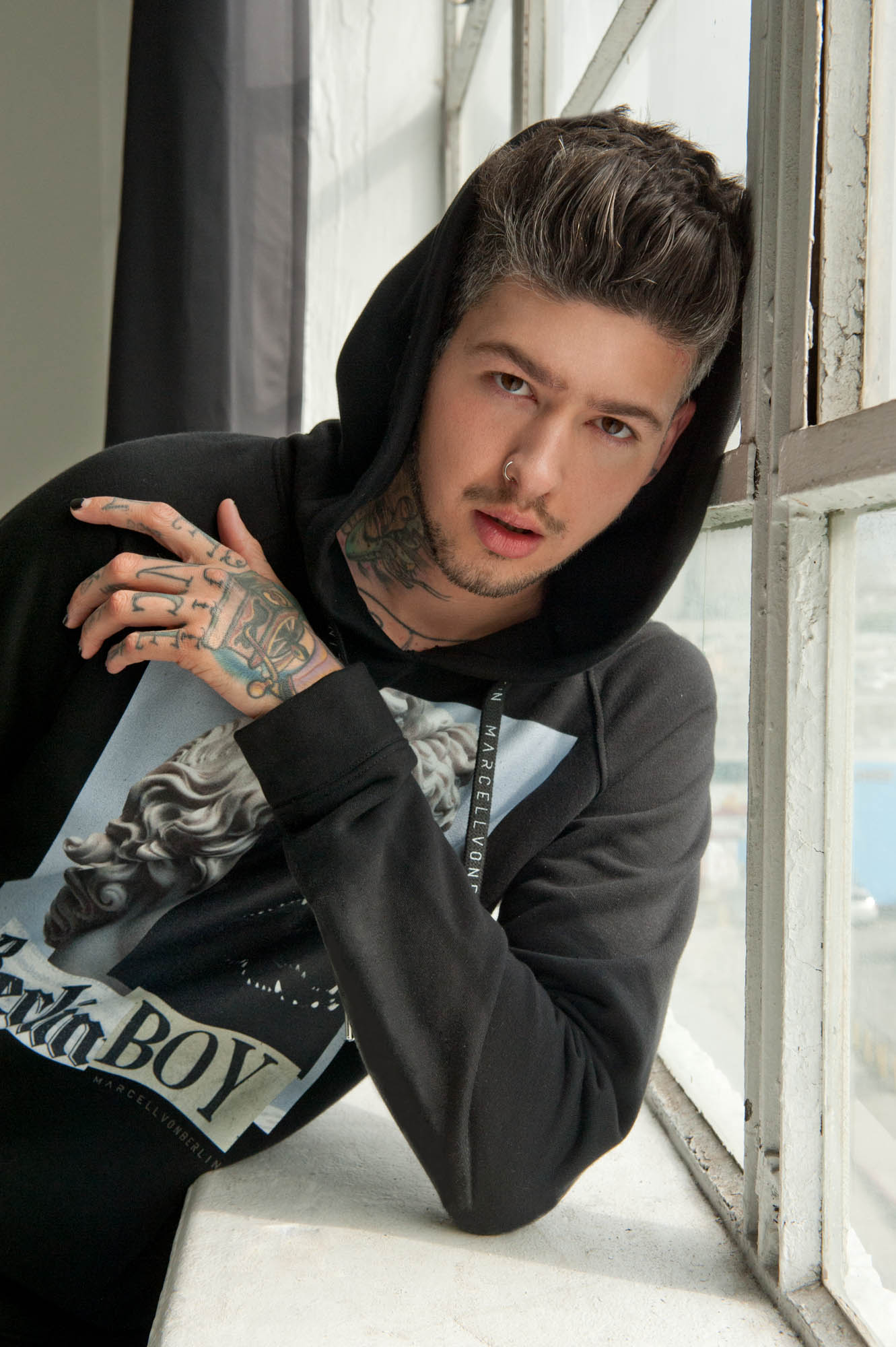 HOODIE SWEATER MARCELL VON BERLIN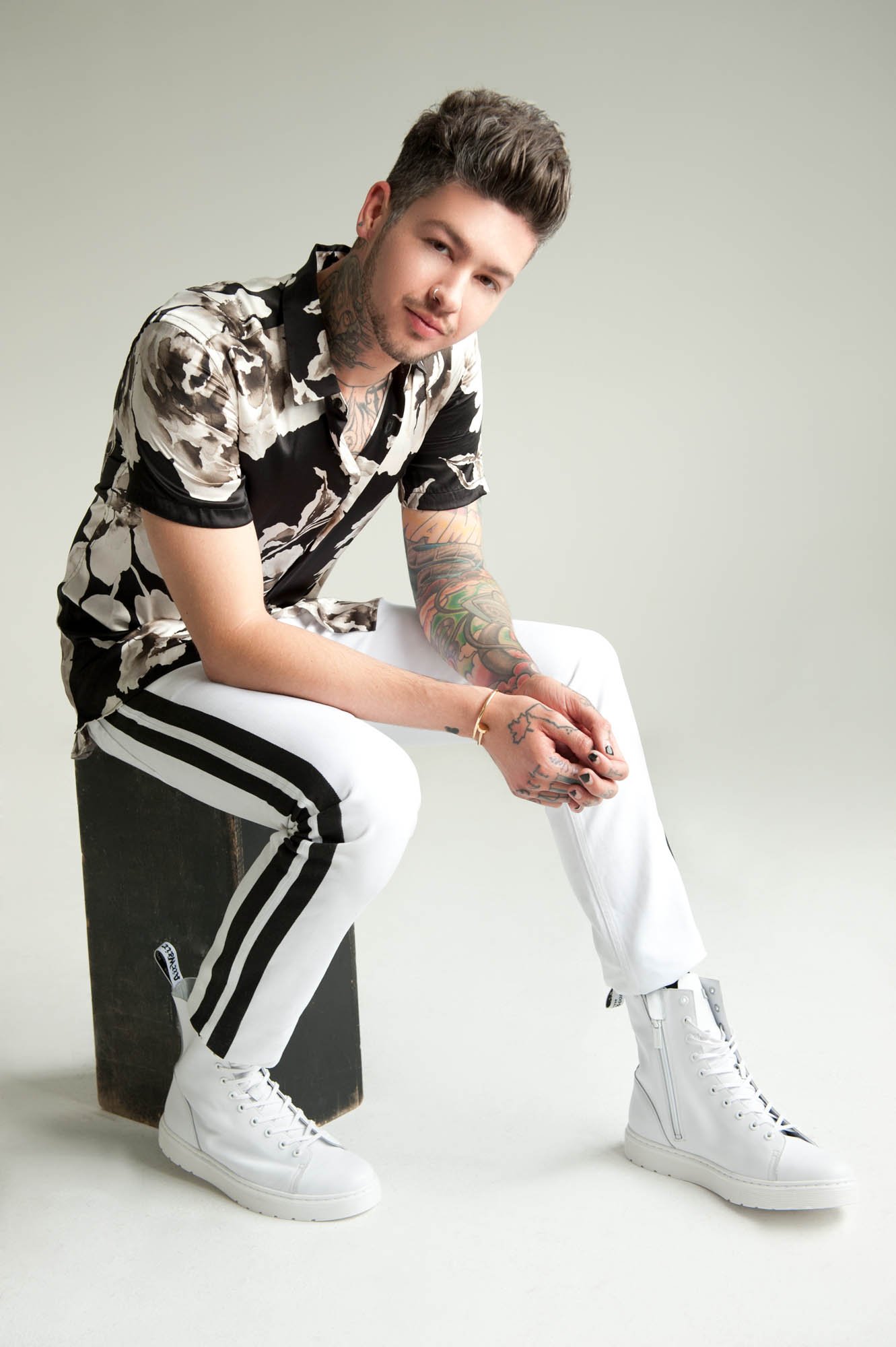 T-SHIRT MARCELL VON BERLIN | SWEATPANTS PORTS | BOOTS DR MARTENS
Sari: Which guest have you interviewed has left you most starstruck?
Travis Mills: The guest that left me the most starstruck was on my Beats 1 show, and it was Tommy Chong. I grew up watching him, so it was a very surreal moment. I got to talk to him about his life and his experiences [with] The Beatles, Jimi Hendrix and Bob Marley.
Sari: What is the most surprising answer you've ever gotten from an artist?
TM: On my Beats 1 show, we do this bit we created where we have my guests plug in their iPhones and just hit shuffle, randomly. Nick Jonas, he hit shuffle on his phone, and it pulled up this 12-hour sleep album. It's like certain frequencies that help you get into a state of REM sleep. He listens to it at night. We listened to two minutes of it, and that was pretty crazy.
Sari: What's been the most inspirational piece of advice you've ever gotten from one of your guests?
TM: Someone who has been on my Beats 1 show and my podcast, who's been a huge inspiration for me, is Gary Vaynerchuk. When I got to have him on my shows, I was literally watching my hero in front of me give me advice. He has so many gems you just kind of have to listen. He's a huge reason why I started my podcast at the end of the year rather than at the beginning of 2019. He's one of those dudes that are like – if you want to do something, do it now and do it the best you can.
Sari: That's incredible.
TM: Yeah. He had launched a wine company and texted me about it. I bought a case of wine for my mom for Christmas. Then I launched my podcast [and asked him to be my first guest]. A blizzard canceled his flight so he got stuck in L.A. and that's how we did the first episode. His videographer came and shot the episode of my podcast and then he turned it into a 20-minute original short film. To be such a huge fan and then to watch him take our conversation and turn it into this incredible piece of content was just surreal for me; truly everything coming full circle. You go from watching the YouTube videos to being in them and then credited at the end of it.
EMO IS BACK AND STRONGER THAN EVER. HIP-HOP IS EMO. I THINK ROCK IS GOING TO COME BACK IN A FEW YEARS. SOME ARTISTS ARE DOING IT NOW. TRENDS RECYCLE. EVERYTHING GOES THROUGH ERAS, AND PEOPLE ARE GOING TO BRING CERTAIN THINGS BACK. ROCK WILL COME BACK IT'S JUST GOING TO BE DIFFERENT.

Sari: It's amazing the influence that we have on other people. I feel like sometimes we don't even realize the impact we can make.
TM: It's crazy that all of that started with a text about wine.
Sari: Wine is always a good opener [laughs]. So, what's the greatest lesson you've learned so far as a host?
TM: I think as a host, the biggest thing is that you have to listen. Everyone asks me, do you write down questions? I don't write down [anything]. I listen, and I have a conversation. People walk into things with bullet points and 20 questions that they want to hit. When you do that, it takes away the authenticity and the flow. I really think it comes down to listening. Everyone's always worried about what they're going to say, so they forget to listen.
Sari: Since you have your finger on the pulse of everything that's going on, what trends do you see emerging from the music scene?
TM: Emo is back and stronger than ever. Hip-hop is emo. I think rock is going to come back in a few years. Some artists are doing it now. Trends recycle. Everything goes through eras, and people are going to bring certain things back. Rock will come back it's just going to be different.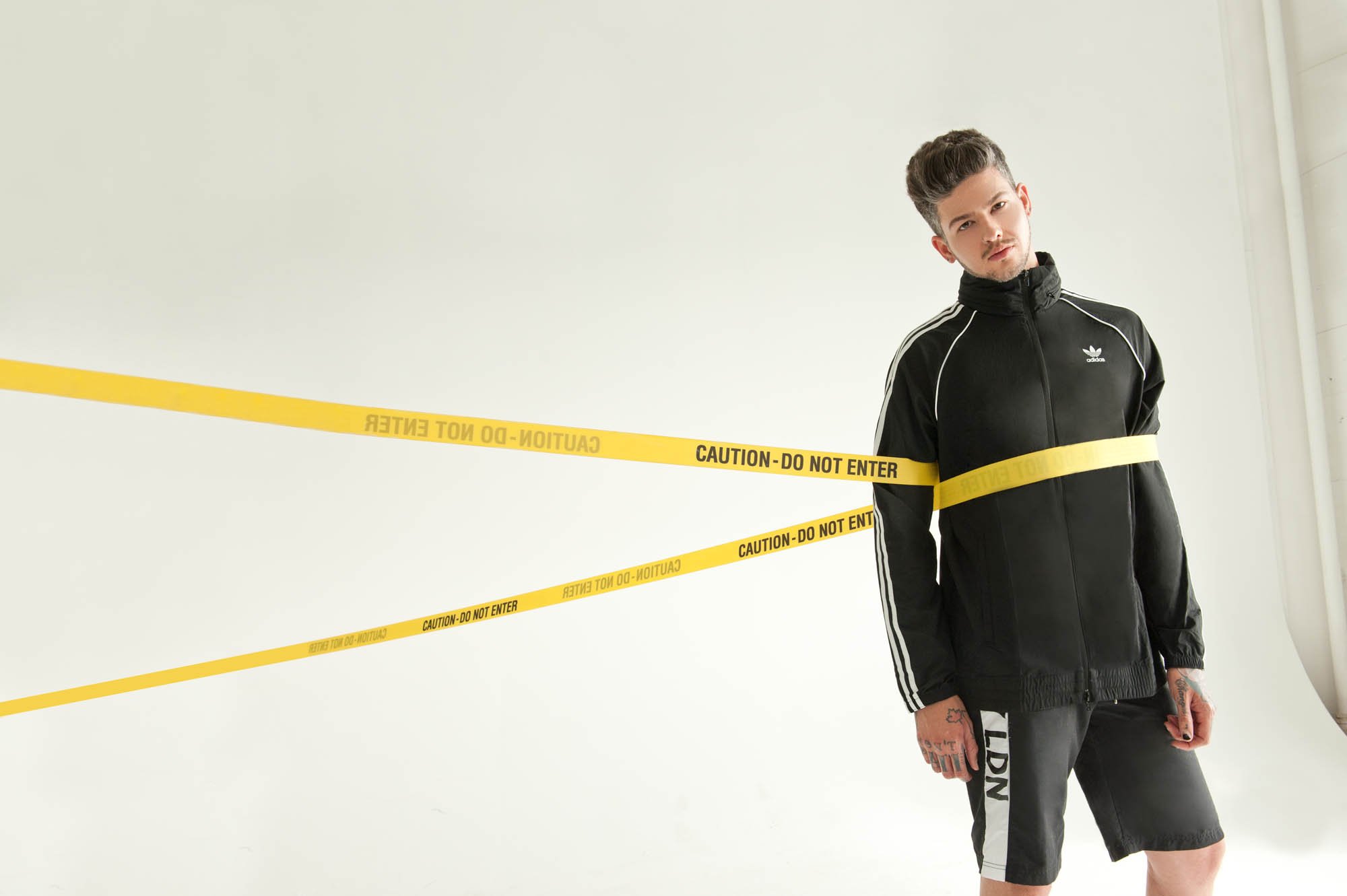 JACKET ADIDAS | SHORTS BOY LONDON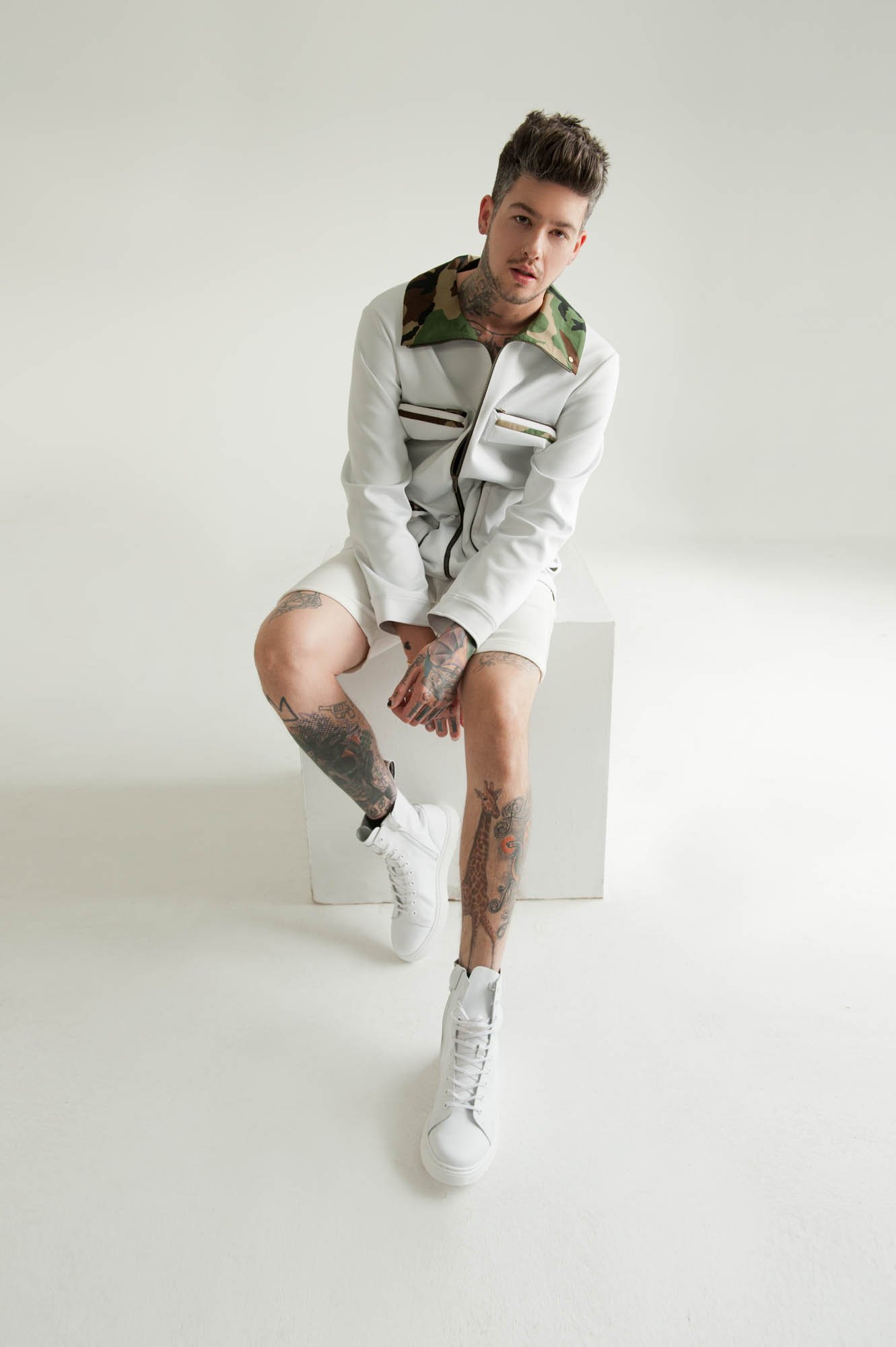 JACKET JAY STEPHAN | SHORTS SOULSTAR  | BOOTS DR MARTEN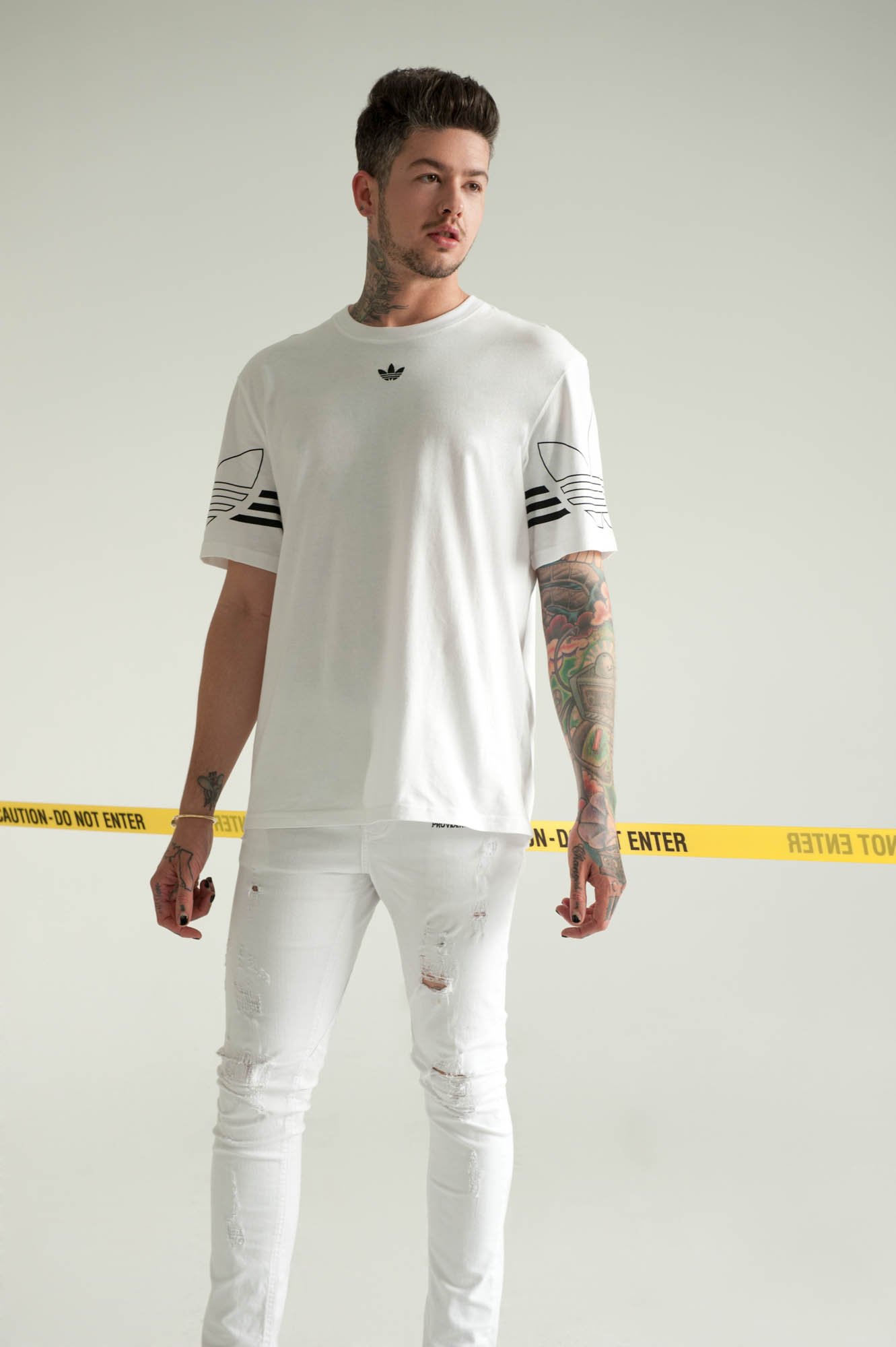 T-SHIRT ADIDAS | JEANS PARAVAL
Sari: You've gone from recording artist to actor, to host. What role do you feel most yourself in?
TM: All of them, to be honest. I'm 29 now. I'll be 30 in April. I feel like one thing that I've stepped into is confidence. When I started making music, a lot of it came from this place of insecurity and overcompensation. It's easy to get lost in that. As I was getting older, I went through an identity crisis. Then you start finding things that fulfill you. One thing leads me to another all the time. For me, one door has always opened the other.
Sari: Do you see yourself producing more artists in the future?
TM: Definitely. That's been fulfilling for me as well. And, it's fun. When you go into the studio as an artist, and you're writing for yourself, you have all of these thoughts and concerns and hesitations. When I'm in there with another artist, I can tailor it to them. It's freeing.
Sari: Will you be resurrecting the "T. Mills" moniker?
TM: It's so funny because now it's almost become this thing of Nostalgia. I definitely want to, yeah. I just want to have a cohesive project that I can release. That takes time. I've got to live life and be inspired. The things that are on my mind right now are my Apple Music Beats 1 show and my podcast. But, I'm always in the studio making music. I have so many songs; it's just a matter of how and when I want to release them.
Sari: How do you dream of changing the landscape in entertainment overall?
TM: One thing that's super exciting to me is long-form conversations, which is why I have such a need for this podcast. But, at the same time, I have ADHD, and I can only focus on something for a little bit before I get distracted, so it's finding that culmination of all of my worlds and bringing them together. My dream is to have the anti-anti late night show. Right now, I feel like I'm laying the groundwork for what's to come. That's the beautiful thing about having these other things and not just being an artist is that I can do this forever. In 10 years, I have seen so many phases of the industry. I was releasing music before streaming. I've been there through all the waves. I've kind of been able to carve out a niche career here. I feel like it's pretty unconventional.
Sari Cohen
Stylist: Elena Vasilevsky
Photographer: Ryan Jerome
Production: Inlove Media & Production
Grooming: Berenz C