Nami Nori, which means "to surf" in Japanese, calls all the temaki sushi lovers to Brooklyn. Nami Nori is a Japanese restaurant specializing in open temaki from partners Taka Sakaeda, Jihan Lee, and Lisa Limb, with locations in New York's West Village and Williamsburg, Brooklyn. While working under the only three-star Michelin sushi chef in the country, chef Masa Takayama, the trio teamed up to open the doors of Nami Nori in October 2019. The restaurant has received two stars from The New York Times and was highlighted as one of Esquire's "Best New Restaurants in America 2020," Robb Report's "10 Best New Restaurants in America," and Bloomberg's "Best Restaurant Dishes of 2019."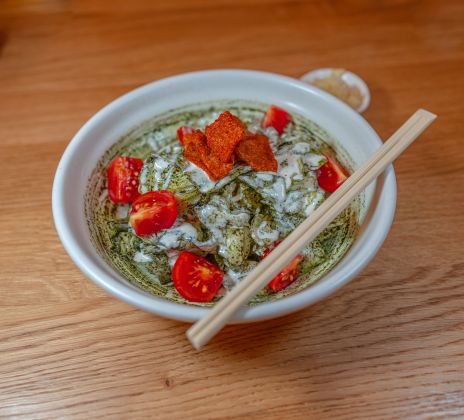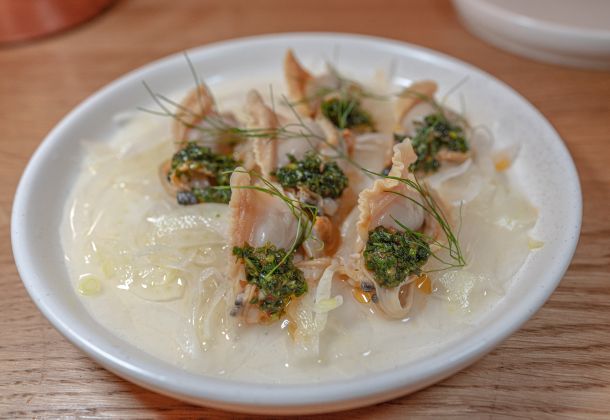 Hand rolls (temaki) are basically the taco version of sushi rolls. A single large piece of crispy seaweed on the outside with the same variety of ingredients – raw fish, seafood, vegetables, rice – on the inside spilling out from one end to the other.
The Williamsburg Brooklyn location has two temaki counters. While the interior is flawlessly minimalistic with comfy, cozy vibes, there are also large glass doors that fully open, leading to the patio-outdoor seating section which overlooks the iconic McCarren Park. On the menu: open-style temaki and Japanese-inspired starters and snacks, with rolls and dishes exclusive to the Brooklyn hotspot.
From the temaki counter, you have the option of the signature set, the vegan set, or you can create your own set. Indulge in tuna poke with crispy shallots, coconut shrimp with green curry, lime, and cilantro, avocado "toast" with pickled beets and carrot, or eggplant with red miso and gobo chips. Those are just a few options in a long list of delicious treats.
The temaki selection is a variety of signature, vegan, primo, crunchy, and classic plates. The signature includes tuna poke, x.o. scallop, kanpachi pineapple, and coconut shrimp. Enjoy vegan options such as eggplant, maitake truffle, crispy tofu chimichurri, and cucumber black sesame. Under primo, you'll find uni, aka ebi, toro + scallion, and spicy lobster. If you're in the mood for crunchy, you can opt for avocado "toast," everything smoked salmon or spicy crab dynamite. Finally, the classic menu includes spicy tuna, salmon + avocado or cucumber, tuna + avocado or cucumber, red crab california, yellowtail + scallion, ikura + cucumber, and crispy salmon skin.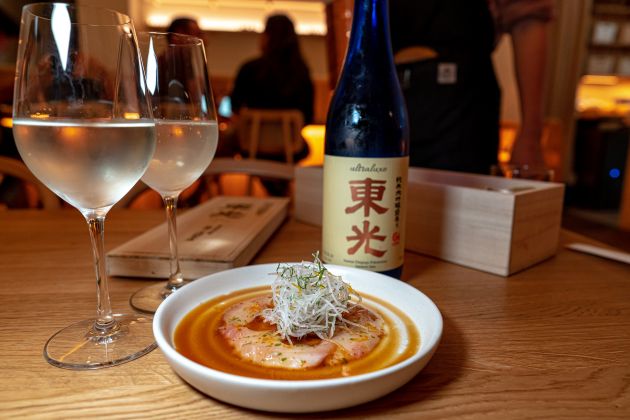 You also have an outstanding selection of starters. Favorites include tuna crudo with fried capers, myoga, red onion, radish sprouts, and bonito soy. Top neck clams with fennel daikon salad and cilantro gremolata. Shishito peppers in smoked honey miso. There's also the crispy rice chips & dip. Dip choices are spicy tuna or mushroom. You can also opt for caviar service. For dessert, nourish your cravings with mochurros or a sesame miso chocolate chip cookie to top things off right.
Nami Nori offers an exceptional sake menu. Their sake bar displays their favorite local beers, exquisite sake, and natural wine selections. Their sake, beer, and wine highlight Brooklyn brewers and distillers: Brooklyn Kura, Kato Sake Works, Talea, and Coney Island Brewery.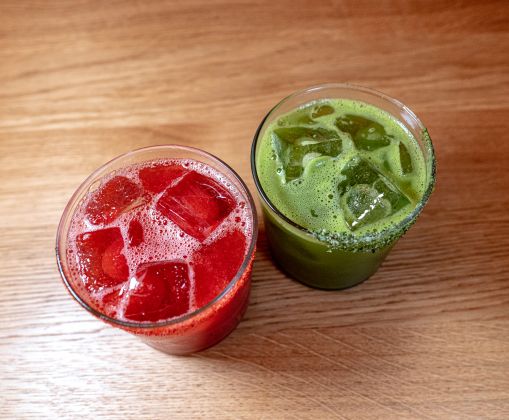 Nami Nori restaurants are designed by NYC-based architecture firm MN Design Professional Corporation. They're inspired by modern beach houses and traditional Japanese residences. Nami Nori's dining room has beautiful arched ceilings and neutral earth tones. The 40-seat restaurant with tall window-paned doors, welcomes customers into a light and spacious atmosphere which offers two temaki counters, a sake bar, and covered outdoor seating designed with repurposed plywood.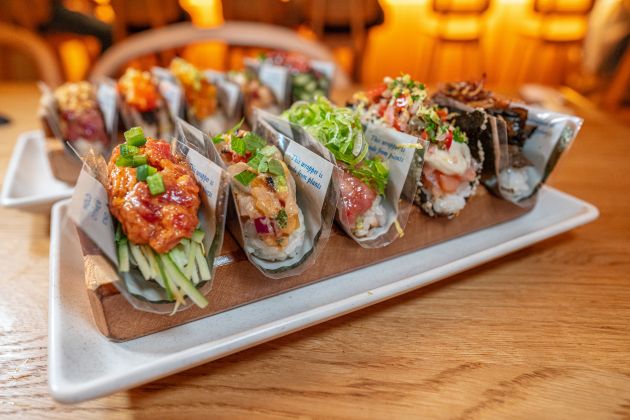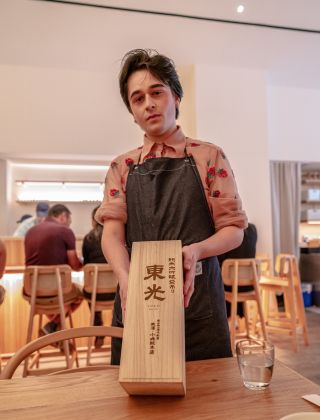 The Brooklyn location is now open for lunch. Alongside their full menu, weekday lunch offers exclusive bowls and lunch sets (all under $30), including:
Vegan Mushroom Rice Bowl ($16) with mixed mushroom, grilled spring vegetables, edamame, pickled daikon, furikake rice, charred spring onion, and red pepper hot sauce
Kanpachi Chirashi ($18) with kanpachi, tobiko, shiso, radish sprouts, nori, and lilikoi passion fruit ponzu
Lunch Special ($28), which includes Nami Nori's Signature or Vegan temaki set (with 5 temaki rolls) and a glass of sake, wine, beer, or matcha soda
Lunch is available Wednesday through Friday from Noon – 2:30 pm, and the lunch specials are only available for dine-in. Weekend brunch is available on Saturday and Sunday from noon to 2:30 pm.
Make your weekends memorable. Head over to Brooklyn's McCarren Park, walk around and enjoy nature, build your appetite, and enjoy delicious temaki rolls with some aromatic sake at Nami Nori.
@naminori.nyc
236 North 12th Street (Driggs Avenue), Williamsburg, Brooklyn,
Words by Elle Taylor