The Immersive Van Gogh
The Immersive Van Gogh Exhibit has officially opened at Pier 36 NYC, and it is an event you don't want to miss. Many of these exhibits are sold out well before opening day, some have already closed, and others haven't even announced a venue yet.
You can quite literally step into hundreds of Van Gogh's most famous works, surrounding yourself in 360 degrees of 500,000 cubic feet projections, 60,600 frames of video, and 15,000 sq ft screens.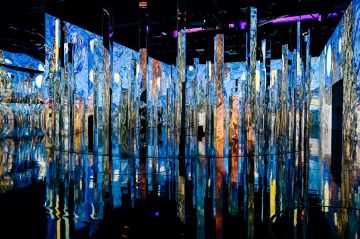 The Immersive Van Gogh Exhibit was imagined and created by Italian film producer Massimiliano Siccardi.  Hamilton production designer David Korins signed on to add an extra wow factor, Goghing beyond the usual museum experience to create a feeling of pure awe and delight.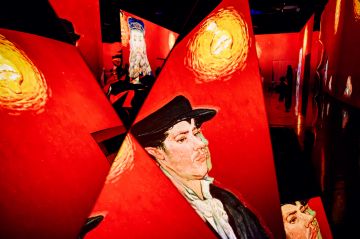 The installation features Van Gogh's ingenious works such as Mangeurs de Pommes de Terre (The Potato Eaters, 1885), Les Tournesols (Sunflowers, 1888), La Chambre à coucher (The Bedroom, 1889), and of course, he Nuit étoilée (Starry Night, 1889). 
One of the New York show's most impressive features is the 75,000 sq ft waterfront space the venue is located along with breathtaking views of the Williamsburg Bridge and East River.  
Everywhere you look, visitors are entirely enveloped in spectacular perspectives and a completely new take on art, spotlighting the exceptional advances of the digital age.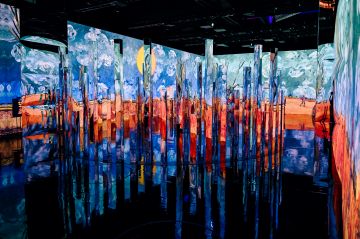 If you have seen Emily in Paris starring Lily Collins, you have already witnessed Siccardi's magnificent work. Lily Collins herself has been a heavy promoter of the exhibit, emphasizing the show's one-of-a-kind experience and unveiling the future of art as we know it. 
We are INLOVE with the Immersive Van Gogh Exhibit, and we know you will be too. From his bright landscapes, moody night scenes, expressive portraits, and thought-provoking still lives, this exhibit is unlike anything you've ever seen, let alone walked across.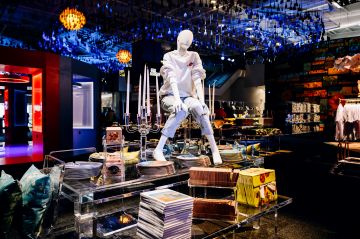 Renowned Creative Director David Korins (Hamilton, Dear Evan Hansen) has created a custom design to fit the architecture of the exhibition's New York home, adding new elements for the New York debut. These include: 
▪ The Sunflower Wall, which offers a closer look at one of Van Gogh's most famous sub- jects and looks to create a feeling of outside, inside. Viewers will get the chance to inter- act with a textured wall of bright colors and fun, meant to evoke the familiar feeling that one is standing in a field of sunflowers. 
▪ The Ceiling, which is inspired by Van Gogh's masterpiece The Starry Night, was cre- ated using over 7,800 individually hung paintbrushes dipped in multiple colors. 
▪  An oversized reproduction of a self-portrait of Van Gogh, which allows people to not only appreciate the intimacy and nuances of the work (and get a chance to look deeper into his eyes and heart), but to also give a greater understanding of his exquisite individual brushstrokes and muscularly specific way of painting.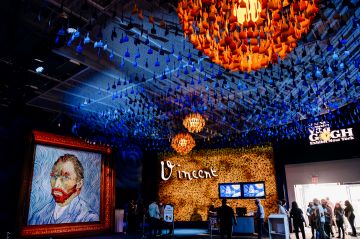 ▪  The Chromesthesia Experience, which invites audiences to walk through 10 booths based on the colors most often used in his paintings. While inside the booths, the audi- ence will be immersed in a light and sound experience based on documented research of watching people with chromesthesia react to certain colors. It is generally accepted that Vincent van Gogh had a special form of synesthesia called chromesthesia in which he was able to hear color and see sound. 
▪  Letters from Vincent is an activation based on an artificial intelligence program cre- ated from the digital scans of over 1,000 letters Vincent van Gogh wrote to his brother Theo. The booth allows guests to ask Vincent a question and have him respond with a one-of-a-kind customized letter directly addressed to the individual. This was developed in collaboration with Technology, Humans And Taste [THAT], a creative and innovation shop based in New York City, which designs concepts, campaigns and products. 
▪  The Pocket Gallery, where paint leaves the canvas and immerses participants in Van Gogh's creative process through a surreal augmented reality experience. 
▪  Within the exhibit, Korins will add tiered observation platforms, intricate mirrored sculptures and "secret" spaces for guests to discover as they observe the program. These elements were also developed in collaboration with THAT.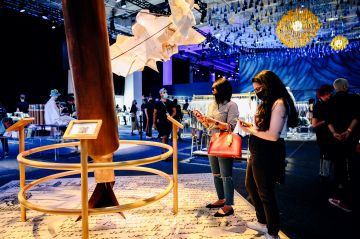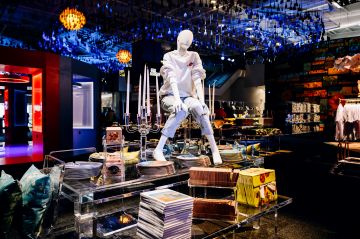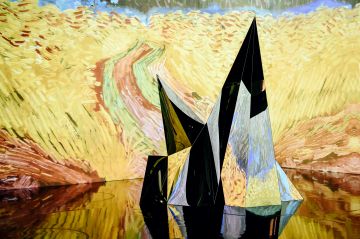 Immersive Van Gogh is now open at Pier 36 (299 South St.) a 70,000- square-foot facility located on Manhattan's Lower East Side with views of the East River, the Brooklyn skyline and the Manhattan and Williamsburg bridges.
@goghnyc 
#VanGoghNYC
#LighthouseImmersive
#Pier36
Words: Sydney Friedman
Photo Credit: Nina Westervelt