"When in doubt, just 'Book' it," is David Ajala's motto. Fitting, seeing that he stars as Cleveland Booker, in "Star Trek: Discovery." Season 3 returns to CBS All Access on Oct. 15, and Ajala is the most recent series regular to join the acclaimed sci-fi drama series.
This is not the British actor's first dive into the world of sci-fi fandom. Fan favorites include his role as Manchester Black on The CW's "Supergirl" and Roy Eris in Syfy's "Nightflyers." Ajala's charisma and raw talent have landed the actor role after role – each exemplifying his dynamic range and sheer star quality. Next on deck for Ajala is "Italian Studies," an indie movie also starring Vanessa Kirby, directed by Adam Leon. "It's a unique project to be a part of," he tells INLOVE Magazine.
Sari: What are three things that 2020 has taught you so far?
David Ajala: A deeper level of gratitude, perspective, and the limitations of man's intelligence and power. "There are more things in heaven and earth Horatio than are dreamt of in your philosophy." – Hamlet (Shakespeare)
Sari: How do you hope your work influences future generations?
DA: That's a big question! I choose projects/characters depending on where I'm at personally in life. When things are a little heavy, I opt for levity. When I'm feeling courageous, I embrace work, which challenges me to grow artistically, spiritually, and mentally. I suppose I hope my work will inspire people to always run bravely towards obstacles and unapologetically shatter any glass ceilings.
Sari: Tell me about being part of the DC Universe. What's the coolest thing you've ever heard from a fan that has come directly from something you put out there?
DA: A number of kind people I have met in person or online have insisted that Manchester Black ["Supergirl"] should get his own spin-off show – very humbling.
Sari: What do you think Manchester Black's most endearing quality is?
DA: His comfortability and relish in flirting with danger.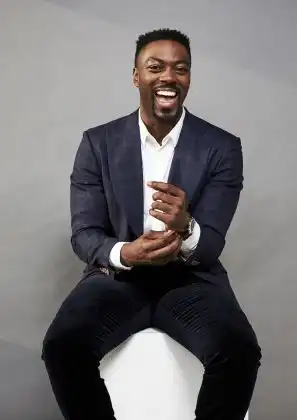 Sari: As an actor, what's your favorite part of Comic-Con?
DA: I've been to a few Comic-Cons around the world. I'm always humbled when meeting the loyal fans. They inspire us on so many levels. I also try and fit in a bit of merchandise shopping! Standard tiiiiiiings!
Sari: How has it been adjusting to doing all of this through the digital world?
DA: We've had no choice but to adjust! And very quickly. One of the silver linings is accessibility in connecting with each other, but not all are afforded that simple privilege. Perspective.
Sari: You're now about to debut into another fandom with "Star Trek: Discovery." Did you have a favorite "Star Trek" before this?
DA: I worked with Sir Patrick Stewart – not sure if you've heard of him – a few years ago on a play and a film. Prior to that experience, I had never seen a full episode of any "Star Trek" iteration, but I was FULLY aware of its longstanding legacy in pop culture. "The Next Generation" was my introduction to this special franchise through Patrick. Excuse me. – SIR PATRICK! Getting to reconnect with Sir Patrick through "Star Trek" has been special.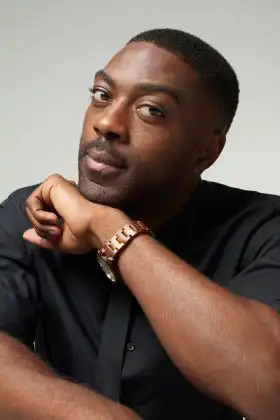 Sari: What's this experience been like for you, joining the cast and bringing this character to life?
DA: I count it a big blessing to be able to work with such a devoted and talented team both in front of and behind the camera. And our leading lady, Sonequa Martin-Green, is the gift that keeps on giving.
Sari: Tell me everything we need to know about Cleveland Booker.
DA: Now, why would I do that?! [Laughs] I REALLY don't want to spoil ANYTHING, but I can say that Cleveland Booker is on a VERY personal mission that only death can stop him.