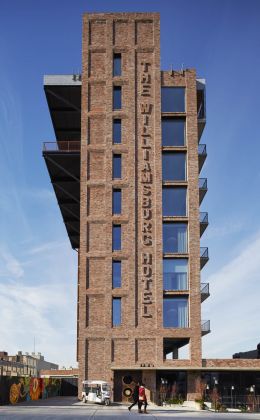 Explore the "right side of the river" at The Williamsburg Hotel. A Brooklyn boutique hotel with one motto: "Local. Unscripted. Independent." The hotel itself is undeniably design-conscious with a charming Williamsburg spirit. Just minutes from Manhattan and moments away from all major New York transport hubs, memories are to be made across the city.
At The Williamsburg Hotel, you become a part of the action with wrap-around views and loft-style living with five types of rooms, all with floor-to-ceiling windows. As you walk in, expect to be taken aback by the flood of light being swept across the room towards the enormous bathtub overlooking the city.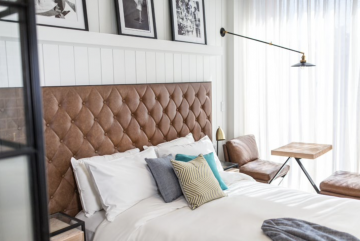 At this hotel, "modern design frames architectural detail" with custom furnishings by Michaelis Boyd Studio.
This stylish hotel is much more than it seems, spreading an abundance of hometown pride, amplifying what makes Brooklyn unique, and highlighting Williamsburg's beauty. In each room, you will find products by Apotheke, handmade right in Brooklyn. 
In need of transportation? The hotel has a complimentary chauffeur-driven tuk-tuk service. If you prefer a more independent route, borrow a custom-built cruiser to explore the city and "uncover obscure art galleries, tuck into local bars and coffee shops, and make your way to live music venues."
Experience an ever-changing lineup of NYC's most popular DJs at The Lobby Bar and devour cuisine inspired by Chef Alberto Gomez's childhood blended with the "culture of late-night Williamsburg." And don't forget to bring your dog along. This pet-friendly hotel features a program called "Pooch" because our best friends deserve to be pampered just as much as we do. There's nowhere else in New York you can "neighborhood like a local."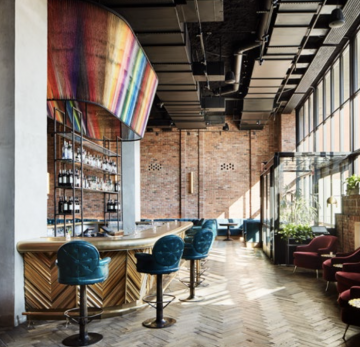 www.thewilliamsburghotel.com 
Sydney Friedman
@wburghotel