When "Tall Girl 2" hit Netflix in February, fans got to see a whole other side of Stig Mohlin. Heartthrob Luke Eisner reprised his role, starring opposite Ava Michelle, Sabrina Carpenter, and Griffin Gluck, showing off a kookier side to his character this go-round. Eisner says that playing this version of Mohlin was a real treat. "I anticipated Stig to be the villain in the sequel based off of his actions in the first," Eisner reveals to INLOVE. "So, when I read the script for the first time and saw his redemption arc, I was pleasantly surprised. Playing a character who is so openly goofy and dorky can't help but make you smile the whole time you're filming." 
Sari: Did "Tall Girl" teach you anything about love and relationships in real life?
Luke Eisner: A couple of things. Jodi is going through a hard time with her mental health, and real love is understanding someone's trauma. Everyone has an angel on one shoulder and a devil on the other, and in a relationship, you have to be prepared to lay your head on both. I think taking the time to understand your partner's demons as well as their virtues helps strengthen communication, amongst many other things. 
Sari: What's the best advice you can give on what makes a healthy relationship?
Luke Eisner: Be friends first. Most relationships go from "I like you" to "I love you." I think the opposite is stronger. It sounds crazy, but try to love someone before you like them. I was friends with my girlfriend long before we started dating. I loved her as a person and as a dear friend. I knew all her dreams and personality traits before we ever kissed. I think friendship makes you certain you are attracted to someone for all the right reasons as opposed to just a first impression or how someone looks.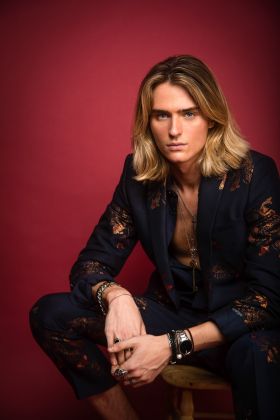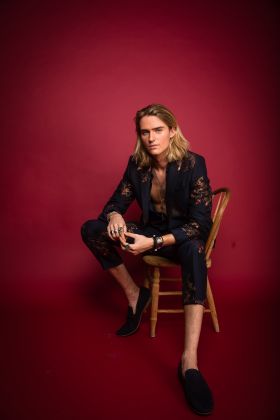 Sari: What advice would the Luke Eisner of today give to Stig Mohlin when it comes to life?
Luke Eisner: [Laughs] Honestly, I'd say stop wearing sweaters in New Orleans because it is humid and hot as all hell there. Jokes aside, I think I could learn more from Stig than he could learn from me. He figured out that true friends are more important than popularity. He also had the bravery to throw himself into a whole new country, with a whole new language, and live with people who didn't want him there. When I was 17, there's no way I would have had the courage to do something like that. 
Sari: Tell me about your journey in storytelling and how it led you here?
Luke Eisner: I really owe my love of stories to my parents. My dad used to spend hours a night creating the most elaborate bedtime stories with characters and voices he'd invent on the spot. My mom was always making up plays and puppet shows in our living room. Once I learned how to read and write, I became obsessed with both. Little me was convinced I'd become an author when I grew up, and I spent most of my time writing letters and stories. As I got older, I started doing plays and playing in bands. I realized that songwriting helped me express what was different about myself, and acting helped me find what was the same between myself and the character I was playing. When I started modeling, I found out you could tell stories without words but rather with lines, colors, patterns. I then just became addicted to discovering there was more to being an author than just pen and paper. 
Sari: You grew up in a small town. How did that prepare you for success in Hollywood?
Luke Eisner: I think it taught me to aim to be more significant than successful. I know I'm not always the most talented or experienced or best looking for a role, but I can always guarantee I'll be the nicest and hardworking man I can be. Small-town life taught me the values of hard work, being grateful for what you have, and how to be a gentleman. I am so grateful for those lessons, and I hope that's what I'm remembered for.
Sari: What do you ultimately hope to accomplish as a storyteller?
Luke Eisner: Ironically, I don't have a poetic answer for this [laughs]. I just hope I can keep telling stories. Whether that's through acting, modeling, music, screenwriting, or books, it all comes from the same place. The ink is all the same; I'm just trying out different pens, so to speak.
Sari: Let's get into your music. What's next for VOILÀ? What are you working on there?
Luke Eisner: Super excited about what's going on with VOILÀ right now. Our song "Figure You Out" just hit 10 million streams, and we even did a version of the song for the "Tall Girl 2" soundtrack. On March 18, we have a song called "Imaginary Friends" coming out featuring the band Hey Violet. The music video for "Imaginary Friends" is a sequel to the story started in the "Figure You Out" video. I was able to direct the videos, and it was a blast because my girlfriend Kirby is in them with me. We have songs coming out every five weeks for the rest of the year. 
Sari: You've toured alongside some pretty massive talent. Has anyone ever left you starstruck?
Luke Eisner: Yeah. We did East Coast shows with the band The Fray. They are one of my favorite bands of all time, so it was a dream come true. Unless you live under a rock or haven't been to a department store in the last 15 years, you know their famous song "How to Save a Life." Anyway, their lead singer [Isaac Slade] has probably played that song thousands of times. However, every night he played, it felt like he was just discovering it for the first time. I got full-body chills every single time. The fact someone was able to connect to their song so deeply over and over again was one of the most inspiring things I've ever had the pleasure of witnessing. 
Sari: Tell me about your songwriting process. How do you know when you're onto something incredible?
Luke Eisner: You ask the best questions. I love this! If my life flashed before my eyes, I think it would be mostly my phone screen. Most of my life is spent typing thoughts or phrases into my notes app. I try to write at least a song a day. Not because I think it'll make me better, but because I really just love doing it. I think the best moments are when you've found a clever play on words to describe a feeling everyone's felt, but in a way that no one has expressed before. I call those "tattooable lyrics." The modern-day version would be "Instagram bio-able lyrics" [laughs]. 
Sari: You've got such a great sense of humor. What are the top three things that never fail to make you laugh?
Luke Eisner: Half of my brain is filled with "Harry Potter" trivia, and the other half is filled with dad jokes. I'm so embarrassed to admit this, but I actually submit jokes I come up with to dad joke pages on Instagram. So dad jokes are for sure number one. Cats who have had too much catnip are number two. Last but not least is brutally honest children. If you need a laugh, ask your little cousin how old they think you look and why.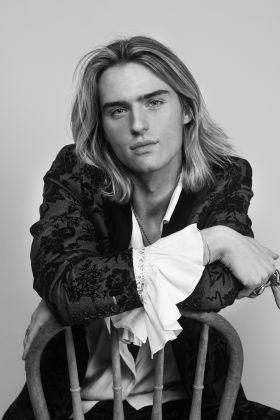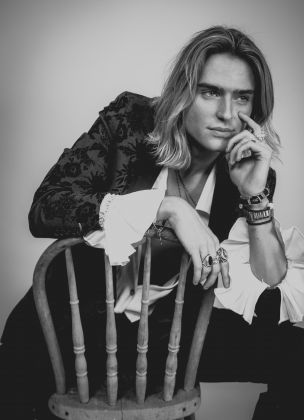 Sari: You also used to DJ weddings. What would your dream wedding look like?
Luke Eisner: This brings back memories! I used to DJ weddings every weekend, and after doing over 100 of them, I have a theory. Personally, I think the bigger the wedding, the bigger the stress put on the bride and groom. Stress and pressure are probably the least romantic things in the world. I want all the focus to be on my bride-to-be, so I would like a small relaxed wedding with just the bridal party and immediate family. I'd have it in a place we have fond memories of, like a beach, a forest, or a barn; not some venue I've never been to and never will go again. I'd serve food people actually want to eat before dancing, not some rare prime rib soaked in gravy with a side of a stomach ache [laughs]. Instead of a photographer, I'd give everyone a disposable camera because I think those pictures would capture the night better than anything professionally staged. Let's be honest, though, a dream wedding for a guy is whatever makes his fiancé happy. But, if I could ride in on my horse at some point, I wouldn't say no to that. 
Sari: You really strike me as someone who's always very thankful to be where you are. How do you practice gratitude? Do you have any tips for that?
 Luke Eisner: My father passed away two years ago after a long and painful battle with brain cancer. In the four years he dealt with that, no one ever heard him complain once. That's not even just something pretty I'm saying; I genuinely mean this man never complained one time. Watching this man struggle day after day but still being grateful and motivated to be alive was awe-inspiring. Even when he could hardly walk, he carried out his duties of the business he ran and as the director of the Milwaukee Rescue Mission, a homeless and domestic violence shelter near my hometown. How could I not be thankful every day after seeing something like that? I try to be as humble as possible, but I will brag all day long about the father I was lucky enough to have. The tip I have is to spend time volunteering at nursing homes, hospitals, shelters, etcetera. While you are helping them, you'll quickly realize they are helping you. 
 "The heart was made to take a beating," Eisner adds. "I wrote that a few years ago and didn't even really know how true it would end up being. Pain, hardship, and difficulty are only reminders you are having a human experience, not that it's over. To be alive, literally and figuratively, means that your heart has to take a beating." 
You can catch Luke Eisner with Jess and Jojo Siwa on "Siwas Dance Pop Revolution" [streaming on Peacock and Hulu]. In it, they scour the country looking for the best young talent who, by the end of the season, will form the next big pop group. Eisner also recently reunited with the same "Tall Girl" production company for a new Netflix film based on the book, Uglies.  
Additionally, Eisner and his girlfriend Kirby Johnson have a YouTube channel called the "Kirby and Luke Diaries," where they post updates every week about what's going on in their lives. "It's a great way for us to video scrapbook our memories and to connect with those who support our dreams," Eisner says.
A List of Luke's Favorites:
EDM artist: Avicii
Pop artist: The Goo Goo Dolls or Tom Odell 
Rock artist: Sleeping With Sirens 
Rom-com: "About Time." If you take away anything from reading this interview, please let it be to watch "About Time" 
Book: The Time Traveler's Wife 
Go-to song: "The Gambler" by fun. Easily the most romantic song I've ever had the pleasure of singing in the shower every day for the last 10 years. Sorry to my neighbors 
Actor: Orlando Bloom, Robert Pattinson, Johnny Depp, and Brad Pitt
Color: black – or white – maybe blue? I've been struggling with this question since kindergarten
Meal: Any sort of seafood. It makes me hungry just talking about it 
Fashion designer: Ralph Lauren
Quote about love: "If a writer falls in love with you, know you'll live forever"
Photographer: Dillon Matthew