If you haven't already binge-watched "The Irregulars" on Netflix, do it as soon as you finish reading this article. McKell David shines on screen in the supernaturally fused Sherlock Holmes show. The series follows a group of troubled teens who are manipulated into solving crimes for Doctor Watson and his "mysterious business partner." David plays Spike. His character is the sweet, kind-hearted, fun friend who's always trying to put a smile on everybody's face. Amongst the terror and horrific crimes London is experiencing, Spike is the light in a dark place.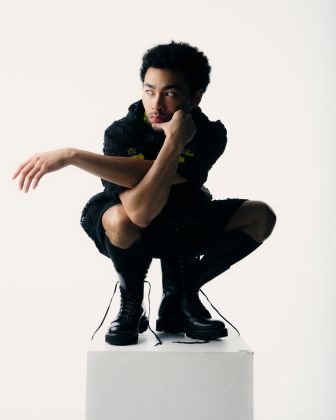 "'The Irregulars' is jam-packed with emotion, fright, and might," McKell David shared with INLOVE. "It will leave you on the edge of your seat, binging for eight hours straight. That's what happened to me."
It's not hard to see why by the age of 16, David was well on his way to achieving star status. Now at 24, he's got a wealth of TV and film credits under his belt. He's played in the fan-favorite "Black Mirror," starred in the British drama series "Holby City," landed the role of Snake Eyes in the TV show "Snatch," and can also be seen in Guy Richie's "The Gentlemen."
Sari: What are some milestones on your life journey that shaped you into who you are?
McKell David: That's a really interesting question. I think life is a journey of growth and becoming a better human as you go along that journey. For me, I think when I started acting, it gave me a buzz that I had never felt before. It inspired me to push myself year in year out and strive for perfection.
Sari: You started off making prank-style YouTube videos at the age of 12, but you studied at an award-winning drama school. How do you think that juxtaposition helped you become the actor you are today?
MD: I think it was the perfect balance. The YouTube show gave me the confidence and allowed me to believe in my ability. As soon as I went to drama school, the levels were evaluated. Being around other amazing performers constantly makes you want to perform at the top level. I think YouTube is a great foundation to start on as it kept my naturalistic ways in scenes which can become structured with drama schooling.
Sari: Any chance of reviving your YouTube bits into something that fits you now?
MD: Possibly. I'd never say no. I have brainstormed some cool shows that I'd like to bring to YouTube. Sadly, I think the days of 'Lil Mckell' hitting on women in London's Mayfair are over [laughs].
Sari: I want to jump into your "Black Mirror" episode. That series rightfully earned extra praise this past year. What's the coolest part about being a part of that series?
MD: The writing. I remember being 14 years old arriving on the set, and all I could think was, 'OMG, I have to meet Charlie Brooker!' He's so amazing, and his stories are surreal but super realistic, which is just mind-blowing.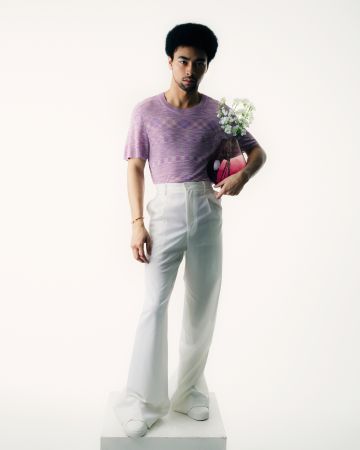 Sari: What would you say are the top three roles you've taken on that have really impacted you over the years?
MD: I think every role impacts you as they become part of you, weirdly enough. But I'd say a character called Snake Eyes, who I played in seasons 2 and 3 of "Snatch." He was a Latino gangster way in over his head which was fun to play but very intense. Also, I've played a character called Montana [for the film 'Montana'], who was a teenage assassin seeking revenge. I think carrying a film at 15 years old really gave me tons of film experience. Of course, Spike in "The Irregulars," too.
Sari: What would your dream project be?
MD: There are so many dream projects. Perhaps working with Martin Scorsese or do a comedy-drama with Jonah Hill.
Sari: What are you most INLOVE with when it comes to your craft?
MD: The prep. That's where it starts. You're like an architect slowly piecing your puzzle together. Creating the character is the most enjoyable part, then you get to bring them to life. It's amazing.
Sari: What's coming up next for you?
MD: I would love to do something dark and dangerous as my next role. I think after being Spike, who is so light and soft, doing something on the complete other side of the spectrum would be interesting.
Favorites: with McKell David…
Favorite designer?
Very hard question. At the moment, I'd say Gucci. I love the contrast between their streetwear pieces and their high fashion pieces. So, fire!
Favorite style?
My own style [laughs]. I love my style because it is how I express myself without words. 
Favorite show you've recently binged?
Easy. "The Irregulars." It's the greatest show on earth currently [laughs].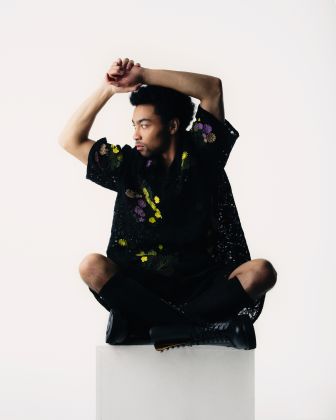 Favorite comfort food?
Mother's home-cooked food. Nothing beats a home-cooked meal, nothing.
Favorite color?
This one changes quite often; at the moment, I'm rocking with like musty greens and pinewood browns. It's the whole mushy peas and oily chips vibe.

Favorite era?
I feel like the '90s. Just growing up watching movies from that era, especially Black movies like "House Party," "Poetic Justice," and "Friday." It always felt like people were catching vibes, enjoying their life, and having fun.
Favorite song?
This is soooo hard. I love music so much. Currently, I've been listening to a lot of Pooh Shiesty, so "Back In Blood" for right now. Tune is a BOP!
Favorite movie?
There are so many movies I love. It's so hard to narrow it down. I feel like any given day, you could get a different answer [laughs], but I'm going to say, "The Departed." I think every performance is 10/10 extremely strong, and it's a great storyline. I do love me a crime thriller.
Favorite guilty pleasure?
"Love & Hip Hop" or "Basketball Wives." I find the drama so entertaining [laughs]. 
Favorite pastime?
I love sports – football, tennis, working out, and I'm playing a lot of Call of Duty during lockdown.
Sari Cohen
@jpg.mckell
@theirregularsnetflix
Photographer: @aaroncrossmanphoto
Styling: @zadrianandsarah
Grooming: @nadialtinbas
@publiceyecomms
Fashion @maisonvalentino @kenzo @emporioarmani @isabelmarant @grensonshoes