FANDI MATA: Where Brooklyn industrial meets the Mediterranean
The restaurant and mezcaleria invite food-driven world travelers, bohemians, and voyagers to indulge in international flavors and artisanal cocktails in the heart of Williamsburg, Brooklyn.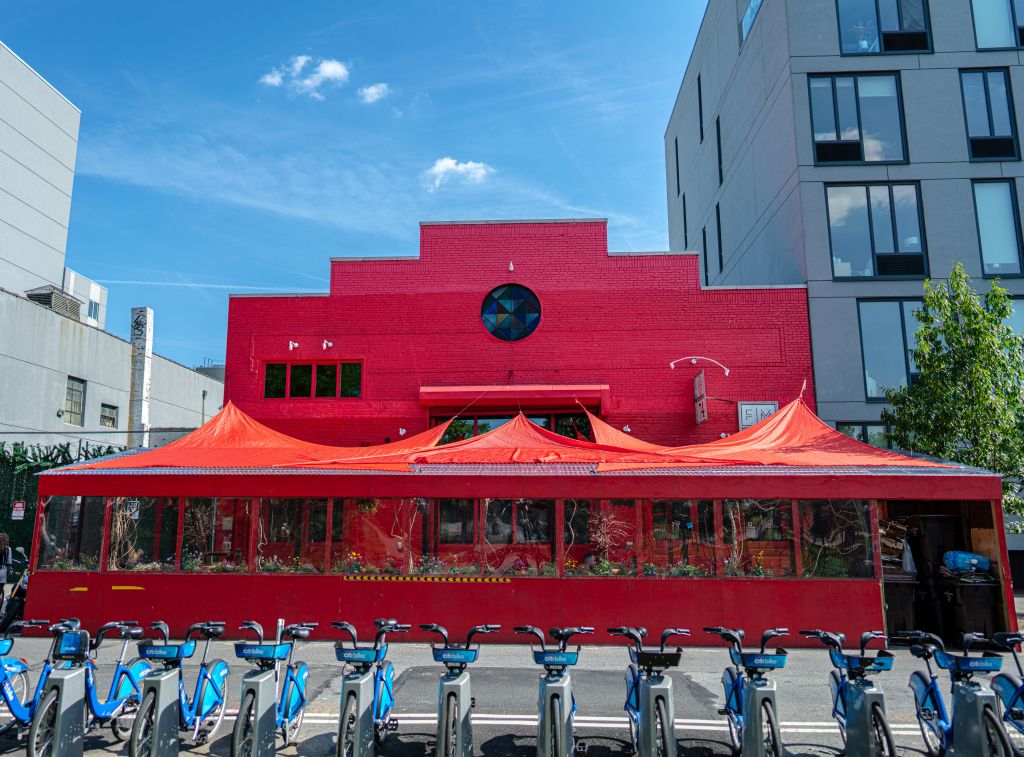 Serving dinner, cocktails, and weekend brunch in the heart of Williamsburg, Fandi Mata brings an eclectic dining experience to a stunning Brooklyn industrial space reimagined as a striking global marketplace. Blending soulful, Mediterranean-inspired cuisine with heartfelt hospitality, Fandi Mata delivers an escapist experience guiding guests through an evocative and enchanting epicurean and cocktail journey.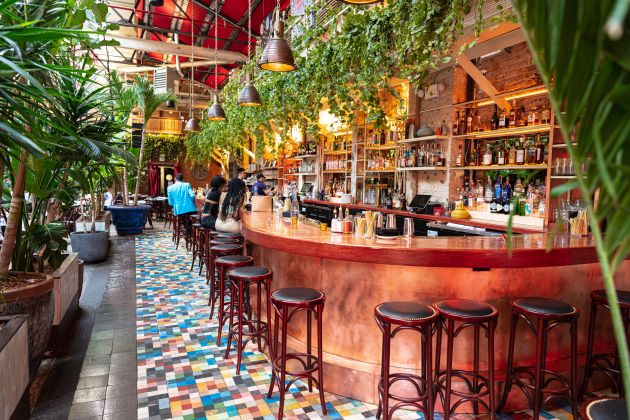 Fandi Mata – meaning "to connect" in Romani – is a warm and captivating space with community at its heart, where friends, family, and neighbors gather for an artful pan-Mediterranean menu and refreshing, vibrant cocktail program. Rooted in genuine hospitality, craftsmanship and global influences create two distinct experiences in the main-floor restaurant and marketplace and second-floor artisanal mezcaleria.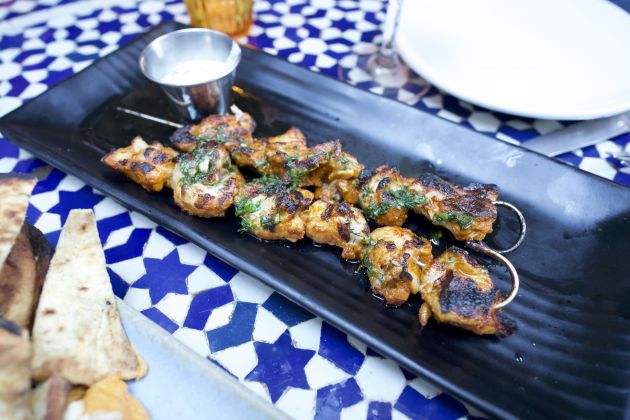 Fandi Mata's culinary experience, reminiscent of the markets peppered along the Mediterranean coast, features a blend of classic and contemporary dishes. At dinner, small plates tour the region from the signature Mezze Platter featuring Black Hummus, Smoky Carrot dip, Tzatziki, Baba Ghanoush, Muhammara and Fandi Bread, to the Kefte Arayes coriander-spiced lamb or Spanish Croquets with bacon, date, and Manchego.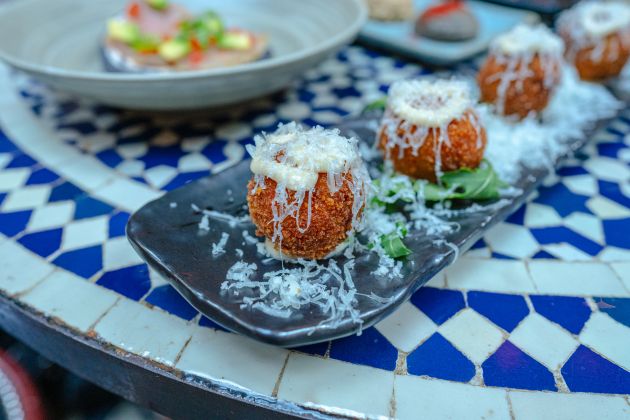 Mains cater to a variety of taste buds, from the Grilled Branzino with sumac mojo, spinach, onions, and fennel to the Paccheri with green chickpeas, parmesan crema and seared oyster mushrooms.
Completing the culinary offering, and not to be missed, is a collection of delightful thin-crust pizzas by Chef and Pizzaiolo Federico Crociani. Standouts fresh from the pizza oven include the Soppressata with chile honey and oregano, the Tarfuto complete with white mushrooms, speck and mozzarella, and the Chorizo with jalapeño, shishito peppers, tomato, and mozzarella.
Decadent desserts such as the Brick Oven Fired Basque Cheesecake with dulce de leche and fresh berries or the Nutella Calzone close out the warm, familial dining experience.
At weekend brunch, menu offerings meld classics with surprising new twists. Sumptuous French Toast is served with candied pistachio and walnuts and an orange honey syrup and the Shakshuka is brightened with a lemon tahini and chives, while the pizza menu carries over from dinner with the introduction of the Truffled Egg Bread Boat and a Brunch Pizza topped with guanciale, red onion and a fried egg.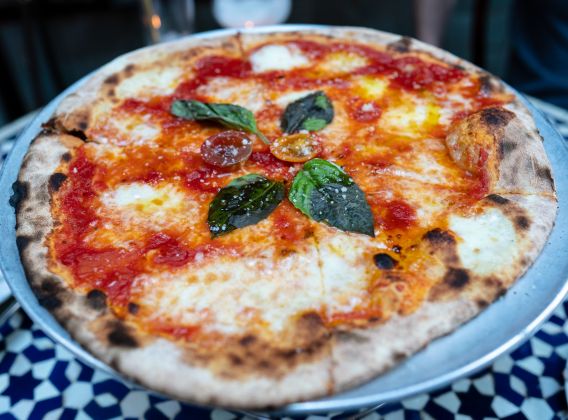 On the lighter side, House Made Granola is served alongside vanilla labne, and mango honey and Sourdough Avocado Toast is topped with cured salmon and black garlic aioli.
With more than 18 years in the beverage industry, including a 15-year bartending residence at the much-lauded Employees Only, managing partner Milos Zica oversees Fandi Mata's impressive wine and cocktail program. As one of the industry's leading mixologists and beverage consultants, Zica's thoughtful and imaginative cocktails pay homage to his global tastes and passion for mezcal. Highlights from the cocktail menu include the fruity, savory, poblano with a hint of smoke Sabrosa (Artisanal Enmascarado 45 Milagrito mezcal, home-made pineapple cinnamon syrup, ancho reyes verde, fresh lime juice, and sal de gusano dust rim), the fruity, floral, and light bodied Voyageur Passionné (Vodka, Boiron passion fruit puree, St. Germain liquor, lemon juice, Aperol), and fruity and herbal Big in Japan (Gin, Pimm's Italicus liqueur, homemade honey-raspberry elixir, lemon, egg white, and sage).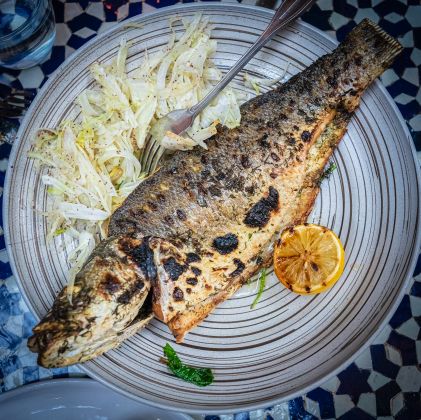 Built in 1930, 74 Bayard originally served as an industrial space and an automotive repair shop. The 8,000 square-foot venue, which sits steps away from McCarren Park, was redesigned by Matthew Maddy with a vision to evoke the colorful energy and vibrancy of the Mediterranean coast's markets and bazaars. Many of the materials used throughout Fandi Mata are reclaimed, repurposed, and have a story to tell. Pulling inspiration from their favorite locales around the globe, including Morocco, Bali, Costa Rica, Mexico, India and Germany, Fandi Mata partners Emil Radoncic, Marjanne Motamedi, Dragan Ristovski and Milos Zica along with Maddy introduced handpicked details including a 100-year-old emblematic sabrosa – a stained-glass rose window from Berlin, fences from Bali, lighting fixtures including authentic antique nautical lamps as well as dramatic maritime lights, and tiled table tops from Morocco.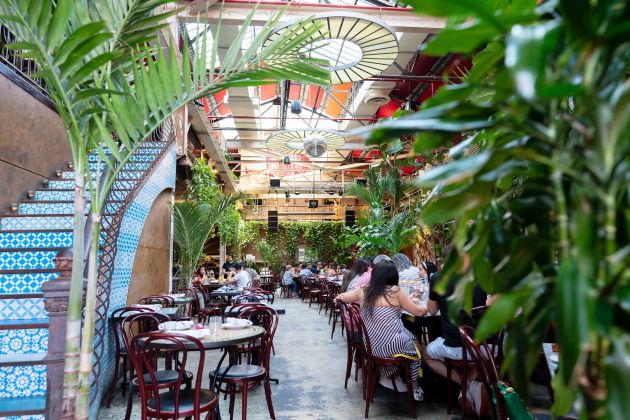 Setting the tone upon entering Fandi Mata, guests are welcomed into a colorful Bohemian lounge showcasing an eclectic variety of contemporary and vintage furniture, rugs, and bedding reminiscent of a Moroccan Bazaar. The bi-level venue is split into an upper mezzanine level and main floor, connected with a grand staircase featuring intricate blue tile work. Bright and airy, the space is filled with a forest of lush greenery interspersed with tables showcasing a variety of tile designs, while the glass ceiling allows natural light to envelop the space. An outdoor pergola further extends the space for those seeking an al fresco experience. Upstairs, the mezcaleria brings warm tones to the airy space that overlooks the downstairs dining room. Brown leather stools line a blonde wood bar and high-top tables while hanging lanterns add ambiance. Above the bar, a hand painted illustration walks guests through the process of making mezcal.
Fandi Mata team collaborated on the design with famed Brooklyn interior designer Matthew Maddy, who helped shape Brooklyn's restaurant design identity with establishments including Celestine, Mediterranean-influenced restaurant, and events space on the DUMBO waterfront; Boerum Hill oyster bar Grand Army; Missy Robbins cult-favorite Lilia; and Fort Greene's rustic stunner Colonia Verde for which he earned a James Beard Award Nomination.
Up a flight of stairs laid with imported Moroccan tiles guests enter the mezcaleria, bringing the soul of Oaxaca into Williamsburg with a wide-ranging, hand-picked menu featuring over 50 different mezcals. The 12-stool bar faces a wall of mezcal bottles, while the bar top itself is made up of Oaxacan pink stone, hand painted by renowned Mexican artist Liene Ruban. Set on the mezzanine overlooking the heart of Fandi Mata, the mezcaleria is an intimate venue designed to transport guests to Oaxaca City and the surrounding agave fields in southwestern Mexico. Serving only agave spirits, the bar program is curated by Milos Zica, who has been passionate about the spirit for over 10 years. The cocktail menu highlights an exclusive partnership with Milagrito, artisan-made mezcals handcrafted in small batches from organic agave plants by the master mezcalero Guillermo Abad Hernández. Tasting flights led by the knowledgeable bartenders are educational, giving guests an insight into the distilling process while they sip on different variety of mezcals. The intimate space transforms from an evening cocktail bar into a late-night lounge with pulsating sounds by world-renowned DJs.
With a mission to showcase the versatility of mezcal, the cocktail menu highlights different flavors beyond the traditional smokiness that defines the spirit. Menu highlights include savory, fruity, and earthy Just a Touch (Milagrito Critical 50/50, Rockey's botanical liqueur, Mango Curry syrup, Lime Juice), cacao, bitter-sweet, tobacco, smoky, with a hint of orangeSleep No More (Milagrito cacao, Ron Diplomático reserva, vanilla vermouth, Grand Marnier), herbal, grassy, with a hint of dark berries and lingering spicy Selena (Milagrito Cirial 50/50, raspberry elixir, Chareau Aloe vera liqueur, piri piri agave and fresh citrus), velvety, mineral, spiced Solé (Milagrito Abocado, St. George spiced pear liqueur, Tea infused vermouth, velvet falernum, orange bitters, sherry essence), and bright and frizzy with a hint of charred corn Uno Más (Milagrito Enmascarado 45, nixta licor de elote, suze, grapefruit cordial, fresh citrus, Topo Chico).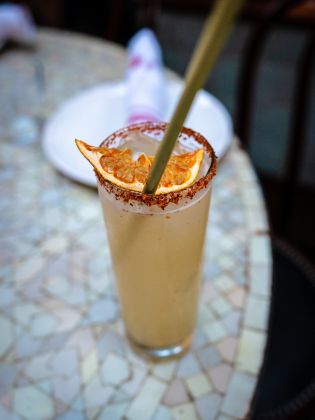 From local in-house vendors and DJs to artists and musicians, the Fandi Mata team is committed to offering visibility and support to the surrounding community. In keeping with Fandi Mata's bohemian vibe, appreciation of craftsmanship, and attention to detail, the venue has chosen to collaborate with like-minded Brooklyn and New York City based brands brought into the space through curated programming:
The New York-based floral design studio, Floresta – specializing in vintage and natural floral styles has introduced its second home at Fandi Mata curating the plant life in the venue and outdoor pergola space.
Lovingly referred to as the Dyphor Living Room, interior designer Francesca De Shae's ever-evolving retail space welcomes guests into Fandi Mata and features hand-selected items from around the globe, as well as her own designed furniture collections.
Rooted in craftsmanship and inspired by exotic cultures, jewelry designer M Cohen brings his eclectic work to Fandi Mata with diners soon able to purchase select pieces from the unisex collection.
Ntte by Paola Votano – shorthand for "Nada Termina Todo Evoluciona," or "Nothing Ends, Everything Evolves" – brings a bohemian, rock & roll vintage aesthetic to custom handmade hats.
Blending seamlessly with Fandi Mata's colorful aesthetic, a collection of Agowa's handwoven Senegalese baskets are available for purchase in the entrance area of the venue.
Fandi Mata is located at 74 Bayard Street in Brooklyn, NY.
@fandimatabklyn.