Hilton Aventura Miami Hotel
AVENTURA, FL is Located in Aventura, a northeastern suburb part of the Miami metropolitan area, the newly built Hilton Aventura Miami Hotel opened its doors on March 2021, to the guests. With 208 rooms, luxuries amenities, and delightful cuisine, Hilton Aventura Miami Hotel makes a perfect getaway for travelers seeking comfort and luxury. Their clean and luxurious interior and the thought-out art selection will leave you in awe as well.
Surrounded by Miami beaches, Hilton Aventura is in a prime location with a short drive from Miami and Fort Lauderdale airports and right next to the Aventura Mall, where you can indulge in shopping the luxury stores, such as Bloomingdales, which offers a Concierge Shopping Experience to the HA guests on another level. Get a firsthand look at Hilton Aventura Miami's "Shopping in Style" package and partnership with Bloomingdales at Aventura Mall, that includes a dedicated personal shopper and other VIP perks you will love as much as you love fashion.
Hotel's luxurious amenities include 24-hour fitness centers, eight story yoga studio, and outdoor yoga on the patio, complementary Wi-Fi, valet, and self-parking garage featuring electric charging stations.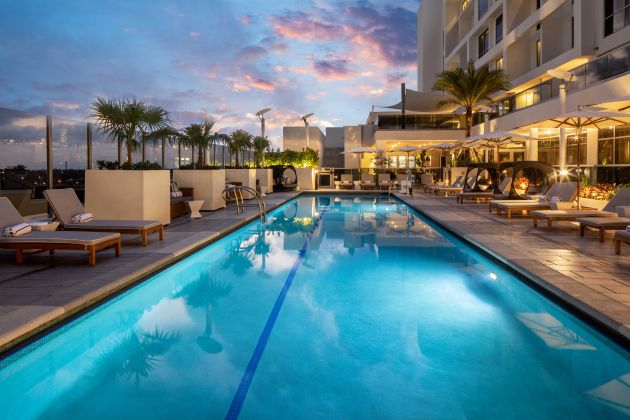 The hotel features delightful cuisine options, with fresh and locally sourced ingredients. The two signature locations Gala and Muse Bar bringing an upscale twist on Southern American cuisine with an Instagrammable dining experience. Gala's cocktails and fine dining showcases some of Miami's freshest seafood, flavorful tapas, outdoor and indoor seating serving breakfast, lunch, and dinner, allowing the experience to be delightful. Muse Bar provides an array of specialty cocktails and light bites to accompany social activities, entertainment, and endeavors.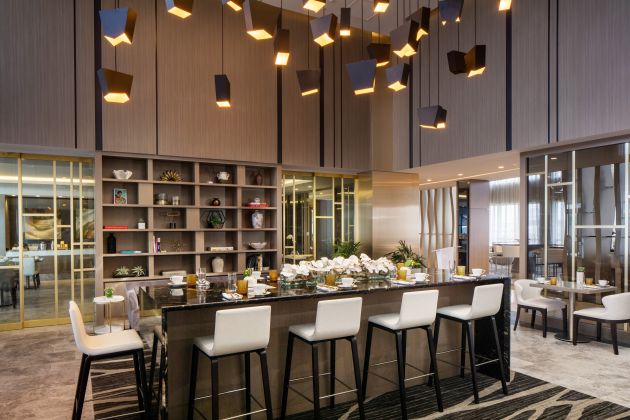 My favorite breakfast highlight is acai bowl, which is not only a fabulous visual treat but the most delicious and nutritious breakfast in their demographic. From amazing chercuterie board to delicious main courses it's just impossible to leave anything on the plate.
Not only is the hotel a hot spot for bustling night life, but it is also home of Aventura's second largest event space with more than 15,000 square feet. For ballroom space capable of accommodating 600 persons, makes Hilton Aventura Miami Hotel the perfect space for large events. Committing to the safety of large group travel, Hilton Aventura Miami also takes part in Hilton's EventReady with CleanStay, a global industry-leading cleanliness and customer service program specific to create event experiences that are clean, flexible, safe and socially responsible.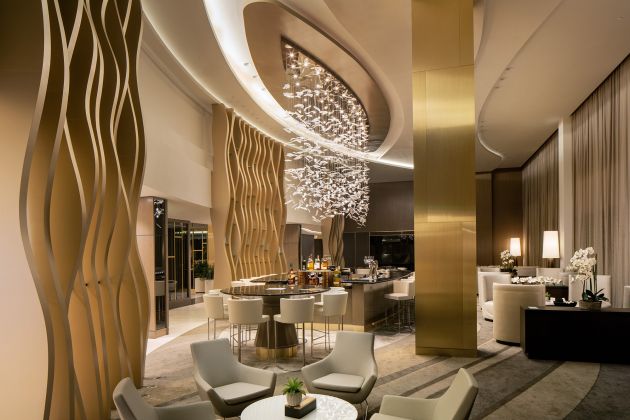 In line with Hilton, Hilton Aventura Miami is taking part in Hilton's Clean Stay Program; helping deliver a cleaner stay using industry-leading hygiene practices to keep guests safe. The program allows to set new standards for cleanliness, which include a Hilton CleanStay Room seal, to showcase the freshly disinfected room with a seal to indicate the room has not been accessed since its last clean and sanitized service.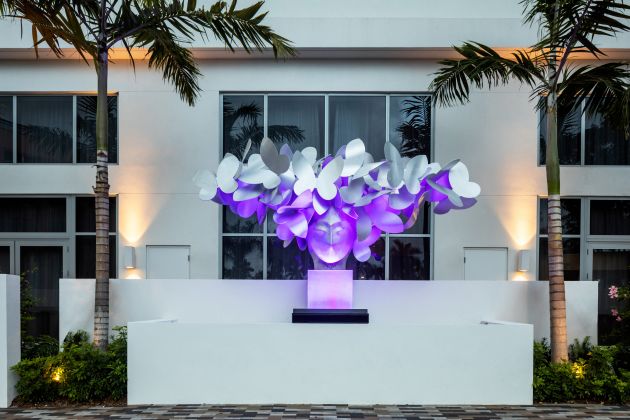 "We plan to create an ambiance that is welcoming to all by offering premium amenities for the discerning luxury traveler, as well as a vibrant lifestyle amenity for those seeking to socialize and relax in an upscale, yet laid-back environment," said Kai Fisher, general manager, Hilton Aventura Miami.
With an exceptional stay, and accommodating services, guests are encouraged to participate in sharing their experience by interacting with Hilton Aventura Miami's social media campaign by hash tagging their experience with #LuxeinAventura or #HiltonAventura hashtags.
If you're looking to step outside your zone and enjoy some activities, as I certainly enjoyed an adventurous Tour of the iconic Gulfstream Park, South Florida's premier horse racing destination, and delicious lunch at Ten Palms Restaurant. I certainly felt the adrenaline rush as I watched a race and the competitors in action while sipping on my margherita.
Make sure to check out some of their culinary offerings!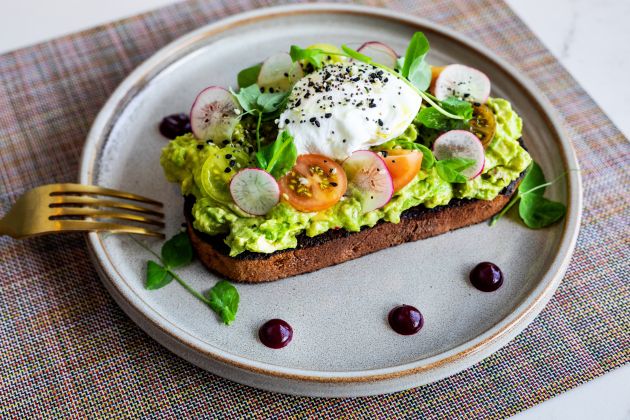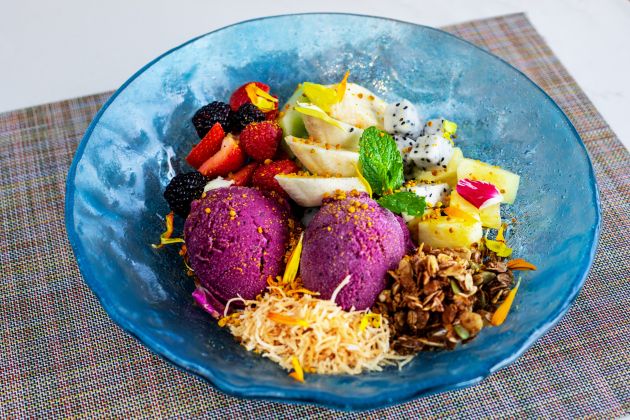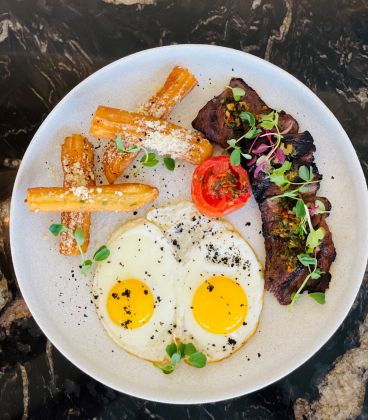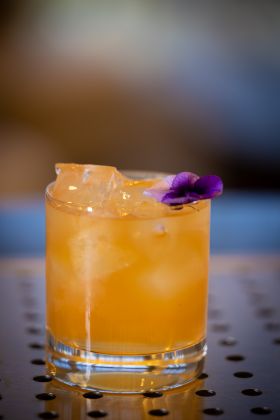 Explore some top-notch dining experience with the view! Treat yourself to a delicious cuisine at ETARU Hallandale with panoramic ocean views, located in one of the area's most stunning beaches of Miami area. Aventura is recognized worldwide for its art scene and is home to the Museum of Contemporary Art (MOCA) in North Miami. Head out and explore a local art scene on one leisurely afternoon touring the museum and enjoying fine modern art. At night, if you're hungry, head over to Serafina Miami for dinner – it's one of the top Italian restaurants with superb service and right by your table delicious pasta cookout in front of your eyes.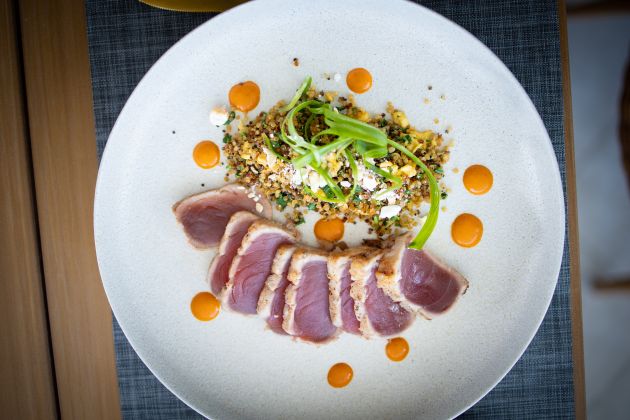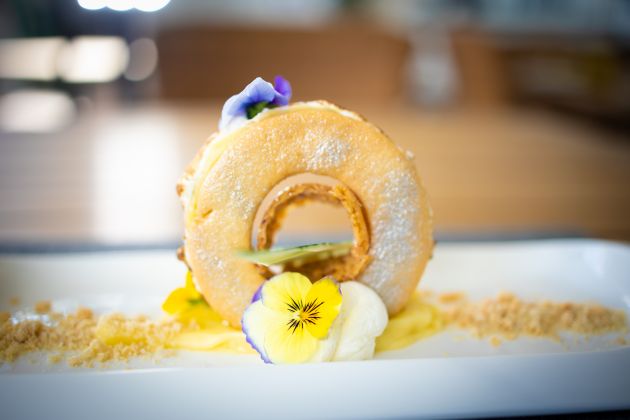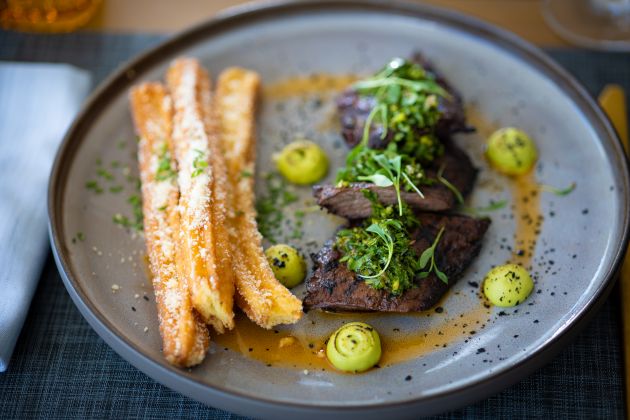 Elle Taylor
Hilton Aventura Miami
Greater Miami CVB
Website
Gulfstream Park
Website
Aventura Mall
Website