If Lana Del Rey had a love child with '90s male supermodel Marcus Schenkenberg, it would be Aidan Alexander. Towering at 6-foot-1 and exuding a personality seemingly larger than his actual height, when Aidan Alexander walks into a room, he's the life of any party. It's not surprising that the self-professed Phoebe Bridgers fan is also a huge music aficionado. It's a fitting reveal that he's just as eclectic as his playlist.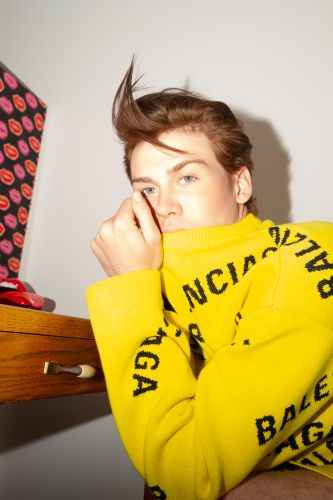 From Megan Thee Stallion to "Rhinestone Cowboy," Alexander's song choices are equally intriguing to his own work. The singer-songwriter-actor who originally hails from Boise, Idaho, recently dropped two new songs – "the end of the world" and "the hills" – his first music in over two years.
"They just don't make them like that anymore," Alexander says as he opens up a retro magazine with Kate Moss as the centerfold. Alexander, sprawled out on the floor during his photoshoot for INLOVE, is surrounded by old records and some Rolling Stoes decor – which couldn't be more apropos for the multi-hyphenate artist.
Somewhere in between the '70s, '90s and today is Aiden Alexander. Tall, striking, funny, and unassumingly modelesque. The backdrop of Downtown Los Angeles almost served as an echo of his personality. Fun and exciting, while also artistic and intriguing, modern with a retro edge. That's Aiden Alexander.
Sari: Briefly walk me through your journey of success. When things really took off, and how you got to where you are today?
Aidan Alexander: That's nice of you to say. I think there's lots of work to do, but people started to take notice with the first single I put out, "I Don't Love You." It resonated with some listeners. I was 18 and extremely nervous, so it was cool that people had the positive reaction they did.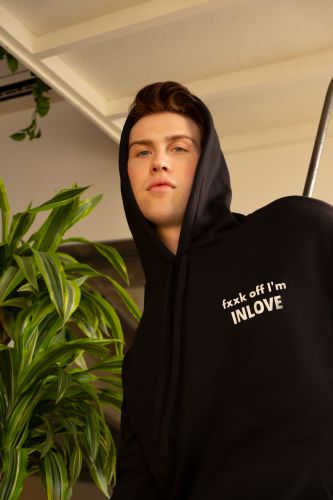 Sari: How does it feel being known as a "heartthrob?" What do you think is the ultimate definition of that title?
AA: [Laughs] I'm not sure if I am known as that! I think to me, that is someone who makes you feel something. It's in the name, someone that makes your heartthrob. I don't think that should have anything to do with how someone looks. It's how they act. How they treat others. 
Sari: This photoshoot is giving us all major Herb Ritts vibes. His photos are iconic. Is there one that's your favorite?
AA: I love his classic image of the Versace dress in El Mirage in 1990. I think the shadows are so beautiful, and the contrast is really striking. 
Sari: How do you think social media has evolved since you first saw success on it? With the addition of platforms like TikTok and Clubhouse, do you think it's gotten better or worse? 
AA: It's constantly changing and shifting. It's honestly hard to keep track of all that. I'm often the last one to be told about the trends [laughs]. I don't think it's gotten worse per se, but it's definitely gotten harder to be seen because of how saturated with content the platforms are. At the same time, it's also opened the
doors to a lot of indie artists, and they are starting to get the recognition they deserve.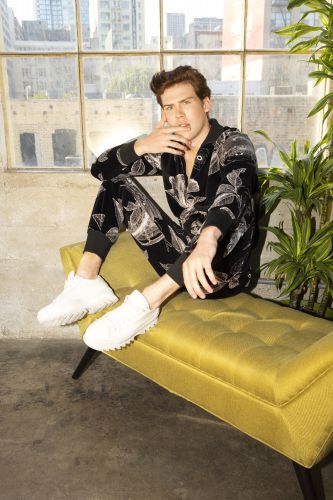 Sari: You're known for being super funny on Twitter, and your Insta has its own vibe, too. In your opinion, which platforms are good for what? I feel like they each highlight different things. 
AA: For me, Twitter is where I can share my thoughts, where Instagram is more so about the photos and aesthetic. I definitely feel more pressure on Instagram and find myself avoiding it a bit more recently. 

Sari: Apart from Billie Eilish, do you answer DMs? And have you ever met someone on social media with whom you've actually developed some sort of relationship?
AA: I have met a lot of really cool people all over the world, which I think is one of the rewarding parts about doing this in general. Growing up, I made a Facebook account young to add people from all over to just talk. In retrospect, that was weird, so getting to do that now is amazing. 
Sari: Your first single of the year was "the end of the world." It's the way that everyone was feeling in 2020. Your music comes from such a vulnerable and relatable place. Tell me a little bit about your writing process in general. 
AA: My writing process is always different. Sometimes my music starts as a poem I write, or other times I go into a session and just improvise on a track loop until I get something I like. The thing I like about songwriting is that there are no rules. There is definitely a technical structure that is followed, but overall, there is no right way to creating music.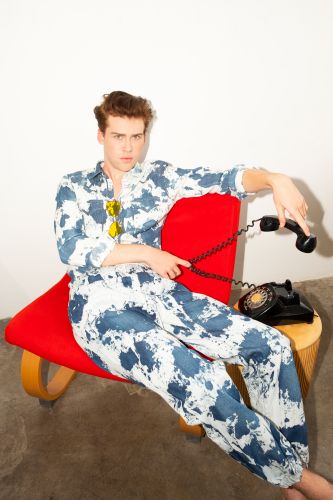 Sari: You also recently released "the hills." What is the meaning behind that song? 
AA: "The hills" is supposed to be a tongue-in-cheek look at the downside to celebrity culture and how we have been made to view and compare one another in a high-pressure, high-judgmental environment. It also touches on the absurdist behaviors of people who do whatever it takes to further themselves in this town. But overall, I tried to keep it fun.
Sari: What can you tease about upcoming music releases for the remainder of the year that you have lined up?
AA: I have been in the studio a ton, working on new music. I have a new single coming that's really different from anything I've done before, which I think people are really going to connect with. I'm working towards an EP, which I've never done, so I am really excited for that next challenge.Sari: What's next for you in the acting world?
AA: I've been reading a lot of really incredible scripts and getting to meet and work with a lot of awesome people lately. I'm excited for everyone to see. 
Sari: How do you see yourself at 21, and where do you see yourself at 31?
AA: I am 21, but it doesn't feel too different. Twenty was hard because I knew I wasn't a teenager anymore. I think normal people are excited when they turn 21, but I'm lame. I don't know about 31. I've always been bad at these questions. I hope I'm doing what makes me happy with people I love, somewhere I love.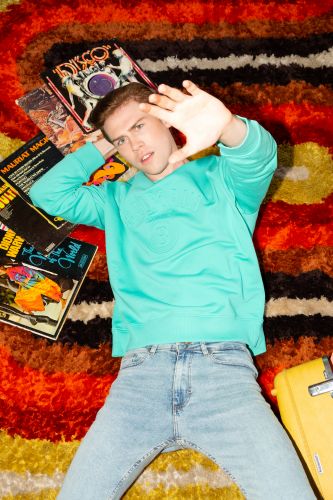 Sari: Since this is INLOVE Magazine. Let's talk love. What do you look for in a person? How would you describe true love? Being that we live in a digital world, do you believe it's better to find it on an app or in real-life moments?
AA: What I look for in a person mostly is just that chemistry. I like laughing, so someone who can laugh and not take themselves too seriously. I think in this day and age, there are a lot more avenues to find dates. I think if it works for someone, they should do it! Apps personally terrify me. Sari: What are your hopes for 2021 and beyond? What do you see for 2022? 
AA: I hope to keep working on music and making records I love. I want to be able to continue acting and writing and having the opportunity to create. I hope 2022 brings us back to normal, as much as we can, and I can travel and tour. That sounds so nice. 
Behind the Scenes with Aidan Alexander
Sari Cohen
Creative Director/Stylist: @vasilevsky_elena_official
Photographer/asst. creative dir: @nicolegalinson
Head Writer/Co-Producer: @sari_cohen_
Groomer: @cynthiaangelinamua
Stylist Assistant: @malyssa.lyles
Production Assistant: @margaritazaret
Production: @inlovepragency
@42west
Fashion Looks @saks @tonypersonalshop