Dawn Naylor BS, RN, MSN, ACNP – and soon-to-be DNP – was eager to share how her passion for dermatology, aesthetic medicine, and health and wellness has developed throughout her career. Naylor is a registered nurse and acute care nurse practitioner. She initially received a BS in Physical Therapy at UConn and Lasell College, then completed her RN, MSN, and Acute Care Nurse Practitioner license at MGH Institute of Health Professions, graduating Magna Cum Laude.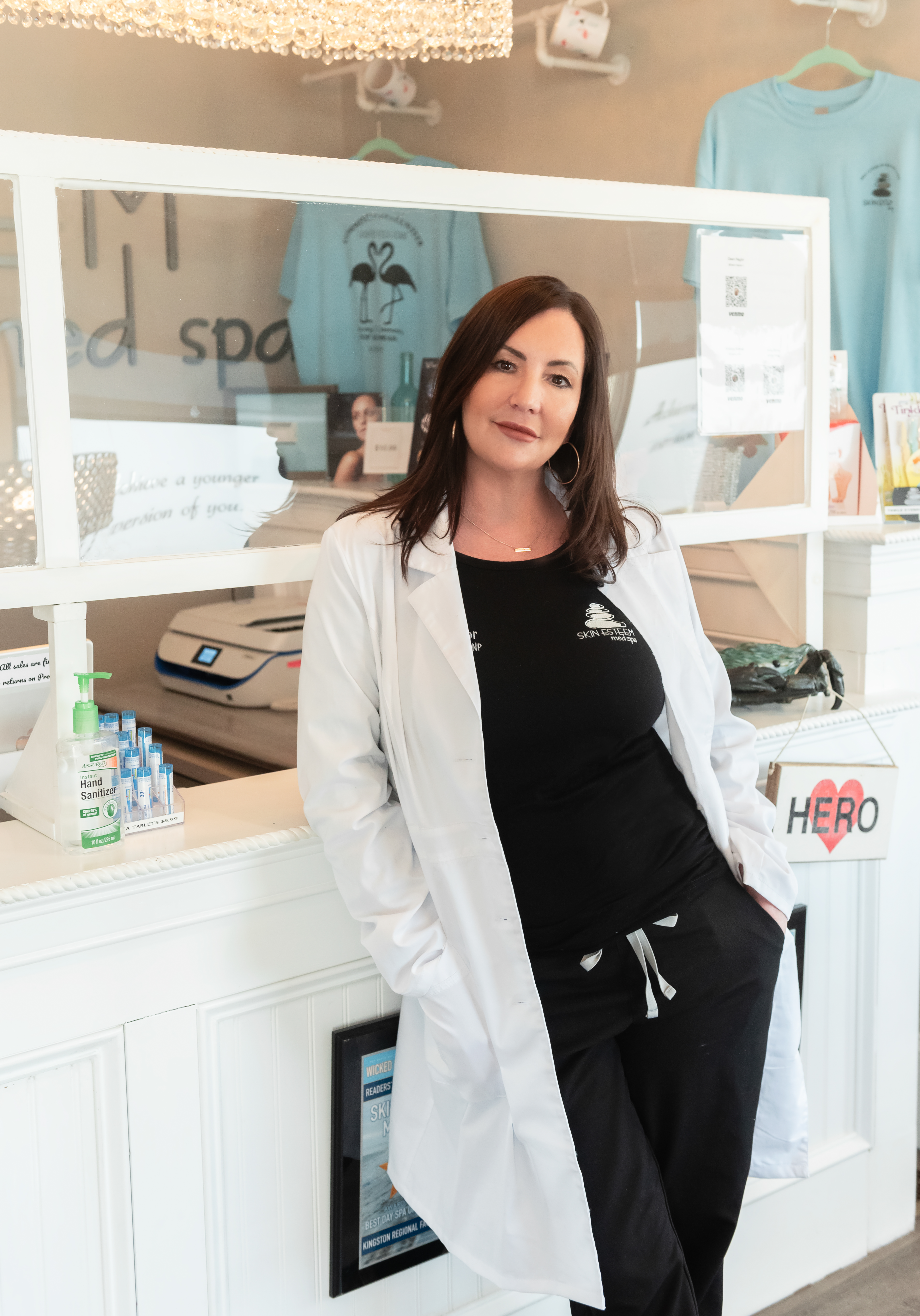 Her training included residencies with plastic surgery, dermatology, emergency medicine, cardiology, and critical care medicine. She has over 20 years of experience in critical care, cardiology, aesthetics medicine and advanced medical procedures. She stays up to date by training with experts in plastic surgery, dermatology, and medical aesthetics.
Her path eventually led her to open up her own business. "I started my own practice called Skin Esteem Med Spa and feel blessed that I get to do what I love every single day while helping amazing people along with their skincare and wellness journey," Naylor tells INLOVE.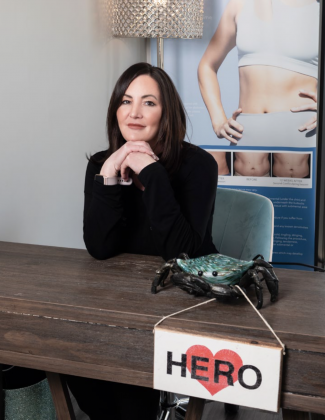 The promise of a new Dawn
Naylor's brother was born with a collapsed lung which caused a lack of blood flow to his brain. Her parents were told he would live only a few days. Today, he is 52 and lives a happy life residing with her elderly parents, who care for him independently. Naylor's brother has cerebral palsy, mental retardation, epilepsy, and is legally blind. "He was dealt an unfair hand in life but has always had an amazing spirit and is the kindest, 'big kid' I know, even though he is mentally around seven years old. His medical care was costly, and I didn't grow up with financial stability. I did, however, receive a lot of emotional stability from my amazing parents and sister," she explained.
"School-age kids could be cruel, and my brother and I were bullied on a daily basis," Naylor recounted. "This led to me having anxiety and self-esteem issues at a very young age. To compound the issue, when I was 12 years old, I was bitten in the face by a dog. It left me with facial scars and a thin, ugly upper lip," she added. 
Naylor found a dermatologist who fixed her lip with fillers, which is how her passion for aesthetics took root. "I wound up blossoming from a mousy, scared girl to a pretty young woman," she detailed. "I was runner up of Miss Teen Connecticut and later became a shoe model for various companies including Nine West. I won fitness competitions and got into fitness modeling and swimsuit modeling. This was crazy for me because I was only 5-foot-4. To make ends meet, I worked as a bartender during my free time. You would think I had it all. However, I was still that mousy girl on the inside with self-esteem issues."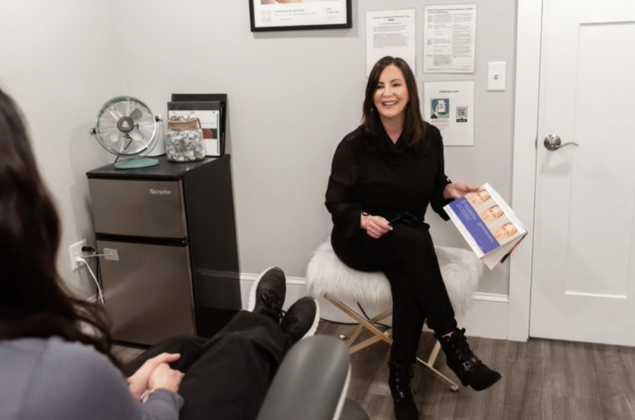 Naylor shared how she nearly developed an eating disorder because she was so afraid of what would happen if she gained weight. She realized she needed to look for a different career that used her intelligence more than her looks. It was due to all of her brother's medical problems and doctor visits that she developed an interest in medicine. "I thought about attending medical school but honestly couldn't afford it," Naylor said. "I needed a program where I could work while I attended school. I have a tremendous amount of respect for physicians. They go to school for eight years before they even start into their specialty. They give a tremendous amount of their time and finances to selflessly help others."
Naylor initially went to school for physical therapy but found that wasn't the right fit for her. She really wanted a medical career and quickly enrolled in a nursing program after graduating. "I received my RN degree and got a job working at Brigham and Women's Hospital in cardiac ICU working nights while I pursued my Masters of Science in Nursing and Nurse Practitioner during the day," she tells INLOVE. "I am proud to be a pioneer in the nursing practice as I advocated for Nurse Practitioners to be allowed to do inpatient clinical rotations in various acute care settings."
Advertisements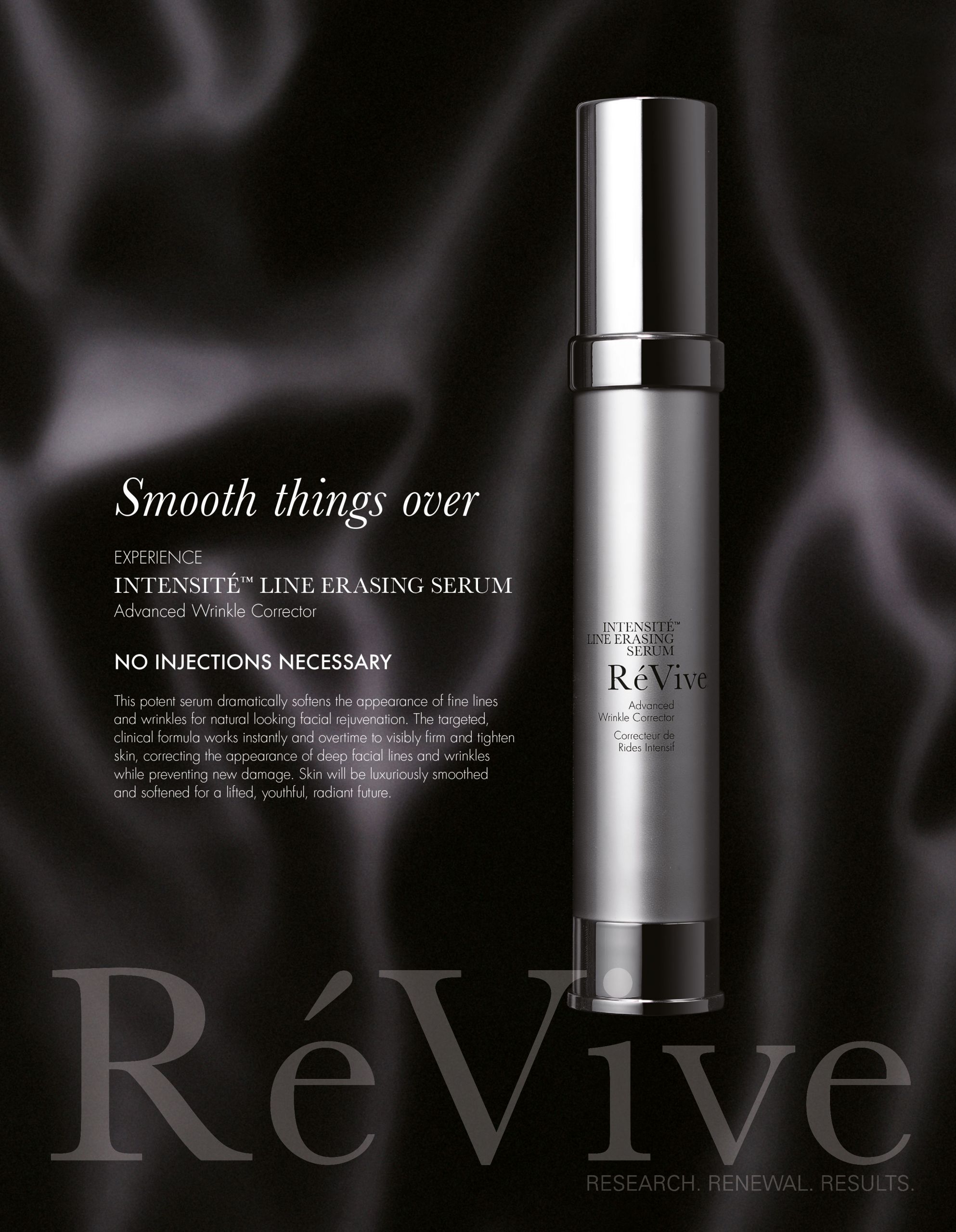 She was offered a job while still a student with a prominent physician. She accepted and trained under his tutelage for several years. Naylor was instrumental in helping to create a cath lab service from scratch. She also cross-covered the ICU as an Intensivist NP for years. "During this time, I began to do pro bono aesthetic work for a friend who was a surgeon who specializes in breast restoration in cancer survivors," she chronicled. "We did aesthetic procedures to enhance their appearance and, in turn, build their confidence. During this time, I taught NP students and became a board writer for the ANCC. As my aesthetic skill set grew, I created a part-time practice out of a spa while I continued full-time work in the ICU. As my skill set and passion for aesthetics continued to grow, I knew I needed to make a decision on how I wanted to direct my career."
Naylor then made the leap and rented a location so she could practice aesthetic medicine full time. She pursued ongoing clinical training with a variety of dermatologists and plastic surgeons and trained every opportunity she got. She also trained abroad and did cadaver labs so she could fully understand every part of human anatomy.
"Starting a new business is risky, but I wanted to ensure I held myself to the highest standards," she explained. "I got my new space credentialed by the Massachusetts Board of Health and Board of Safety per state guidelines. I am currently getting my Doctor of Nursing Practice degree. I have developed affiliations with a top oculofacial plastic surgeon and general plastic surgeon. I know my limitations of practice and have resources for those problems that are outside my scope. We offer 24/7 coverage with a licensed medical provider in case there should ever be a complication."
Her mission for wellness led her to offer Covid-19 Vaccination services for her community. "I'm proud to be able to help the most vulnerable in our community during these difficult times," Naylor stated.
"We are actually changing our name to Skin Esteem Med Spa and Wellness center," Naylor announced. "With the rise of the popularity of social media, there has been an increase in body dysmorphia. It is important to support body positivity and support health and wellness. I am getting my Doctorate in Nursing with a specialty in anti-aging medicine. My providers and I are getting certified in nutrition, weight loss, and bioidentical hormone replacement therapy."
Naylor also often does pro bono aesthetic work on cancer patients and others with certain medical problems. With twenty years of experience, she collaborates closely with other medical professionals to help these clients feel better about themselves even while undergoing various medical treatments. This is something she understands personally because of her experience being bitten by a dog as a child. "It is why I named my practice Skin Esteem," she said. "When you look better, you often feel better. My goal is to help people regain their confidence, self-esteem, and 'Skin Esteem.'"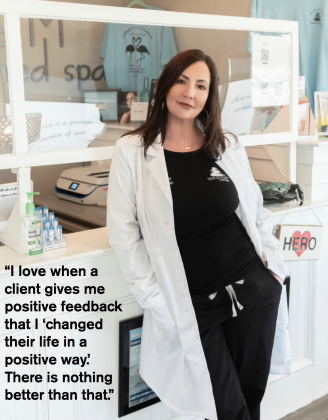 The spa
Skin Esteem is a place where you feel comfortable being yourself. Their goal is to provide a positive, non-judgmental place where they motivate, educate and empower clients so they can achieve the best version of themself.
What they offer
Skin Esteem offers neuromodulators, fillers, body contouring, kybella, QWO for cellulite reduction, chemical peels, microdermabrasion, hydrofacials, sclerotherapy, PRP for hair restoration, microneedling with PRP, radiofrequency microneedling, laser hair removal, erbium, clearlift, CO2 laser, laser treatment for veins, skincare consults. Naylor is best known for her conservative signature facial optimization injectable treatments. 
Summertime specials
This season, Skin Esteem is offering buy one kybella, get the second one half off, specials on microderm, hydrofacials, dermaplaning, and microneedling specials. 
Beauty tips you can do at home in between spa visits 
Wash your face twice a day no matter what. Always wear sunscreen. Exfoliate twice a week. Wear a hat, sunglasses, and sunscreen to protect your skin. Consider hydrating hyaluronic acid masks if your skin is dry. Consider sulfur masks if acne-prone. LED light therapy can be beneficial at home to decrease acne and improve certain skin conditions and increase circulation. 
Biggest summer 2021 spa trend for women 
Most want to be slimmer or tighten skin; however, as the saying goes, beach bodies are made in the winter. Women continue with neuromodulators and fillers during the summer. They focus on microdermabrasion, facials, and hydro facials to keep pores clean. We continue to focus on sunscreen and preventative measures. 
The key to a quintessential spa experience 
Listen to your client, be real, be honest, give exceptional customer service with consistently outstanding results. Treating clients with the care, as you would want your own mother treated. 
Beauty advice
Wear sunscreen every day and reapply every 80 minutes. Everyone over 30 – unless contraindicated – should be on retinol. Use vitamin C daily. Drink enough water. Men should drink approximately 3.7 liters, women 2.7 liters according to the U.S. National Academies of Sciences, Engineering, and Medicine. Get eight hours of sleep a night when possible. Learn to love yourself.
"I love when a client gives me positive feedback that I 'changed their life in a positive way,'" Naylor tells INLOVE. "There is nothing better than that." 
Located across from Indian Pond Country Club
431 Country Club Way/Stonecroft Way
Kingston, MA 02364
Sari Cohen
@skinesteemmedspa