NYC's Top Plastic Surgeon Shares His Secret to Success
The term "doctor to the stars" may be an overused and exaggerated marketing term among the medical community. But Dr. David Shafer of Shafer Clinic Fifth Avenue is not only worthy of the title as New York's go-to plastic surgeon — he is a Bonafede star in his own right.
For many Manhattanites, both famous and obscure, "Shafer" has become synonymous with "results" and is typically the name muttered from freshly plumped lips as a response to anyone seeking doctor recommendations for the latest and greatest in cosmetic treatments.
 Boasting one of the city's most impressive clinics — a seven-story beauty and wellness haven covered in gemstones to promote an environment of healing — he is the epitome of success in an oversaturated market. But there's so much more to the man who nips, tucks, and even has a procedure named after him.
We sat down with Shafer in his office for words of wisdom, but to also share his journey of starting as a frequently ill kid inspired by his grandmother to the renowned artist we know today.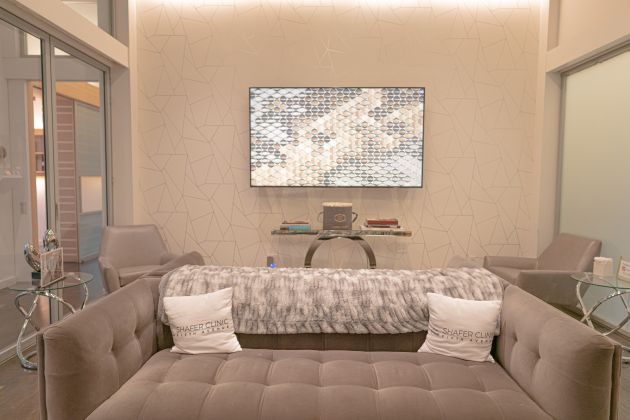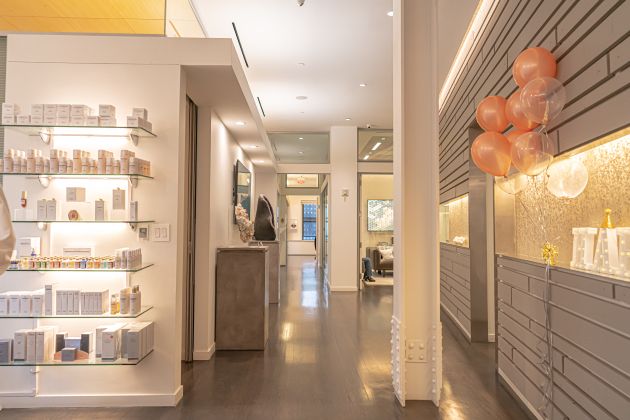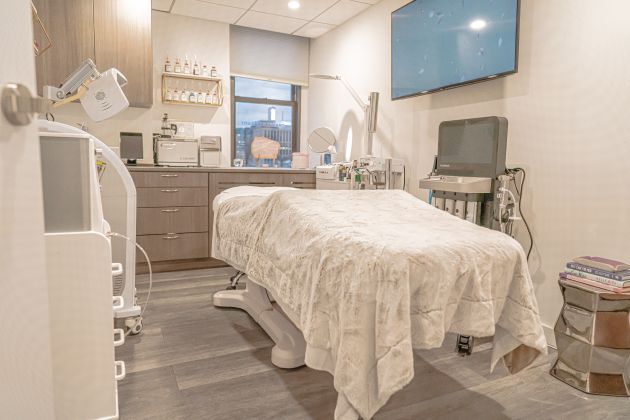 INLOVE: Let's start with the ever-so-cliché question: What got you interested in medicine and plastics specifically?
Dr. David Shafer: As a child, I was sick a lot and I had to stay home with my grandmother who would take care of me. She was a nurse in World War II in the Army and would tell me stories about being in the operating room and taking care of patients. That really piqued my interest in the field of surgery and medicine in general. She also loved to sew, and I think that's where I got my interest in working with my hands. As I went through school, I was interested in science and biology, but also art and architecture. Everything kind of meshed together.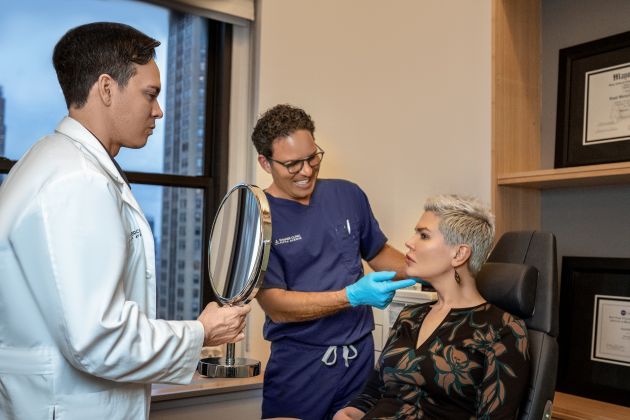 IL: NYC is a tough market to crack for any career. What brought you to the area? Was it a more of a business or personal decision?
DS: New York was always this fantasy place. You saw it in movies, you heard about it in songs, and you recognized all its iconic landmarks in pictures. It made you have a desire to go. And in the plastic surgery world, there's a top fellowship in NYC. So, as you're going through your training, you're hoping you may get that fellowship and then be able to start your practice anywhere. I was picked for that top position and while I was here, I realized I love it — the energy, the people, all the things to see and do. So, I did a big course correction on where I was going to go for my career and decided to stay.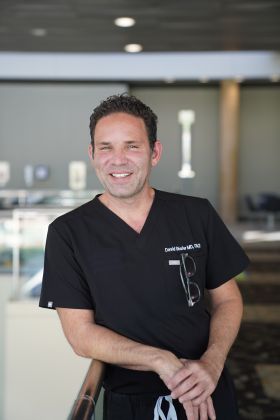 IL: What you've built is so much more than a typical plastic surgery practice. Your staff is so nice, accommodating, and knowledgeable. It's also a hub for practically any wellness or beauty procedure. Tell us more about how this unique business model came about.
DS: It's really grown beyond my wildest expectations. My previous practice had three offices and we outgrew them so fast that my own office was actually the stairwell. Every morning I would take my laptop and I would sit in the fire escape and that's where I would return emails and call patients. When I went through my training, part of it was at Mayo Clinic and their philosophy is all-encompassing, treating it more like a destination center. So, on a smaller scale, that's what we did with Shafer Clinic. We have plastic surgery, we have dermatology, we have ENT, we have metabolic medicine, we have laser and skin services…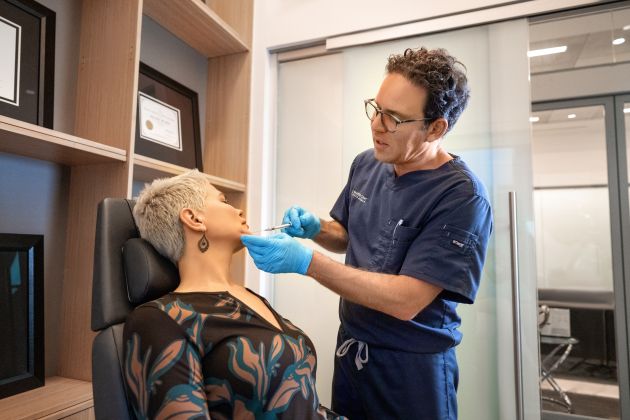 IL: It's almost as if you have a building within a building and really can multiple conditions all at once.
DS: Correct. It's seven floors…a one-stop shop where we can have a comprehensive treatment plan for the patient. You're not just coming to see one practitioner, but you might come here over a couple hours to see me and then a skin aesthetician and then a laser specialist and then our celebrity dermatologist, Dr. Dendy Engelman, our A-list facialist, Edyta, and our metabolic specialist. Within all the departments, the patients know everybody, and we know all the patients. It really makes a great pitch for them to receive comprehensive aesthetic care.

At Shafer Clinic, we are proud to offer our state-of-the-art surgical sky suites, which provide a comfortable and private environment for in-house surgical procedures. Our suites offer breathtaking views of the NYC skyline from our recovery rooms, providing a calming and serene atmosphere for our patients to recover in.
IL: Speaking of aesthetics, are there any procedures that are currently trending? What are people coming in for?
DS: There's not one rage that applies to everybody because New York has so many different people, cultures, and ideas of beauty. For example, you could have one subset of people who want to be as thin as possible while another subset of people wants to be curvy. Part of my job is understanding what patients are looking for, what their goals and expectations are, and then making sure that it's medically, surgically, and financially possible to receive the best outcome.
IL: What are some of your personal favorite procedures to perform?
DS: My passion for eye and facelift surgery runs deep, which is why, I pursued fellowship training in this specialized field. As the saying goes, the eyes are the window to the soul, and I recognize the importance of rejuvenating the eyes to give patients a more youthful and rested appearance. The face and neck are integral parts of one's overall appearance, and I take a great care to ensure that my patients look refreshed and confident, rather than "plastic" or overdone.
I love mommy makeovers [tummy tuck, liposuction, breast implants and/or lift or a combination of all three], especially because I'm married and have children and see what mommy goes through. It's a great opportunity for mom to do something to treat herself and transform her so she's comfortable wearing that two-piece swimsuit or party dress again. I love the three-month post-op appointment when they're all healed and they're suddenly walking with high heels, tight clothes, and lots of confidence. You see that transformation in them.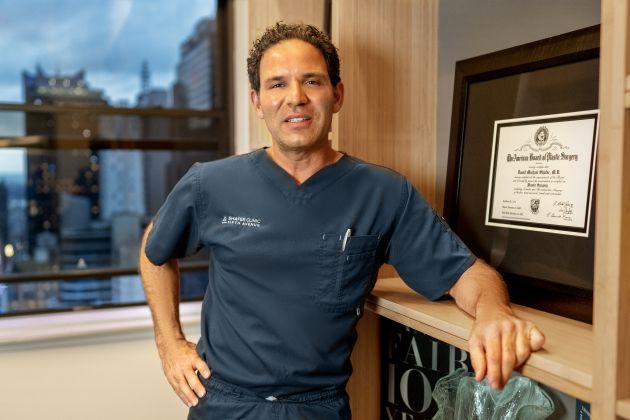 IL: With advancements in medical technology, what can we expect to see more of in the future? What excites you most?
DS: There's a big trend now towards radiofrequency treatment, which lets us expand the range of skin types that we can treat. Darker skin traditionally can't be treated with lasers and now we can, which is great in a city like New York where you have so much diversity and people from all over the world. Also, there is a lot more science going into non-invasive procedures. These include fillers that not only fill, but also bio-stimulate…you're stimulating your own collagen tissue. Lastly, we're expanding treatments with the whole other half of the population: men. One of the things I've become well-known for is the SWAG (Shafer Width and Girth) procedure. Like women getting breast augmentation, men are getting penis augmentation and we do a ton of those. Men from all over the world get that procedure that I created and it's one of the most popular in the practice.
IL: Wow! Didn't even realize that was a thing. Is it just enlarging or lengthening?
DS: We're using dermal fillers and the cannula technique to increase the width and the girth. And then over time, you can get length from the extra weight, too.  It's a real confidence booster for men.
IL: Noted. That's amazing. Do you expect the popularity of plastic surgery to rise? Coming off the pandemic, it seems like many people want to make improvements to their appearance.
DS: The stigma of it is gone. The feeling that it's only for rich people is gone. And even the feeling that it's only for celebrities is gone because now everybody's a celebrity in their own mind. They have their Instagram and TikTok pages and they're filtering themselves. People now must go back to work, and the only view co-workers have had of them for the last two years is a filtered Zoom. They want to do procedures to look like how they've been portraying themselves.
IL: That makes sense. They've essentially created an enhanced version of their former selves.
DS: But it's also given people a couple years to look in the mirror and figure out what bothers them. There's less of coming in with the cover of a magazine and saying, "I want to look like this celebrity." It's now more "I want to look like I did five years ago" or "this is what I looked like when I'm filtered." It's more about the individual and less about trying to look like somebody else.
IL: That sounds like a good thing! Less comparing to other people and maybe seeing more of your potential with a few slight adjustments. That said, plastic surgery can be intimidating. What do you recommend for anyone who may be nervous about going under the knife or even the needle?
DS: Have consultations. You want to have a good fit with your surgeon and the office. You want to make sure that it's financially viable for you because it is not cheap. But I recommend that you don't just shop by price. An example that I give a lot is that you could give the same ingredients to a cook at a fast-food joint and a chef at a Michelin-star restaurant. The result will be two separate meals. It doesn't matter if you're getting Botox or a facelift, look for the skill of the provider and who is going to give you the best results.
IL: Let's end on another cliché. What does the future hold for you and the practice? 
DS: Every time I expand, and we finish the expansion, I say that I'm not going to do that again. But then there is some kind of fire inside of me that says, alright, let's do it one more time. And it's fun. It's created a great environment. If I have happy patients and a happy staff, that's the way it should go.
Advertisements