While the reign of "Game of Thrones" may officially be over, HBO's "The Nevers" is now the science-fiction drama of the moment, and it's giving stars such as Viola Prettejohn the spotlight they deserve.
"Myrtle [Haplisch] is a lovable weirdo," Prettejohn tells INLOVE about her character on the show. "She is a newcomer to the orphanage in episode one and immediately finds herself at home amongst the other Touched, as I think even without her turn, she didn't always fit in. She has an incredible ability to adapt to each new situation she is thrown – sometimes literally – into through her boundless optimism and gumption, even if she ends up finding herself in some trouble because of it. What viewers will discover is that trouble comes from all angles throughout the series, which creates some pretty outlandish and bonkers scenarios for the characters to find their way out of."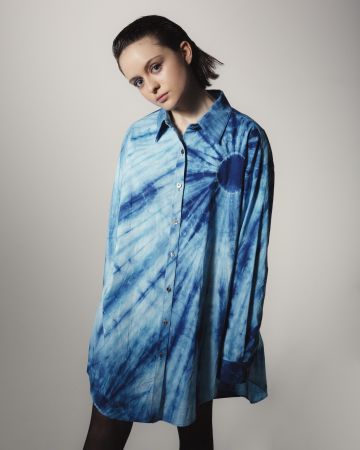 The UK-born actress has had roles in Starz' "Counterpart" as well as "The Witcher" on Netflix, and while she's managed to make waves on screen while still flying relatively under the radar, a whole new world is now opening up for Viola Prettejohn. 
Sari: Tell us about your journey. How you got here, and what was it that brought you to act at this point in your life?
Viola Prettejohn: I was brought up in London and lived close to the West End, so I was always surrounded by theatre. Ever since primary school, I have been heavily involved in drama and school plays which is what truly made me fall in love with acting. At around 14, my school put me up for an open audition for the Tim Burton remake of "Dumbo." I didn't end up getting the role, but the casting department recommended I get myself an agent, and three years later, I'm here.
Sari: What are you most INLOVE with when it comes to your craft?
VP: What initially drew me to acting was its transformative power. It's the closest you can be to truly experiencing someone else's life or experiencing scenarios in which you could never, in reality, find yourself in. As I have begun to work as an actor, I now appreciate how lucky I am to be able to bring to life the beautiful words and stories of incredible minds while providing entertainment to others. 
Sari: How does it feel now to be working on a big HBO show like this? What's been the coolest part of this experience?
VP: It still hasn't quite settled in. I'm a huge fan of the content that HBO produces, particularly shows like "Game of Thrones" and "Veep," so becoming a part of one was a big dream of mine. Everything about the production of the show felt enormous: the sets were so immaculately detailed, the costumes are gorgeous, and working with the cast has just been incredible. I think the coolest experience I had on set was driving around in the sidecar. When you can actually move through the streets that the set designers had created like that, it just brings the whole thing to life and really grounds you in the world of the characters.
Sari: You only just recently got onto Instagram. Why did you hold off on social media for so long, and what made you sign up now?
VP: I have always been a quite private person, so if I hadn't chosen to be an actor, I would likely never have chosen to display my life publicly on social media. But with my life having taken this course, I now see it as a great way to connect with fans of the show and share some of my interests with them outside of "The Nevers."
Sari: What are three things our readers should know about you?
VP: It's tough to condense it down! I have a bit of an obsession with 19th-century French literature; I have the taste buds of an 80-year-old, so I love old-fashioned fruit cake and rum and raisin ice cream; Finally, I have two adorable dogs: a spaniel called Rupert and a greyhound called Mushy. 
Sari: What would you say is your greatest strength, and what is your greatest challenge?
VP: I often struggle to trust myself that I'm doing a good job, but I think that faith in yourself comes with age and experience. Just by watching the rest of the cast, I have learned so much, so hopefully, the longer I'm on the show, the more I will improve.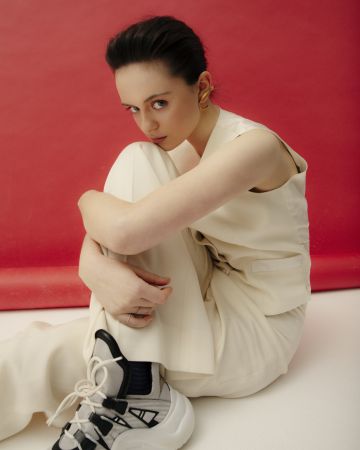 Sari: Who is your inspiration?
VP: I can't really say I have one inspiration. My granny has had the biggest influence on me and how I approach life. She was formidable and a force to be reckoned with, so I would be lucky if I could emulate even the smallest aspect of her.
Sari: How would you describe yourself and your passion for acting?
VP: I would describe myself as determined. I'm very focused when I am doing something I love, and of course, that goes for my acting. I think my curiosity for how everyone else experiences the same world drives my passion for acting and also my desire to push myself further creatively.
Sari: What do you see in store for your future?
VP: We are having some really exciting conversations behind the scenes that I can't quite discuss yet, and of course, COVID has thrown a spanner in the works with a lot of scheduling, but I can say watch this space. I mainly want to just ensure in the future that I continue to be a part of projects I fully believe in and portray characters that are complex, well-rounded and that I feel I have something to bring to. I have no idea where I will be in 20 years. I think that this past year has shown that who knows what the future holds. 
Love it or hate it with Viola Prettejohn… 
Spicy food 
Love it
Valentine's Day 
Love it. But mainly for the chocolate
Romcoms
Love them. My favourite has got to be "When Harry Met Sally." I must have watched it 50 times at this point
Big Cities
Love them
The outdoors  
Love it. I spent a large portion of my childhood
in Somerset, so I'm at my happiest up a tree somewhere in the middle of nowhere
Heights
Love it
Roller coasters 
Hate them
Cold Weather 
Love it. Being British, you kind of have to!
Reality TV 
Hate it. Apart from "RuPaul's Drag Race" –  especially the UK version
Dressing up 
Love it
Mornings  
Love them
Social Media 
A bit of both. I'm glad that it's easy to keep in touch with people, but the superficiality of it can sometimes be overwhelming
Sari Cohen
@violamprettejohn
Publication @inlovemag @inlovepragency @vasilevsky_elena_official
Photographer: @aaroncrossmanphoto
Styling: @tillywheating
Makeup: @nadialtinbas
@publiceyecomms
Fashion @louisvuitton @leoandlumi @livluttrell
Show @neversbo @hbothenevers
@publiceyecomms