The first part of Season 4 of "Ozark" dropped on Jan. 21. Since we have to wait until April for the popular Netflix show to return for its second installment, we caught up with Madison Thompson, who plays Erin Pierce, to tide us over until then.
The breakout star joined the cast in Season 3, starring as the daughter of cartel attorney Helen Pierce, played by Janet McTeer. Thompson is also known for her work on "American Housewife" and "The Young and the Restless."
She recently wrapped "Emergency," a comedy thriller that hails from Amazon Studios and Temple Hill. In it, the actress plays Alice, starring alongside Sabrina Carpenter and RJ Cyler. Thompson also landed the role of Susan in the upcoming TV series "Grease: Rise of the Pink Ladies."  It's bound to leave fans everywhere hopelessly devoted to her.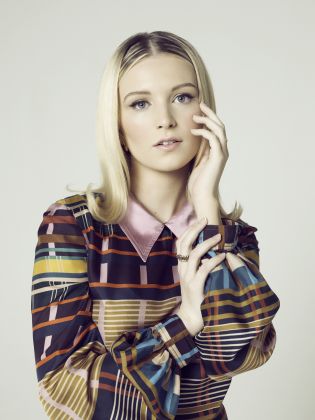 Sari: How has "Ozark" changed your life?
Madison Thompson: Working on "Ozark" has been a real privilege. Not only has it opened many doors for my career, but I honestly often refer to it as "the most amazing acting class I've ever had the chance to take." I learned so much by working opposite such powerhouses as Janet McTeer and Laura Linney. I even picked up the infamous "Jason Bateman Stutter," where he stumbles through words to make any writing seem more authentic to normal speech patterns. It sounds weird, but it really is a powerful tool as a performer. At the end of the day, though, the best part of being a part of "Ozark" is that I will forever have the incredible crew and cast as part of my family.
Sari: Obviously, everyone is wondering about part 2 of Season 4. What CAN you tell us about it?
Madison Thompson: On April 29, the FINAL "Ozark" season will be dropping on Netflix. And to be honest, I don't even know how they decided to end the series. It is very top secret. So, I will be right there with the fans watching every last minute. And, of course, what Erin has been up to after her very scary and threatening interaction with Charlotte Byrde.
Sari: What have you enjoyed most about getting to play Erin for the past couple of seasons?
Madison Thompson: Out of all the characters I have ever played, Erin is by far the most different from myself. I guess that is what makes her so interesting to portray. Erin has such a great edgy style. She isn't afraid to tell you what is on her mind. I was a total goody two-shoes in high school and followed all the rules. Being Erin for the last couple of seasons has been an incredibly fun way to play a version of myself in my high school days that I was always too afraid to be. But hopefully nicer and a little less sassy to my real-life mom. Overall, Erin has taught me a lot about myself.
Sari: What was it like walking into a show with such incredible talent and a loyal fanbase?
Madison Thompson: I LOVE how dedicated the "Ozark" fan base is. Whether it be the Facebook group, the DMs, or even the comment section on the "Ozark" Instagram page – "Ozark" fans really show their love and their opinions. One of my favorite things to do is read the plot predictions for future episodes and seasons on the fan pages. They are also so creative and actually sometimes pretty spot on! Honestly, though, I think it is impossible for my mind to really wrap around how many people have watched the show. But what isn't hard to believe – is why people watch and love it. The cast is so talented, the characters so complex, and the story is so compelling, rich, and absolutely terrifying all at the same time.
Sari: Do you have a BTS "Ozark" story you can share that fans may not know but would enjoy?
Madison Thompson: Oh, do I! So when it comes to shooting "Ozark," we do a lot of shooting "on location." This means instead of shooting on a sound stage or a lot, most of the show is filmed in the woods, in lake houses, and on a literal lake. Shooting it this way really helps build the ambiance and feel of the "Ozark" world. Nevertheless, shooting outdoors also comes with some challenges.
During Season 3, we shot a big beach scene where Jonah ends up showing off his shooting skills. We got really lucky, and it was a beautiful summer day. However, we started filming the scene very early in the morning when the weather was a lot cooler. After we came back from our lunch break and went back out to the beach area, we found out pretty quickly that the sand had significantly heated up. But, we had already been shooting all morning with no shoes on – so we couldn't go back and now have shoes on in the scene. The continuity would have been a mess! So, the solution was they had to spray little water spots in the sand for us. This meant in the scene when we were shooting, we would have to hop and jump from water spot to water spot like bouncing jelly beans across the camera. It looked so funny in person, and we kept laughing at how crazy we looked jumping around while shooting a very serious scene.
Sari: Tell me everything we need to know about the comedy thriller "Emergency?"
Madison Thompson: "Emergency" is an incredible new movie from Temple Hill and Amazon that follows a group of Black and Latino college students ready for a big night of partying. But, when faced with a big emergency, they have to decide whether or not to involve the police. The film touches on the culture of fear in BIPOC communities regarding the police, especially for young people of color. I play the character Alice, who is another student at their college. Alice is best friends with Maddy, played by Sabrina Carpenter, and both girls get wrapped up in the "emergency" as well. The film is hilarious and gut-wrenching all at the same time.
We premiered the film on the opening night of the Sundance Film Festival, where our writer K.D. Davila won the prestigious festival screenwriting award. Next, the movie is headed to SXSW. But the best news is that you can soon watch it too. It is coming to theaters on May 20, and to Amazon Prime on May 27.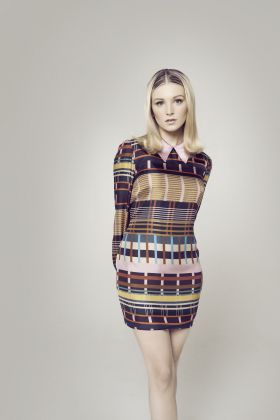 Sari: What can you tell me about the "Grease" prequel? How will it stand out from the others? How will it be similar?
Madison Thompson: I am so excited to finally share the news that I am part of the main cast of  "Grease: Rise of the Pink Ladies." Since last year, I have been involved with this project and have been dying to tell the world. The show is a "Grease" prequel that will explore the world of Rydell High four years before the time of the original movie. We have a huge and incredibly talented cast of characters. One of the best parts of our show is the time period for sure. My favorite TV show is "The Marvelous Mrs. Maisel" because of the costumes and set design. On "Grease," we get to work in the same time period, which means lots of '50s hair and clothes. It is truly magical.
Our show, just like the original "Grease "movie, will also feature a brand-new original soundtrack created by the incredible Justin Tranter and their team. They have built such a compelling and exciting soundtrack for the season. I love the songs so much that I listen to them on repeat every single day – and I promise everyone else will as well once they hear them.
A "Grease" prequel would not be complete without some incredible musical numbers and iconic dance moves. Luckily, we are being led by the amazing Jamal Sims. I am convinced he could make anyone look like a professional dancer. He is so supportive, and his vision is magnificent.
Clearly, I'm not excited about this project at all.
Sari: Are you a "Grease 1" or "Grease 2" fan?
Madison Thompson: "Grease 1," of course! You can't beat that original soundtrack, cast, everything. It is what makes "Grease," "Grease!"
Sari: Favorite "Grease" character?
Frenchy. She is sweet to everyone and loves to rock all the hair colors, just like me.
Sari: Favorite "Grease" song from either movie?
Madison Thompson: That's a really hard one to answer. I feel like I have a different favorite song every day. If I could only listen to one song for the rest of time, I would say "Grease" by Frankie Valli. But when it comes to singing the songs: "Hopelessly Devoted" would be my choice. I love Olivia Newton-John and grew up dreaming of getting to play Sandy in "Grease." I guess you could say I got about as close as you can get to that dream.
Sari: How much singing is in this rendition?
Madison Thompson: The perfect amount. Our story is strong, the characters so lovable and complex, and the songs will make you want to get out of your seat and sing and dance along with us.
Sari: What are some of your hobbies when you're not working?
Madison Thompson: When I am not on set, you can find me doing yoga, singing in the shower, hunting for the best chocolate in the city, and having or starting a dance party.
Sari: What do you intend to do after getting your degree from USC?
Madison Thompson: Currently, I am studying for a business degree in Cinematic Arts at USC. I had to leave school this semester to shoot the "Grease" series, but once I am able to finish my degree, I want to get into producing. I love the ability I have as an actress to tell stories. By becoming a producer, I want to have a bigger say in the type of projects that are hitting the screen. How can we be uplifting BIPOC and queer voices? How do we diversify not only the stories that are being told, but who is writing them, creating them, and sharing them. I want to use my degree to make a meaningful change in our industry.
Sari: What inspires you daily?
Madison Thompson: Recently, it has been my fellow "Grease" cast members. Working on a musical series is a total marathon. It is much more physically and mentally demanding than a typical show because of the prep and rehearsals for dance numbers and songs on top of a regular shooting schedule. I am so lucky that I get to work with a crazy talented team. They are always so positive and inspire me to work harder every day.
What are 5 things you are currently INLOVE with?
2. The Marvelous Mrs. Maisel
3. The book Rich Dad Poor Dad
4. Layering gold necklaces
5. The "Grease: Rise of the Pink Ladies" soundtrack that you will get to hear later this year!
Words by Sari Cohen