September ushered in a new chapter of the Starz hit show, "Power." LaToya Tonodeo joins an all-star cast, starring as Diana Tejada (Mary J. Blige's daughter) in "Power Book II: Ghost." The new spin-off has already been renewed for a second season, delighting longtime fans of the franchise, as they dive into new characters and welcome back some familiar faces.
Tonodeo's credits include recurring roles in the "The Oath," Freeform's romance-drama "The Fosters," and the 2016 film, "The Perfect Match." The actress now steps further into the spotlight as she stars opposite of some of entertainment's biggest names.
Sari: Tell me what it's been like stepping into the role of Diana Tejada?
LaToya Tonodeo: Stepping into the role of Diana has been amazing. Being able to dig deep into her "wants" versus her "needs" has been fun and challenging. Diana is a layered character, so it's a joy to play a role that is relatable and real. I love how Diana is the princess of the family and the youngest of her two brothers, but she's still very smart, street-savvy, methodical, and ambitious. Every day there's a new challenge that she must navigate her way through. So being given the opportunity to breakdown my character choices and moments is always a joy. It's a challenge that I'll always embrace.
Sari: Do you remember your first interaction with 50 Cent? What advice has he given you that you carry with you?
LT: My first interaction with 50 Cent was at "The Oath" Season 2 premiere. I had a recurring role on that show, which he executive produced. I remember saying hello and congratulating him on getting The BMF story. Then I randomly said, "I'd love to audition." In my head, I thought, why did I say that, but I had to shoot my shot [laughs]. Fast forward to 2019. I auditioned for "Power Book II: Ghost." Not sure if he remembered me or even what I said, but I'm so thankful I got to audition for one of my favorite shows, and now I'm here. It's a blessing to work under the Courtney and 50 Cent umbrella. 50 Cent is a very smart man. He definitely has a lot of knowledge and gems to share, and I'm definitely taking notes.
Sari: Tell me what it's been like working with Mary J. Blige, specifically playing her daughter? Were you starstruck at first? What has it been like building a bond with her during this process?
LT: Working with Mary is amazing. Of course, when I first met her, I was super shocked that I was going to be playing her daughter. I'm literally on one of my favorite shows, and I'm also playing the daughter of an icon. Her energy is so inviting and warm, which makes it an enjoyable working environment. So, in my opinion, it translates well on screen.
Sari: How does this new incarnation of "Power" honor the original while spotlighting the new?
LT: One way it's honoring the original is by keeping a lot of the same shock value and grit that the original "Power" had. And of course, we have the phenomenal "Power" creator, Courtney Kemp, as our showrunner. She's going to ensure that "Ghost" has a lot of the elements that the original "Power" fans want. She definitely knows what she's doing, and "Power" is an amazing foundation for "Ghost" to have.
Sari: Courtney Kemp has created some outstanding characters. Where do you hope Diana Tejada fits into the mix? 
LT: Courtney is a genius at creating and layering characters. I feel that Diana is a very smart young lady, and even though she's learning the "game," she definitely has a lot to offer to her family. She's book and street smart. I feel that she can blend in on a school campus and in the streets if she needs to. Therefore, she's an asset.
Sari: Now that you're officially part of the "Powerverse," how do you see the show having a positive impact in a big-picture way?
LT: Being apart of the "Power Universe" is a huge deal. I love the fact that we have such a diverse cast and crew. Not to mention, "Ghost" brought in 7.5 million multi-platform views in the first week. Those numbers ranked us as the most-watched new series in network history. I feel like it's constantly showing and proving that people of color can do big things. Especially when given the opportunity, whether we're creating it ourselves or offered a "seat at the table."
Sari: 2020 has been a year of shake-ups on so many levels. What have you learned this year, and what would you say are the three biggest lessons we should all be taking away from 2020?
LT: I've learned that it's okay to take time for yourself and be kind to yourself. Especially while adjusting to our "new normal." COVID has changed the world, but we'll get through it. The three biggest lessons I've learned is to be kind to yourself, take time to reflect on the good things, and know that no matter how rough things may seem, it's only temporary.
Sari: What do you hope we see in 2021 and beyond?
LT: I hope that 2021 is filled with more love and less hate. 2020 has been an extremely hard year, and I'm ready for a positive change.
Sari: You've been dubbed "the rising star" in many interviews. What kind of responsibility does that carry for you?
LT: That's a beautiful title, and I appreciate it A LOT, but the work still continues. I know that every day is a new learning experience and challenge. It's important that I rise to the occasion. Therefore, I don't get comfortable. Instead, I continue to focus on consistency and growth.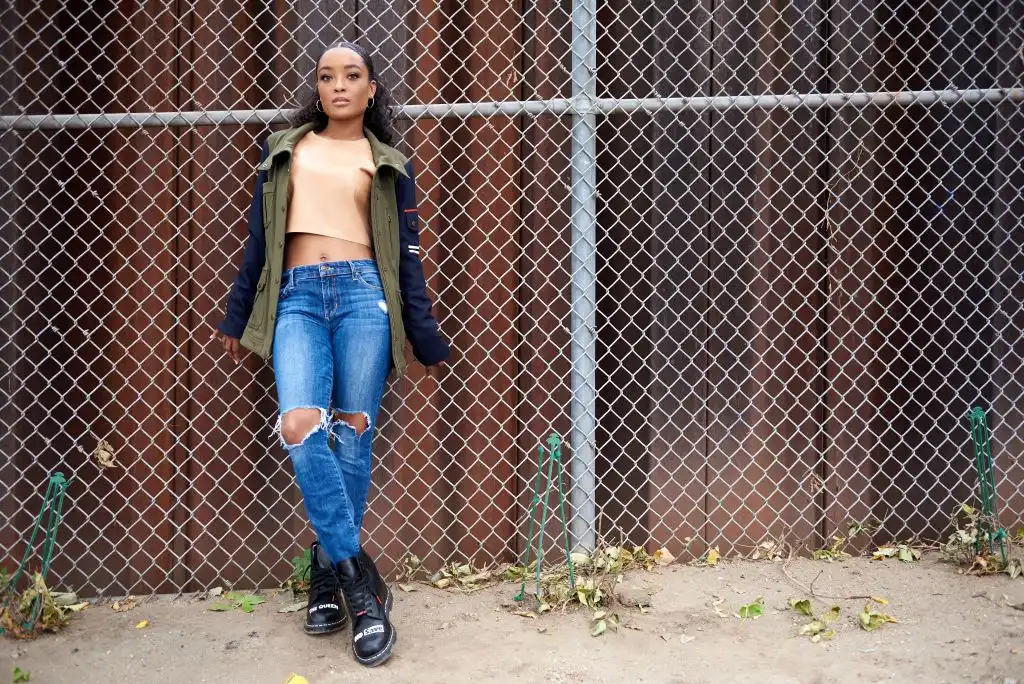 Sari: What are you most INLOVE with about what you do?
LT: I'm most INLOVE with the journey of discovery. I love finding out new things about my character. It's a fun process.
Sari: What is your hope for the second season of "Power Book II: Ghost?"
LT: For Season 2, I hope to see Diana really grasp what her mother is teaching her. Truly knowing how to navigate and make smart decisions. Flex her power and stand firm in it.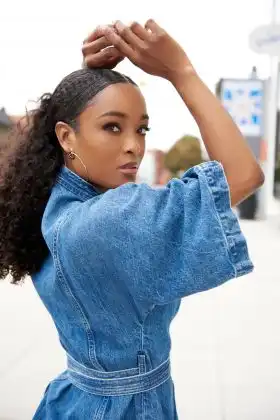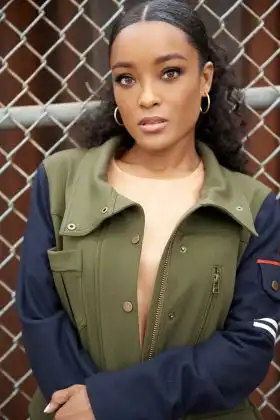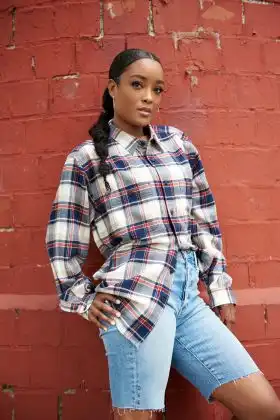 Sari: What else do you have coming up career-wise?
LT: I have a few things in the works, but I'm really excited for the rest of Season 1 to air. We return in December 2020 with some really good episodes and great storylines. I'm really excited!
Sari: Right now, everyone is struggling in some way. Most people want to rise up and do the right thing to usher in some positive change. What advice can you offer people out there reading this?
LT: It's important that you are the change you want to see in the world. If you love yourself properly, then you can properly love others and spread love. Stand up for what's right because we need each other right now.
Sari Cohen