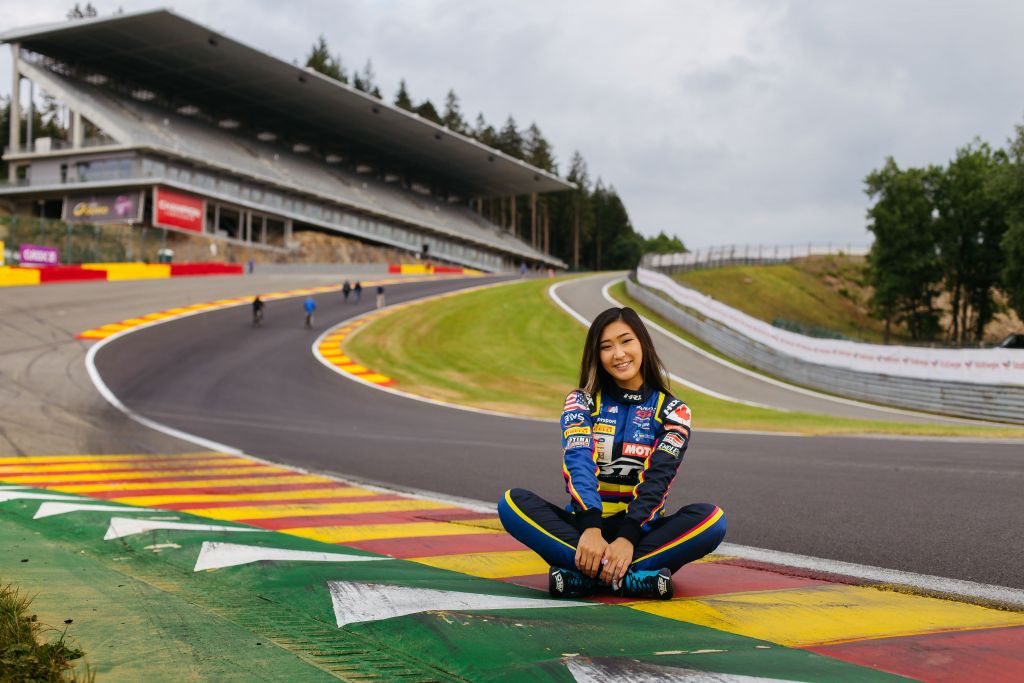 Samantha Tan grew up in a small town north of Toronto called Gormley. While her mom worked as a mutual fund manager downtown, she and her little brother spent a lot of time with their dad.
Samantha's dad is a passionate car enthusiast and used to watch a lot of Formula One, so she went to car meets and track days with him as a kid. That's when she quickly fell in love with the feeling of speed. "I remember always egging him on to go faster when he drove me to school," Samantha Tells INLOVE. "When I was finally old enough to reach the pedals, my dad enrolled me in some performance driving schools so I could learn car control for our lovely Canadian winters."
At just 14 years old, Samantha had the incredible opportunity to participate in the Ferrari Driving Experience at Circuit Mont Tremblant, making her the youngest participant ever. "At the end of the program, I got to go on a hot lap in a Ferrari 458 Challenge race car with a pro driver. The extremely late braking, hard acceleration, and G-forces just blew me away. As soon as I stepped out of the car, I made the decision that I wanted to be a race car driver as well," she recalled.
Samantha started the process of obtaining her racing license when she was only 15 and competed in her first regional races at 16. "My first ever race car was a 1991 Honda Civic, and I'm proud to say I podiumed in one of my very first races at VIR. I went on to race in my first national Series, the Canadian Touring Car Championship, and was crowned Rookie of the Year after finishing the season 5th out of 22 cars. I moved to pro racing in Pirelli World Challenge the following year with the KIA team, Kinetic Motorsports, and in 2017, I started my very own race team, Samantha Tan Racing, with two BMW M235iRs. Since then, I've been a proud BMW partner and slowly moved up the classes in sports car racing, racing touring cars and GT cars around the world — and my dad was with me every step of the way," she went on to explain.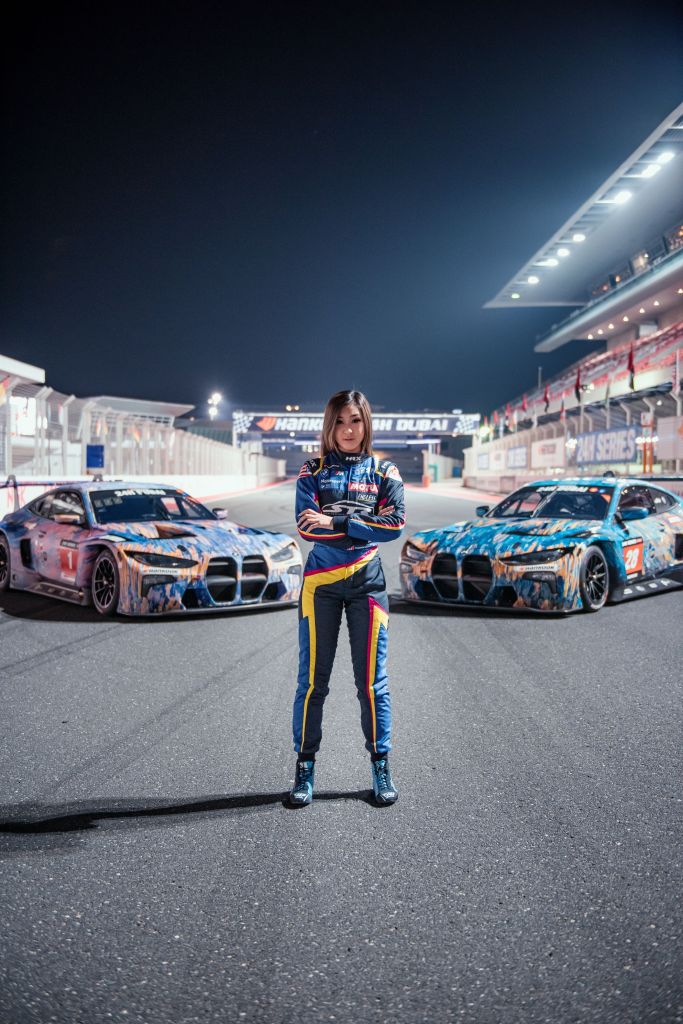 During this time, Samantha was also balancing being a full-time student at the University of California, Irvine, and eventually graduated with a degree in Economics in 2020. 
In 2017, she had the biggest crash of her career — hitting a wall at 100mph. Her car was almost totaled. "I sprained my ankle, my self-confidence was shattered, and I couldn't find the motivation to pick myself up off the ground for a while," Samantha shared. "I remember I started receiving hate comments like 'woman driver moment,' 'you're not a pro driver, you're just an amateur,' or 'you're more of a model than a race car driver.' I sincerely debated giving it all up because I didn't know if I'd ever have the skills to succeed. At the time, I didn't have a pro podium to my name. I was 20 years old and trying to find my place in the world. In hindsight, I was spreading myself too thin trying to balance having a social life, being a full-time student, and being a full-time racing driver." 
It made her realize her potential in the sport and that if she wanted to win, she had to fully dedicate herself to honing her skills. Samantha ended up taking a quarter off school to refocus, prioritize seat time and training, and re-discover the balance she needed to manage both school and racing. "I had to fine-tune my time management and mental discipline and chose to make many sacrifices in order to continue progressing," Samantha says. "After a couple of years, the results started to show."
She credits that experience with giving her the resilience she has today. "Racing has taught me many life lessons: one of them being how to learn from failure and adamantly push through self-doubt," she continued. "I am so grateful to my younger self for choosing herself and her dreams; I would have never known the feeling of standing on the top step of the podium and making history without giving myself the grace and self-love I deserved."
Samantha and her brother are first-generation immigrants, as both their parents immigrated to Canada from Southeast Asia when they were young, looking for better opportunities. They came to Canada with nothing and had to work extremely hard with the limited resources they had to build their careers into what they are today. They showed the pair that success could be found through dedication and hard work. "We aimed to be just like them and are forever grateful for the opportunities they provided us so that we would not have to live like they did growing up," Samantha said.
"Growing up, we lived in a predominantly White community, and my brother and I were some of the very few Asians at school. The only glimpses we had of our culture were at family events, such as dim sum lunches or dinner parties at our relatives', and watching Hollywood portrayals of Asian culture like 'Mulan.' I definitely had the token Asian-Canadian identity crisis growing up, which became increasingly evident at school. Unfortunately, I used to hate my culture," Samantha admits. "I hated being Asian because it meant that I was different. In school, it separated me from my White classmates, so I rejected my culture in every way that I could. I said I despised Chinese cuisine, rejected learning Mandarin, and degraded my own race in an effort to conform to the Whiteness that surrounded me. I never felt like I belonged. The more 'Asian' jokes I made, the more my friends seemed to like me, even though I was perpetuating stereotypes and deteriorating my own self-confidence. I never realized the impact this had on me until I found myself defining who I was by the stereotypes assigned to me." 
Samantha says that, regrettably, this internalization was something she continued to hold onto until the start of her career. "We all know the stereotype, 'Asians can't drive.' To have this constantly reinforced by the media and society, I initially doubted whether I would ever be successful in racing or if I would be hindered by my race," she voiced. "I had no role models in the industry that looked like me."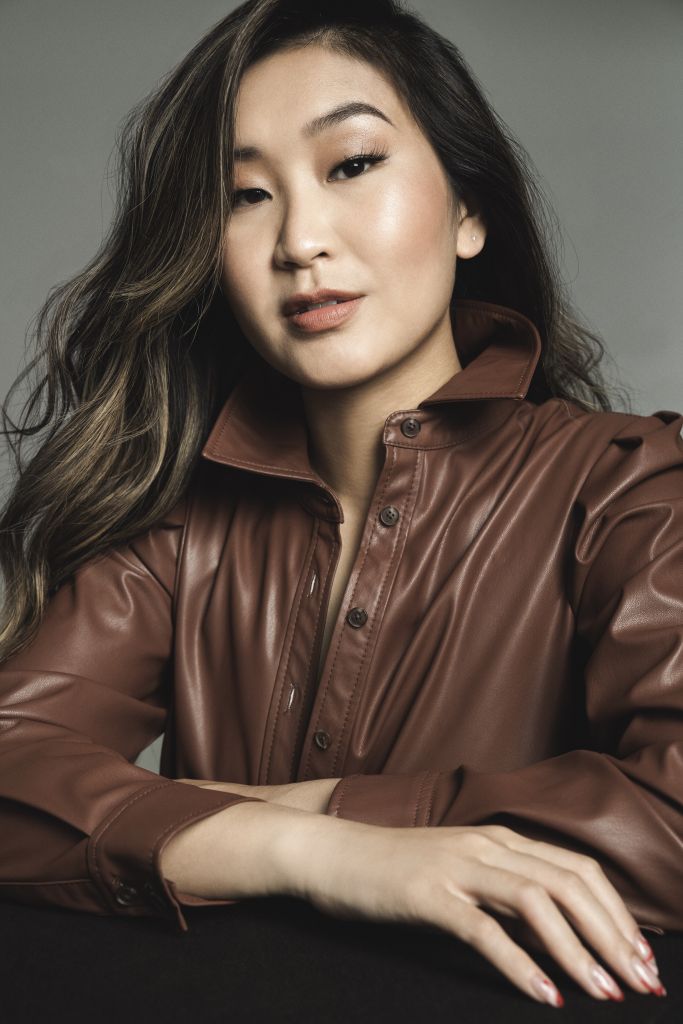 But as Samantha navigated the motorsports world, grew in her career, and regained confidence by re-discovering her culture and heritage, she realized how important it was to be the representation she lacked in a sport that deserves diversity. She learned that she could define herself on her own terms. "My culture and identity are now a reminder of the barriers I've broken, the challenges I've overcome, and the successes I've achieved," Samantha expressed. "It reminds me of my family, who have always supported me and worked tirelessly to ensure that I had the foundation needed to succeed, and it's something I am endlessly proud of." 
Samantha's specialty is sportscar racing, which is composed mostly of street cars converted into race cars. GT3 cars are basically the ultimate racing versions of what car companies can do with their production cars – most of the cars you see racing, you can buy the street-legal version at a dealership. The race cars are light, compared to the road-going versions, but still very heavy compared to single-seaters and have a closed cockpit. Most sports car races also take place on road courses and can have the format of sprint, 30 minutes to 3 hours, or endurance, where races can be between 4 to 24 hours long. 
"I've been a BMW fangirl for as long as I can remember, which again started with my dad, as he had a eurospec E36 M3 that he would drive my brother and me to school in," Samantha explained about her love of BMW Motorsports. "My first car was the iconic BMW 1M, a very special first car. I learned how to drive manual with it, went to racing school in it, and eventually got my racing license in Quebec with it as well. The car ended up becoming one of my best friends – strange to say I have befriended an inanimate object – because it's been through so much with me. I was introduced to the car community and made so many wonderful friends because of it, and I can confidently say I will never sell it. When I had the opportunity to become a partner with the brand, it was a dream come true. Altogether, it's that excited, inner child feeling I get every time I'm behind the wheel of my 1-series or M4 race car that makes me love BMW with all my heart."
At 25, she has already accomplished so much. She's not only a professional race car driver, but she's the team owner of Samantha Tan Racing. Samantha says she's proud and thankful for her little Canadian team. "I am always so grateful to have such supportive co-drivers and team members; it is what I attribute my successes to today," Samantha asserted.
"When my dad and I first started the team and were at our first racing events, no one took us seriously. No one thought that this little female-owned Canadian team would be able to compete against long-established racing teams. Last year even at our first race in the 24H Series, I remember talking to someone that we wanted to win the championship, and they actually scoffed. We finished last year winning all six titles we were eligible for," Samantha declared.
"We are by no means the biggest team in the paddock," she continued. "By that, I mean we are relatively new to the game, we don't have the biggest budget, and we're up against teams that have been racing longer than I've been alive. Despite this, Samantha Tan Racing has represented our country at some of the most prestigious racing events on the planet and proven that with hard work, tenacity, and genuine passion for its goals, we can do anything we set our minds to. In the future, I hope to bring my team with me to the 24H of LeMans and become the first Asian woman to win. Along the way, we hope to win more championship titles, start a Junior Program to help the future generation chase their dreams as I have, and prove that women have always had the ability to be successful in places of leadership."
Samantha is now the first Asian woman to win a major international endurance racing championship. She's also the Ambassador for the AAPI Victory Alliance. "Becoming the first Asian woman to win a major international endurance racing championship was surreal," Samantha shared. "I've always been obsessed with becoming the role model I never had, and I feel that this achievement made me considerably closer to that goal. I feel that Asian women have generally been perceived as docile, submissive, not strong-willed, and not outspoken. I want to redefine this stereotype. When someone sees an Asian woman, I want them to see us as powerful, independent, and valued. That's why representation is so important – if you can see it, you can be it."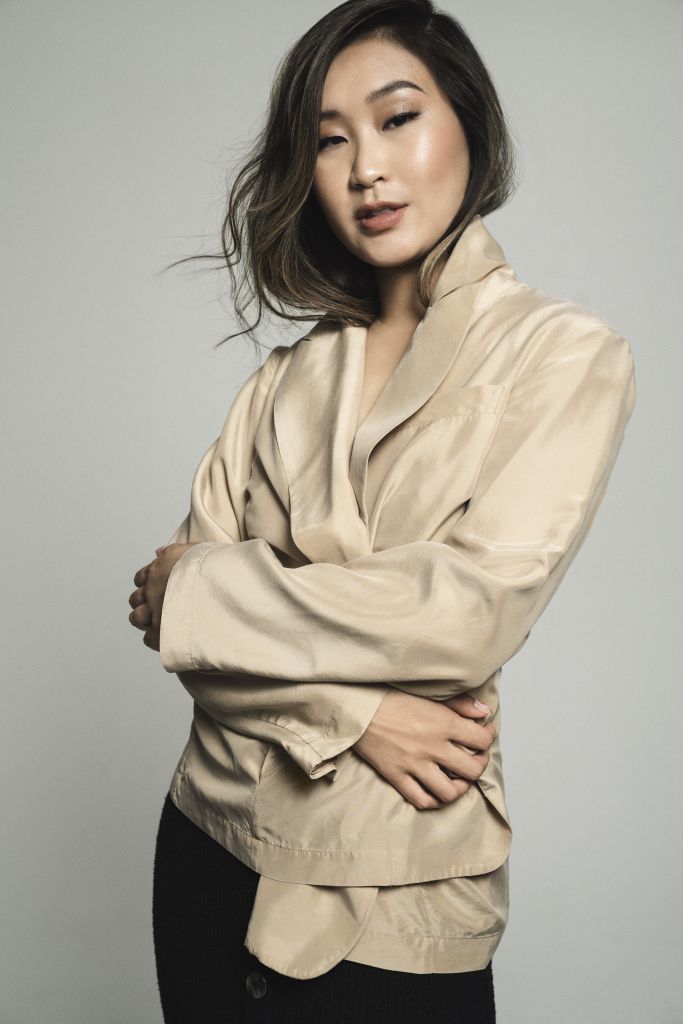 Samantha says that she herself felt incredibly empowered by the Asian excellence she saw in the 2020 Olympics. "I hope that seeing my journey and successes will inspire and empower them," She added. "I hope it makes them feel deeply proud of who they are."
This year, Samantha and her team made history at the 12 Hours of Mugello race in Italy – marking her first win overall and the first-ever win for the new BMW M4 GT3. There are a ton of firsts that happened in this one instance. "It's always amazing to be the first, but I also hope it doesn't mean that I'm the last," said Samantha. "I hope that my achievements help inspire other girls to pursue their passions unapologetically." 
It was one of her favorite moments of the year. It was the culmination of so much hard work, character-building moments, and learning experiences. "Everything was executed flawlessly, from the strategy to the pit stops and the stints driven by myself and my co-drivers," she remarked. "We not only won in our class, we won overall. This meant we took BMW's first-ever win with the BMW M4 GT3. It meant we were forever going to be a part of BMW's history books. When we stood on the podium with the Canadian flag being raised behind us once again, I couldn't help but think about all the times people doubted us and doubted me and how we rose above them all. I still can't describe the flurry of emotions I felt."
Earlier that same month, Samantha had her debut in the Ferrari Challenge series at Circuit of the Americas. She became the first woman to pole [qualify first] and win a race in the Pirelli class. She also set a class track record that weekend. It all aligned, coincidentally, on International Women's Day. 
"Another cool opportunity I had this year was hosting the Tag Heuer Miami GP event and getting to interview Red Bull Racing's World Champion Max Verstappen and Checo Perez," Samantha said. "Never in a million years did I expect that I would go from a small town in Ontario to meeting two of the most famous drivers in the motorsport industry."
She also attended the Ferrari Spring/Summer 2023 fashion show at Milan Fashion Week. Samantha said it was a whole new experience for her, and seeing the artistry and design that went into each of the runway looks fascinated and inspired her. "In the future, I hope to bridge the fashion, lifestyle, and sportscar racing world in the same way Lewis Hamilton did for Formula One," Samantha announced. "Next year, I'll be competing in the biggest sportscar racing series in North America, IMSA, as I slowly take the next steps towards achieving my ultimate goal of LeMans."
On finding yourself and going after your dreams, Samantha says, "No matter how many times society tries to put you in a box and hold you back, to tell you who and what you should and can be: you will always have the power and freedom to be who you want to be, achieve the goals you've set for yourself, and define success on your own terms, because I firmly believe there is no limit to what you can accomplish."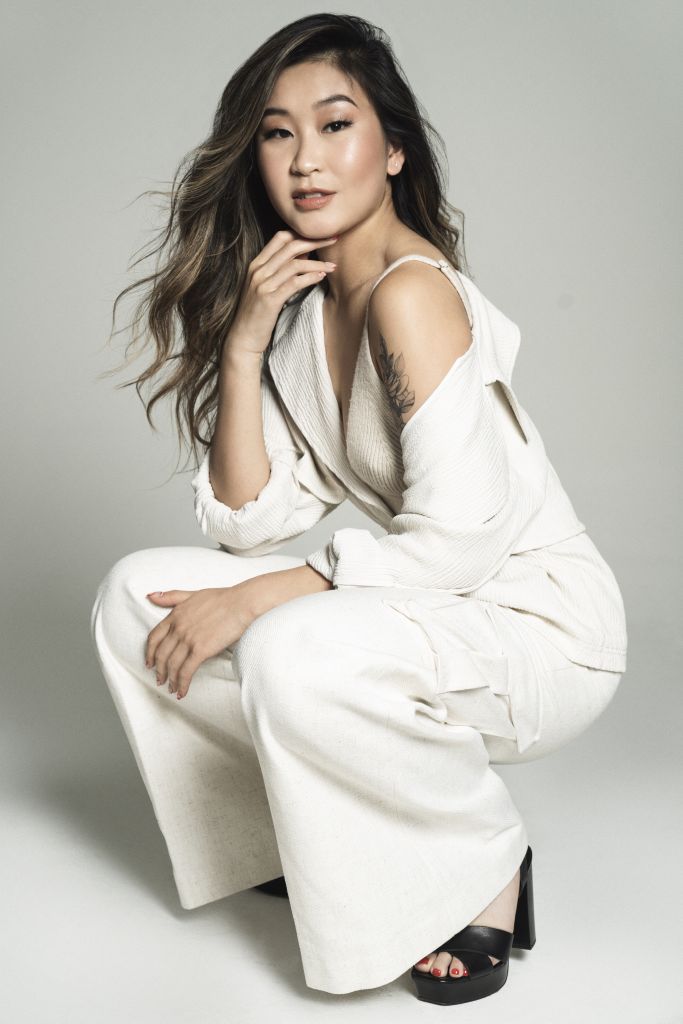 Hair: Rena Calhoun
Makeup: Tami El Sambati
Stylist: Ashley Pruitt
Writer: Sari Cohen