Impeccable style, vocal prowess, and a champion of LGBTQ+ rights, Adam Lambert, embodies what it means to be a 21st-century rock star
"Music is medicine." – Adam Lambert
With the recent release of High Drama, Adam Lambert's first-ever covers album, the Idol alum is entering new territory. As an artist who has consistently challenged himself over the course of his career, Lambert raises the bar with every new project.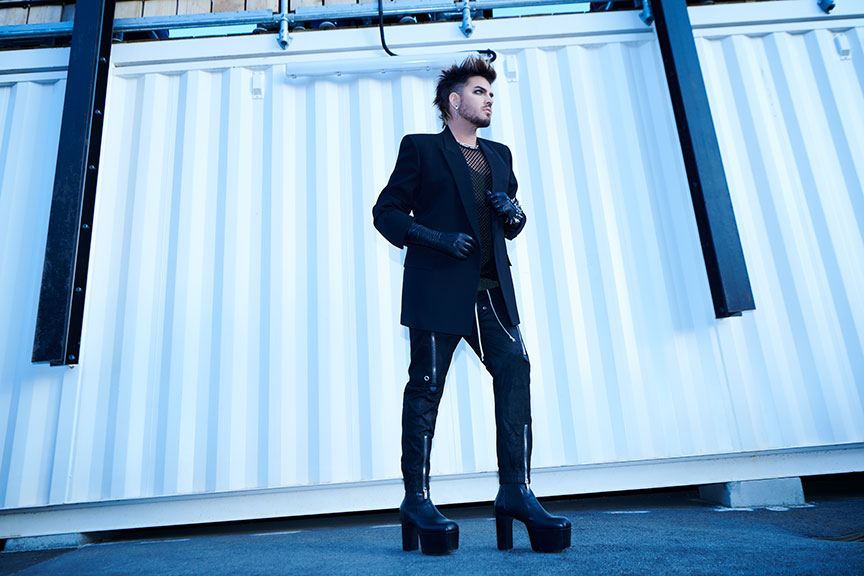 High Drama, under the umbrella of BMG, is executive produced by Lambert alongside Tommy English (Kacey Musgraves, Carly Rae Jepsen), Andrew Wells (Halsey, OneRepublic), George Moore, and Mark Crew. The album highlights a journey through modern music. Tracks include renditions of "Holding Out For a Hero" (Bonnie Tyler), "West Coast" (Lana Del Rey), "Sex on Fire" (Kings of Leon), and "Ordinary World" (Duran Duran). "This collection of songs allowed me to get very creative in the studio and expand my musical imagination," Lambert tells INLOVE Magazine.
Since Lambert won the world over on American Idol in 2009, he's been blazing his own trail in every corner of entertainment. His 2018 performance at the Kennedy Center Honors brought Cher to tears with his incredible performance of her mega-hit "Believe." He now stands as the current frontman of Queen, alongside original members Brian May and Roger Taylor. "[I've learned] so much [from performing with them]. I think they've been instrumental in helping me mature as an artist by always allowing me space to be myself," Lambert tells INLOVE in our interview.
A true hero of expression and champion for equal rights, Lambert launched the Feel Something Foundation in 2019. FSF is a non-profit organization that supports LGBTQ+ human rights, assisting other organizations impacting the LGBTQ+ community in education, the arts, homelessness, suicide prevention, and mental health
Lambert also recently starred in his first feature film, Fairyland, which was produced by Sofia Coppola and had its world premiere at the Sundance Film Festival. While at Sundance, Lambert was honored with The Creative Coalition's Spotlight Initiative Award, which champions the art and craft of independent filmmaking.
Now Lambert embarks on his next endeavor: His own musical, which will feature original songs and has a stellar lineup of collaborators.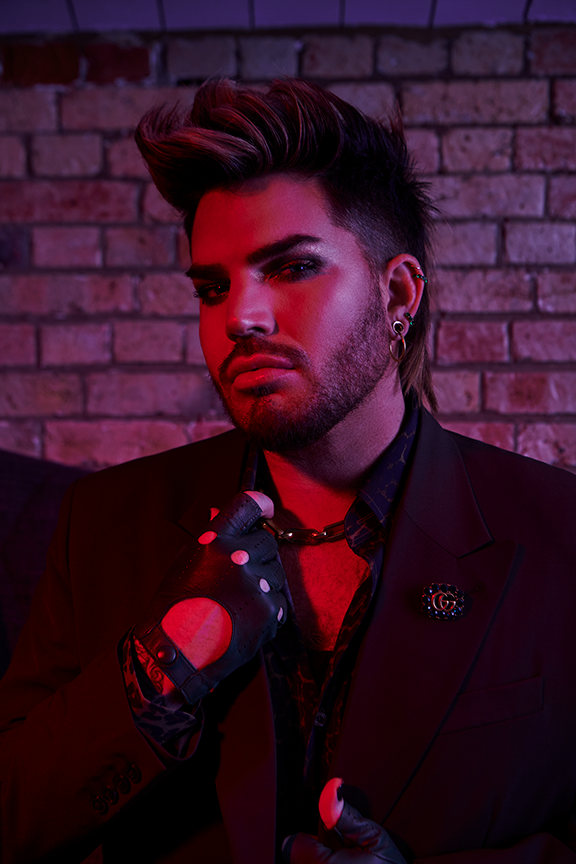 Sari: Let's start with High Drama. How did you pick these covers? Was there a theme or an overall feeling you were going for with this album?
Adam Lambert: I narrowed down a long list by considering if the lyrics felt authentic to my experiences, if the melody would suit my voice, and whether or not I could figure out a way to truly reinterpret them.
Sari: What went into making the album that makes you especially proud?
Adam Lambert: I love what I learned in the studio while working alongside brilliant producers and instrumentalists.
Sari: What do you envision for your next album?
Adam Lambert: Not sure yet!
Sari: Do you remember the first moment, performance, song, artist, or album that made you fall in love with music?
Adam Lambert: I remember dancing around the living room to "Beat It" by Michael Jackson.
Sari: Looking back on your journey from where you are now, is there anything you'd change, or wish would have happened differently?
Adam Lambert: I only wish I hadn't been so hard on myself as much.
Sari: Do you feel like you were prepared for fame at the beginning of your career?
Adam Lambert: By the time it happened, since I was living in Hollywood, the whole celebrity scene was a bit demystified to me.
Sari: What advice would the Adam of today give to the Adam of 2009 when you were at the height of everything "American Idol?"
Adam Lambert: Go with your gut.
Sari: Do you ever go back and watch your Idol audition? What's your take on it now versus then?
Adam Lambert: No, not really. I recall being quite nervous.
Sari: Your debut album earned you a GRAMMY nomination. What did it mean to you to create that specific body of work at that time in your life and garner all these accolades?
Adam Lambert: I was nominated for Best Male Pop Vocal Performance for "Whataya Want from Me." It was lovely being recognized by the industry. It was very validating.
Sari: Your second album, Trespassing, became the first album to reach the number-one spot in the US and Canada by an openly gay artist. How do you think that recognition swayed the trajectory of your career?
Adam Lambert: Not sure. It's definitely a very important milestone for me personally. It showed me that the LGBTQ+ community was breaking barriers.
Sari: Take me back now to your earlier days with Queen. Looking at it from the perspective of today, how enormous was that first show for you, and how can you put into words the journey that you've been on as Queen frontman?
Adam Lambert: The whole collab has been such a blessing. The first show was a true trial by fire in front of a quarter of a million people. I've learned so much since then, both as a performer and a person.
Sari: What's your favorite Queen song to perform today?
Adam Lambert: I don't have a favorite [laughs]. I love so many of them.
Adam Lambert: There's a video of Queen in Montreal, and Freddie is running around in small white shorts barefoot and having the time of his life. That made me appreciate his humor and his uninhibitedness.
Sari: After the pandemic, you came back strong with Queen in your 2022 tour. Brain May has hinted at a possible final tour in 2023. What's the outlook on that? Any new music together potentially?
Adam Lambert: Stay Tuned!!! We certainly are NOT done.
Sari: What was it like going from music to movies in the world of Freddie Mercury with Bohemian Rhapsody?
Adam Lambert: It was a real honor being a tiny part of such an important part of the Queen legacy. I thought the cast was stellar, and the way the music was weaved in was totally artful.
Sari: You recently starred in your first feature film, Fairyland. What can you tell me about that whole experience?
Adam Lambert: It was a thrill! I loved helping tell the story, which is based on a memoir of a young lady whose father raises her in 1970s/80s San Fran set against the gay liberation movement and then later the AIDS crisis.
Sari: At Sundance, you were honored with The Creative Coalition's Spotlight Initiative Award. What did that mean to you?
Adam Lambert: It was beautiful to be recognized for contributing to queer visibility in indie film. I think the arts have real potential to help shift popular culture.
Sari: How would you define your style?
Adam Lambert: I'm a Ravenclaw who likes to dress up as a Slytherin.
Sari: What inspires your style?
Adam Lambert: I favor anything on the alternative side. Love black. Leather. Distressed.
Sari: How do you put together a look on stage versus what you wear every day?
Adam Lambert: The stage tends to be more glittery. I usually stick to more matte fabrics in everyday wear.
Sari: Tell me how things started with the Feel Something Foundation and what you're working on now.
Adam Lambert: It became important to me to galvanize my fan base in efforts to raise funds and awareness for LGBTQ issues. We are continuing to partner with various charities and centers. I'm looking forward to what we have on the horizon.
Sari: You are currently working on writing a musical featuring original songs and a sensational lineup of collaborators. What can you tell us about that?
Adam Lambert: I'm still keeping the details under wraps, but I can say that it takes place in the 1970s in NYC. It's based on a true story, and it's very queer.