"Mugler always made people look stronger than they really are."
Thierry Mugler "Couturissime" – Is the first retrospective to explore the fascinating, edgy universe of French designer and creator of iconic perfumes Thierry Mugler.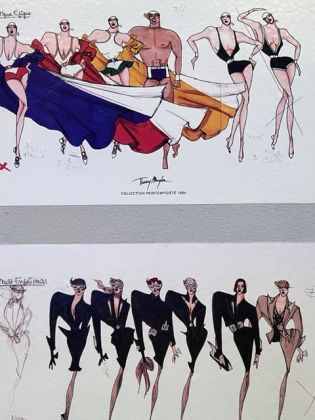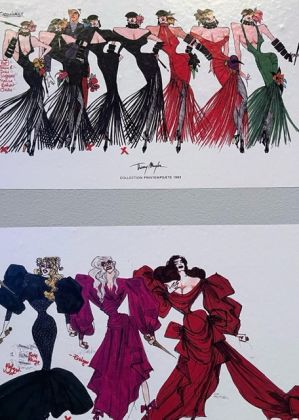 A fashion visionary, Mugler established himself as one of the most daring and innovative designers of the late twentieth century. His bold silhouettes and unorthodox techniques and materials—including glass, Plexiglas, vinyl, latex, and chrome—made their mark on fashion history.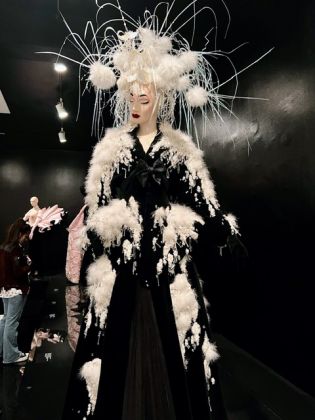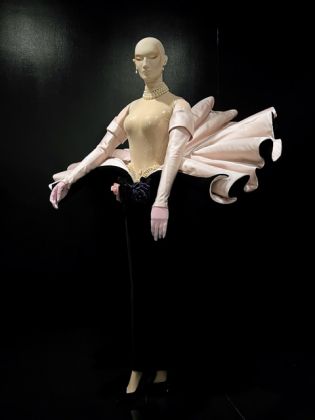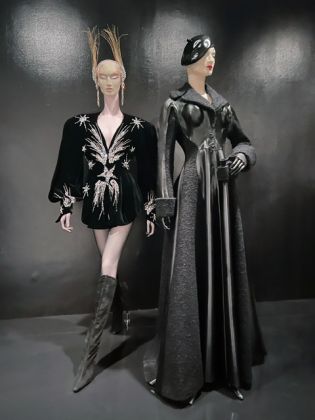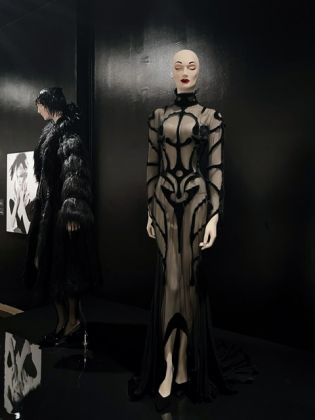 In the 1970s, Mugler defined trends with his acclaimed "glamazon," a chic, modern woman whose style evolved from the hippie fashions of the 1960s. In the 1980s and '90s, Mugler galvanized the renaissance of haute couture through his provocative collections and theatrical fashion shows, which involved grandiose locations and the era's most iconic models. Just as his work is still influencing new generations of couturiers, celebrities continue to be drawn to Mugler's designs: his classic gowns have recently been worn by Beyoncé, Cardi B, and Kim Kardashian.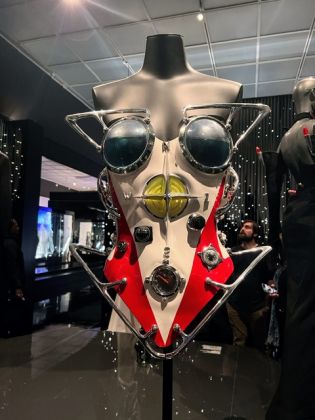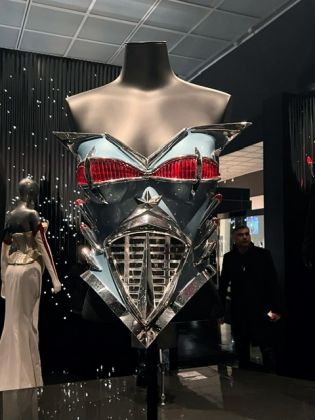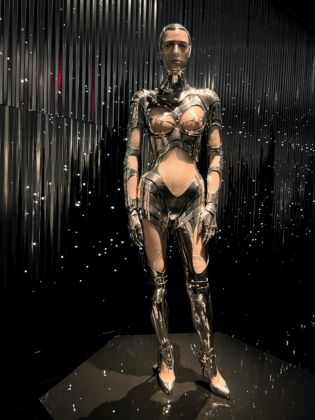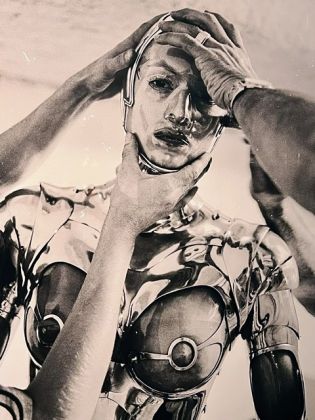 The exhibition features over one hundred outfits ranging from haute couture pieces to stage costumes, alongside custom accessories, sketches, videos, images by leading fashion photographers, and spectacular installations that mirror Mugler's futuristic approach. The Brooklyn Museum's presentation also introduces an expanded section dedicated to fragrance, centered on Mugler's trailblazing scent Angel. Thierry Mugler: Couturissime is an opportunity to discover and rediscover the fantastical work of this multidisciplinary artist, who revolutionized the world of fashion.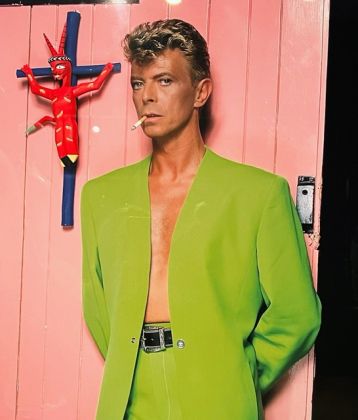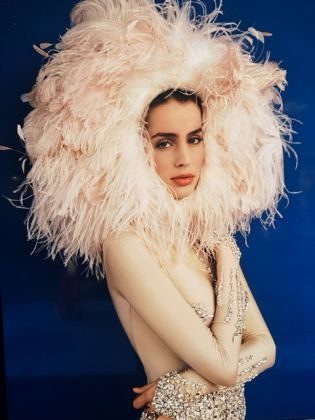 Mugler was given the biggest budget in the history of the Comédie-Française since its founding in 1680 to design more than seventy costumes and accessories for a new staging of Shakespeare's Macbeth. As the designer said, "The actors were all in magnificent armor and breastplates, doublets that were a musculature, leather, and metal, while underneath they were vulnerable." These costumes, made in the theater's workshops, were challenging to realize, given the complexity of the fabrication techniques and the use of unconventional materials. Directed by Jean-Pierre Vincent, The Tragedy of Macbeth (La Tragédie de Macbeth) premiered on July 6, 1985 at the Festival d'Avignon, where it ran for seven nights on the open-air stage of the Cour d'honneur du Palais des Papes; the production was restaged a few months later in Paris.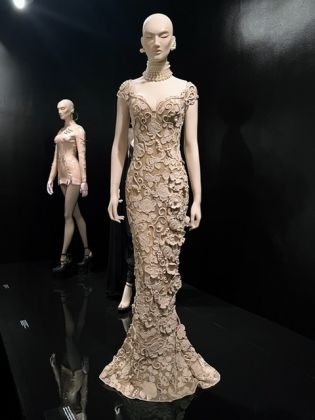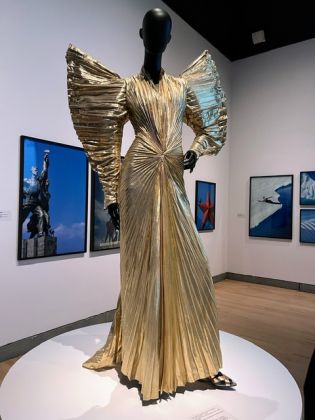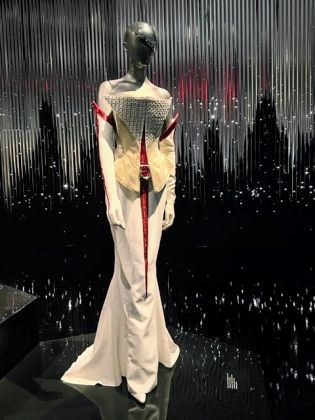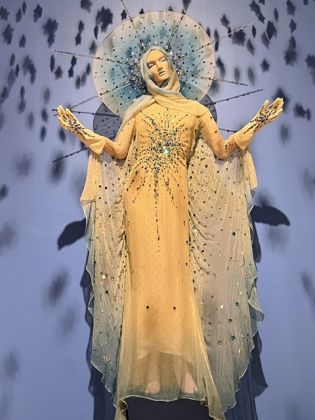 Lady Macbeth's gown is a golden cage with an impressive self-supporting metal skeleton that opens to reveal the deposed queen, bereft of her high platform shoes, clothed in a simple chiffon nightgown. The three witches are encased in sublime Renaissance-style gowns with huge pleated satin ruffs, reminiscent of the blocks of guillotines. Their gowns are torn and charred, with latex appliqués added to create the burnt effect of the blazing bundles of sticks trailing behind.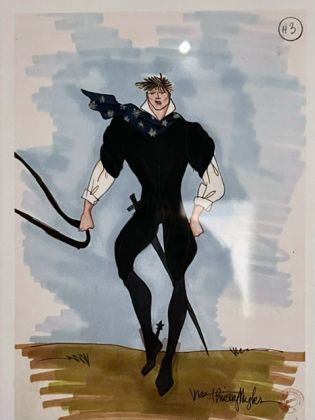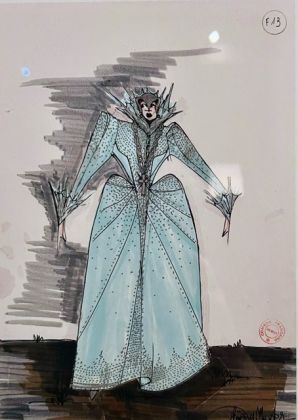 The 3D projection The Incandescence of Lady Macbeth was created by the multidisciplinary artist Michel Lemieux for 4D Art, Montreal. In this scene the sleepwalking queen is increasingly stricken with feelings of remorse and haunted by the blood she imagines on her hands; ultimately, she descends slowly into madness.
A former professional dancer, Mugler considered costume essential in the construction and enhancement of an individual's self-expression-a way of staging everyday life, making it more beautiful and more fun. For his runway presentations, Mugler realized his vision for a theme through casting, lighting, and, above all, the soundtrack. His eclectic mixes ranged from African chants, Egyptian songs, Pop music, and minimalist pieces by the American composer Terry Riley and the German group Kraftwerk to classical works by Beethoven, Verdi, and Wagner, along with the sounds of water, metal, and laughter.
He understood that with celebrities comes celebrity.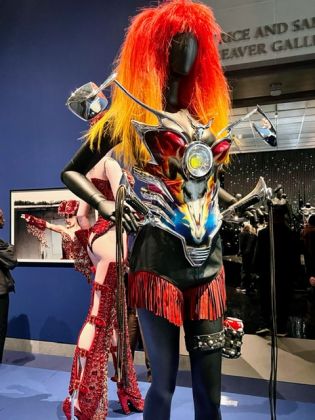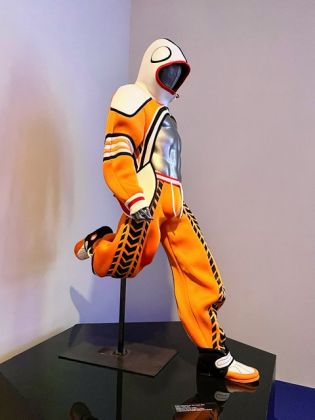 Appearances by them were among the most memorable moments of Mugler's fashion shows, which he always directed.
He was the first to invite guest stars to walk on runway presentations, including such singers and Hollywood actresses as Cyd Charisse, Linda Hamilton, Tippi Hedren, Diana Ross, and Sharon Stone. Rather than using supermodels, as was the previous trend, Mugler's use of celebrities in his fashion extravaganzas came to characterize runway shows in the 1980s.
He also extended his vision through the artistic direction of advertisements, musicals, operas, photography, television programs, and videos: "It's all about making people react and giving them great moments and great sentiments . .. [tol move them, love them."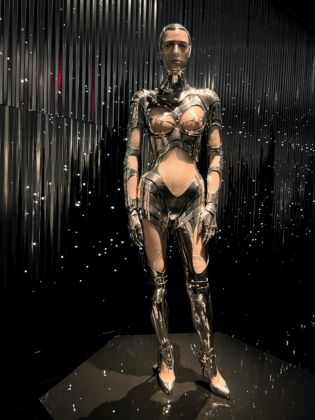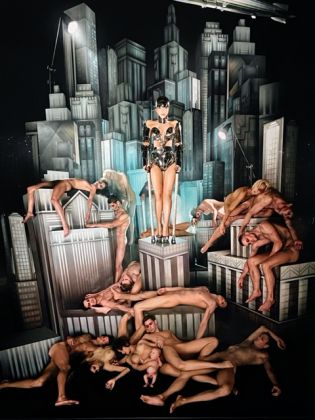 Thierry Mugler: Couturissime was initiated, produced and circulated by the Montreal Museum of Fine Arts, in collaboration with the Maison Mugler.The exhibition is curated by Thierry-Maxime Loriot, guest curator for the Montreal Museum of Fine Arts.
The Brooklyn presentation is coordinated by Matthew Yokobosky, Senior Curator of Fashion and Material Culture, Brooklyn Museum.
About Thierry Mugler
Thierry Mugler is a fashion designer and perfumer from France. He was born in 1948 in Strasbourg. Since he was a young boy, Mugler was passionate about design, art and fashion. This is why he spent more time in drawing various ideas than on his formal education in school. When he was nine, Mugler started learning classical dance. By fourteen, he began his training in ballet corps for Rhin Opera. Around the same time, he studied interior design at Strasbourg School of Decorative Art.
As he turned 24, Mugler shifted to Paris and started designing apparel for Gudule, a Parisian store. Two years later, he began designing for a range of prêt-a-porter fashion stores in different parts of the world.
Celebrities who wear the Thierry Mugler brand, include Lindsay Lohan, Beyonce Knowles, Courtney Cox, Kim Kardashian, Eva Mendes, Nicole Richie, Kate Upton, Kim Cattrall, Gwen Stafeni, Alessandra, Dita Von Teese, Jessica Biel, Gwyneth Paltrow, Katy Perry, Kristen Dunst, Naomi Watts, Lara Stone, Leighton Meester, Abbey Clancy and quite a few others.
Celebrities in attendance for the Grand Opening of Exhibition were; Kylie Jenner, Cardi B, Lady Gaga, among others.
Mugler was included in the top seventy-five companies of France, when he was officially invited by the French Couture Syndicale to present his couture line. These high-end brands share the commitment and passion for creativity, luxury and excellence in the creation and production of each of their merchandizes. Being among the high-ranked fashion designers of France is most certainly an honor since the country is known for its style and trends around the world.
The "Thierry Mugler: Couturissime" exhibition in New York opened to public on November 18, 2022 until May 7, 2023
To order your tickets, refer to Brooklyn museum:
https://www.brooklynmuseum.org/exhibitions/thierry_mugler