U OMAKASE
Greenpointers, are you ready?
Greenpoint is a well-known district of top-rated restaurants, and picturesque waterfront views, with some sensational packed-to-the-max parks and boozy rooftops. Tucked between McGuiness Blvd. and vibrant Greenpoint Ave., in the heart of the Polish neighborhood, where tattooed millennials are always running or biking, you will find a small, unique, non-traditional Japanese restaurant called U Omakase.
Replenish your soul at this intimate establishment that comes complete with a U-shaped dining table and a 13-course omakase dining experience where patrons leave themselves in the hands of chefs Yasu Hirashiki and Luis Durand. Everything from the interior to the communal U-shaped table setup, unlimited sake, modern music, the elaborate multi-course Japanese cuisine built around seasonality, quality ingredients, and exquisite preparations will make your visit feel like a spiritual experience. The ingredients are sourced from Japan and local farms. They are fresh and seasonal, guaranteeing that the menu will be different every time you visit.
The truth of omakase lies in the word. Directly translated, it means, "I leave it up to you."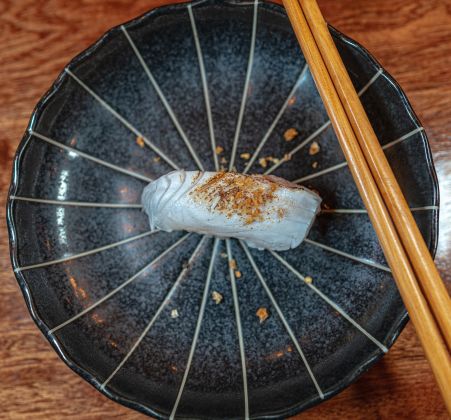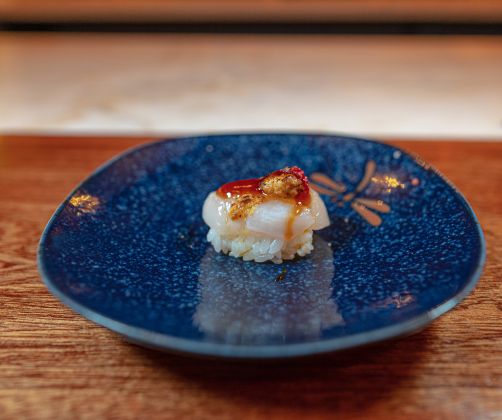 The idea of U Omakase started during the dark days of lockdown. Husband and wife co-owners Luis and Kate moved for three months to Connecticut and rented the house next to Kate's parents. Luis couldn't find any good sushi and started taking trips to the fish market, making sushi for the family. His passion as a foodie transformed into a passion for feeding people and seeing how happy that made them. Around that time, Yasu closed his restaurant in Forrest Hills, and the two began imagining a new restaurant in Brooklyn. U was inspired by the desire to bring people together in a space that is about more than food. Yasu and Luis, together with seasoned business owner Kate (founder of YO BK and co-owner of Novela Cafe Social), and seasoned business owner Arnon Magal (founder of Gotan NYC and Novela Cafe Social [Miami] and co-owner of YO BK Wynwood), dreamed of creating a space that would encourage their patrons to stay a while.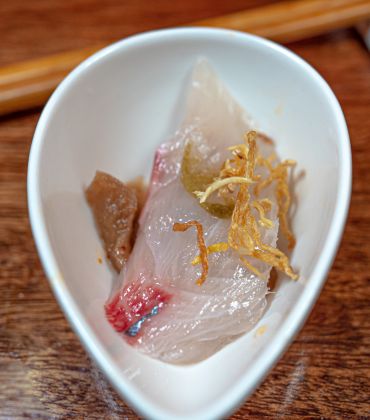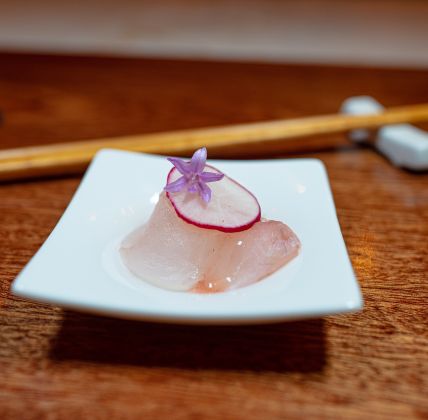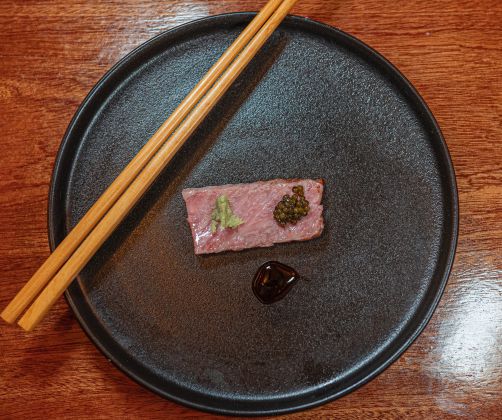 Head chef Yasu Hirashiki is a veteran sushi chef with nearly 50 years of experience. Yasu was born and raised in Okinawa and spent his childhood diving for sea urchins off the Japanese coast. He brought in whatever he didn't eat on the beach to his father's restaurant. By 13, he was working there. That's where he began an apprenticeship under several master sushi chefs – one of which is a two-time winner of Japan's "Iron Chef."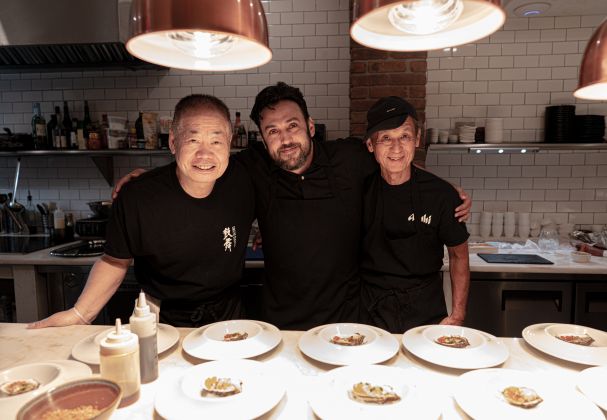 In his 20s, Yasu Hirashiki moved to America and eventually opened a fish market that served sushi from a small storefront. In the true fashion of an artist, he experiments with tastes, textures, and colors, designing one-of-a-kind dishes. As his reputation grew, so did his experience. With a loyal customer following and his surprise dishes, he expanded Sushi Yasu to Forest Hills. Unfortunately, due to the global pandemic, Sushi Yasu was forced to close its doors. However, to everyone's delight, Yasu Hirashiki has found a new home at U Omakase.
Co-owner and chef Luis Durand was born in Asuncion, Paraguay, and moved to the U.S. at nine years of age. Luis became his family's official translator, interacting with the various cultures of Woodside, Queens.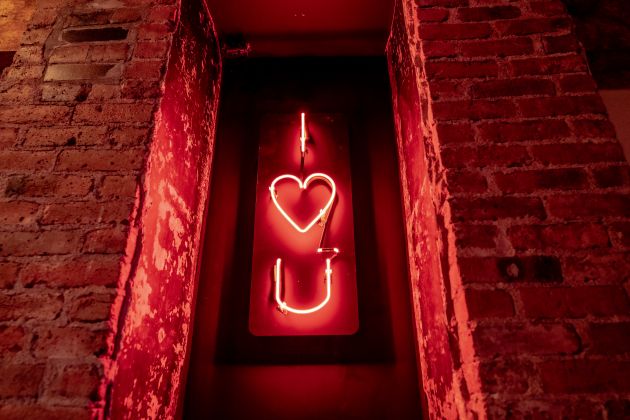 In his early 20s, Luis suffered an accident that left him bedridden for a year and caused him to gain significant weight. Fate had a date when he met Yasu while he was working for the Health Department. Yasu insisted that he shift his diet in favor of vegetables and raw fish. From that moment, a friendship was born – one that has lasted decades. That also marked the beginning of Luis's obsession with sushi. That love was passed along to his 10-year-old son, Jake, who could remarkably taste the difference between salmon and king salmon by three years of age.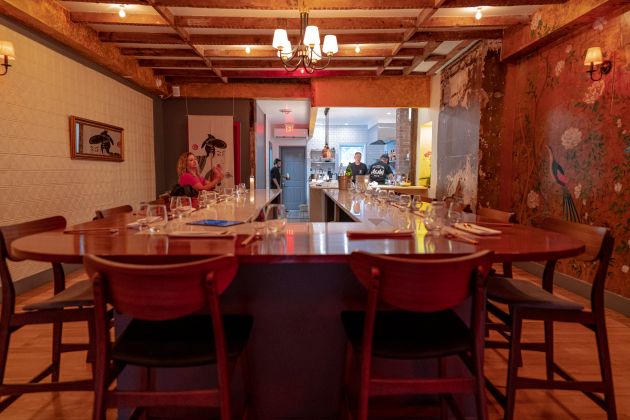 Luis worked as a contractor and interior designer before opening U Omakase. He met his wife, Kate, while building her yoga studio in Greenpoint. Kate and Luis partnered in parenthood and in the restaurant, making both of their dreams come true.
U Omakase is one of the best and most unique restaurants you can find in Greenpoint. It's a place where you can indulge in decadently delicious non-traditional Japanese cuisine. Favorite dishes include Wagu beef with caviar and fresh wasabi, Hokkaido uni, smoked oyster with chili pepper and garlic, and truffle tuna, to name a few. 13 seats, 13 courses, unlimited sake, and an experience you will never forget.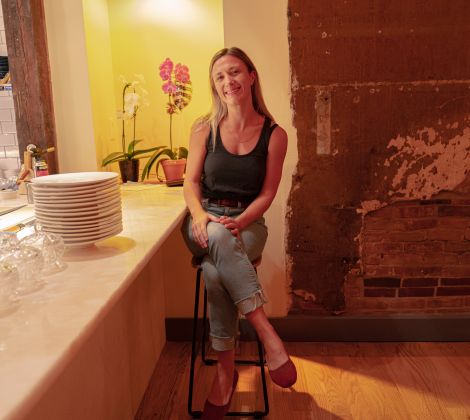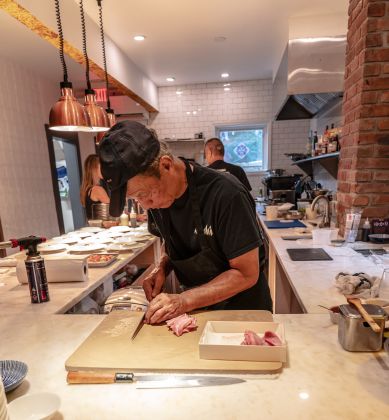 173 Greenpoint Avenue, Brooklyn, NY 11222
Words by Elle Taylor