Curacao is truly a hidden gem, with the colorful capital located at The Dutch Caribbean. 
Curacao was discovered in 1499 by Alfonso de Ojeda. Willemstad, Curacaos' capital city was first established in 1634 and it was built with a strong Dutch influence the biggest island of the former Netherlands Antilles with profound history and a mixture of cultures. Curaçao combines a perfect location, great weather all year round and the kindest people you will ever meet, Dushi indeed!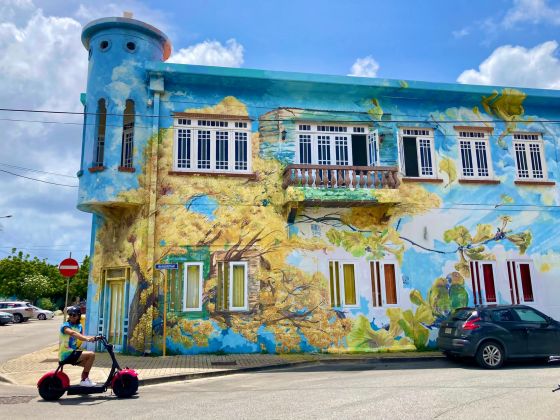 What makes the island special is that you have plenty of activities to choose from, delicious fusion cuisine, music, dancing, underwater sports in crystalline waters, an amazing nightlife, and many other pleasant surprises to explore!
The island is a dream for bloggers, photo addicts and social media gurus. The Dutch have always been very fond of colors; therefore, Curacao's capital Willemstad has gorgeous, colorful buildings covered with this perfect sunlight and where colors blend with all shades of blue that reflects from the beautiful ocean. Curacao is very proud of its cultural inheritance and locals speak multiple languages: Spanish, English, Dutch, Papiamentu, and the local Creole. This kind of diversity is found throughout everything on the island, from the local cuisine to their fashion…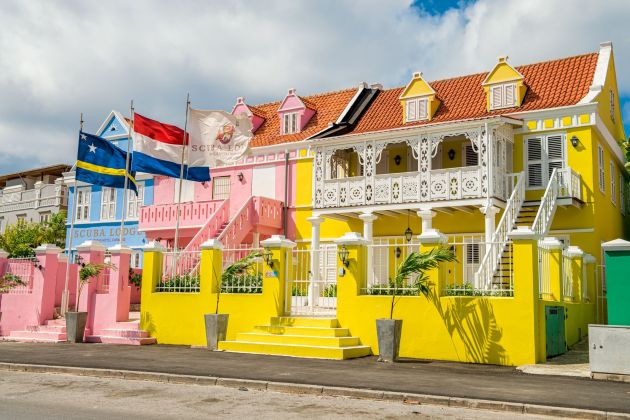 Curacao is known as a perfect island for all kinds of water sports and activities. Explore a boat dive tour at Watamula (derives its name from the Dutch word "Water Mollen" (Water Mill); name of the bordering National Park. Its pristine hard coral formations make this one of the top dive sites of the island. On either side of the hard coral field lay two sandy patches full of giant barrel sponges and soft corals. Curacao is also known for Knip Beach, which is one of the most beautiful beaches on earth. This is the local's favorite beach spot. And don't be shy to visit the west side of the island. Westpunt, or Bándabou in Papiamentu, is the rural, western part of the island. This is where you will find some of the most beautiful beaches on the island as well as the national park and various plantation houses.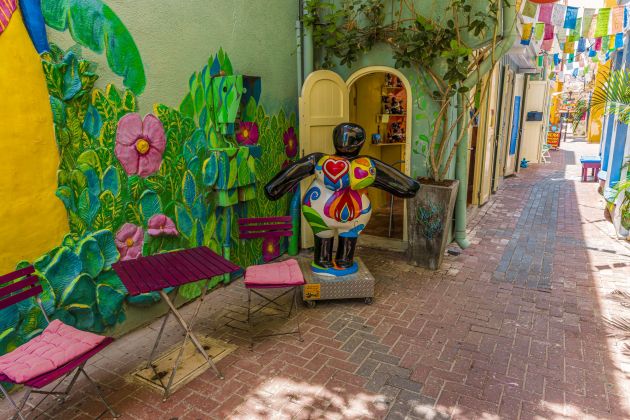 The best way to explore the island starting at Playa Piskadó for the jetski beach hopping giving by Tourrific Curaçao. Visit the treasures of this beautiful island by Jetsky, visiting Kenepa Grandi, Lagun and snorkel into the famous Blue Room. Kenepa Grandi Consistently rated Curaçao's No. 1 beach, Playa Kenepa is located on the west side of the island in a less populated and quieter region. This is local's favorite get away so trust the locals! Lagun is a beach that is mainly known for the beautiful underwater world. Many also call it like snorkeling in an aquarium, so clear. It is therefore a must to go to for snorkeling and diving. Another highlight is The Blue Room Cave is a blue lit cave on the west. You can dive or snorkel in the cave in an almost surreal blue environment. It's a cavern because you can ascend into it. The Blue Room is illuminated in this special way because the sunlight can only reach the inside of the cave through the clear blue water, via the underwater entrance.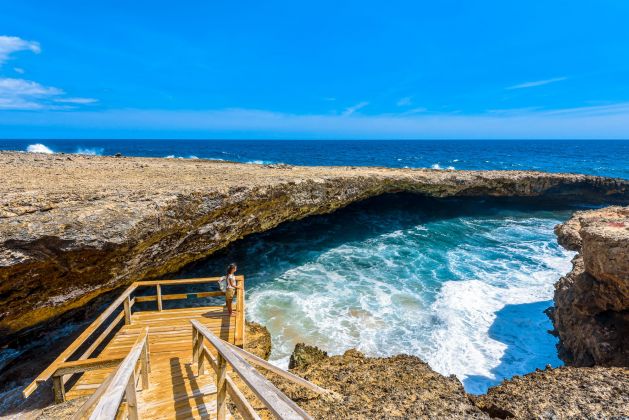 And if you desire more than the beaches and water activities, I highly recommend Willemstad district tour with Curaçao Green Wheels. A very cool way to explore downtown on electric scooters. The historic city of Willemstad, a UNESCO World Heritage site, is must-see, as well as city's four district's Otrobanda, Punda, Scharloo & Pietermaai and see the city's best sights including the Queen Emma Floating Bridge, Wilhelmina Plaza, the Governor's Mansion, gorgeous art murals and so much more.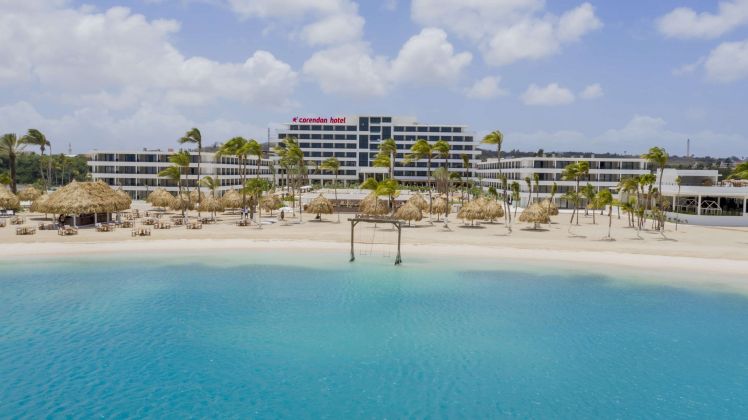 Let's talk about my favorite accommodations, and where to stay on the Island.
Corendon Mangrove Beach Resort is the brand new 5-star resort on sunny Curaçao. The luxury beach resort is surrounded by a mangrove forest, a beautiful and protected nature reserve. On the fine private beach, you can enjoy the peace and warm tropical weather. Relax and lay back in The Don Cigar Lounge with a choice of exclusive Cuban and Dominican cigars. Both lounges can be visited for a fee. Water enthusiasts will have fun in the spectacular aqua park where the famous 'King Cobra' awaits!
Renaissance Curaçao Resort & Casino is another favorite, with ocean views to die for! This 237-room property in the heart of downtown Willemstad just completed an extensive renovation in December 2019. The inviting new lobby and restaurant evoke a nautical feel with sleek, airy, white interiors, rope-inspired details and touches of turquoise and sea foam green. The guest rooms follow suit with clean design lines, sky blue accent walls with wood detailing, geometric light fixtures, and modern bathrooms. Rounding out the updates is the new entrance to the 1,500-square foot Carnival Casino.
Advertisements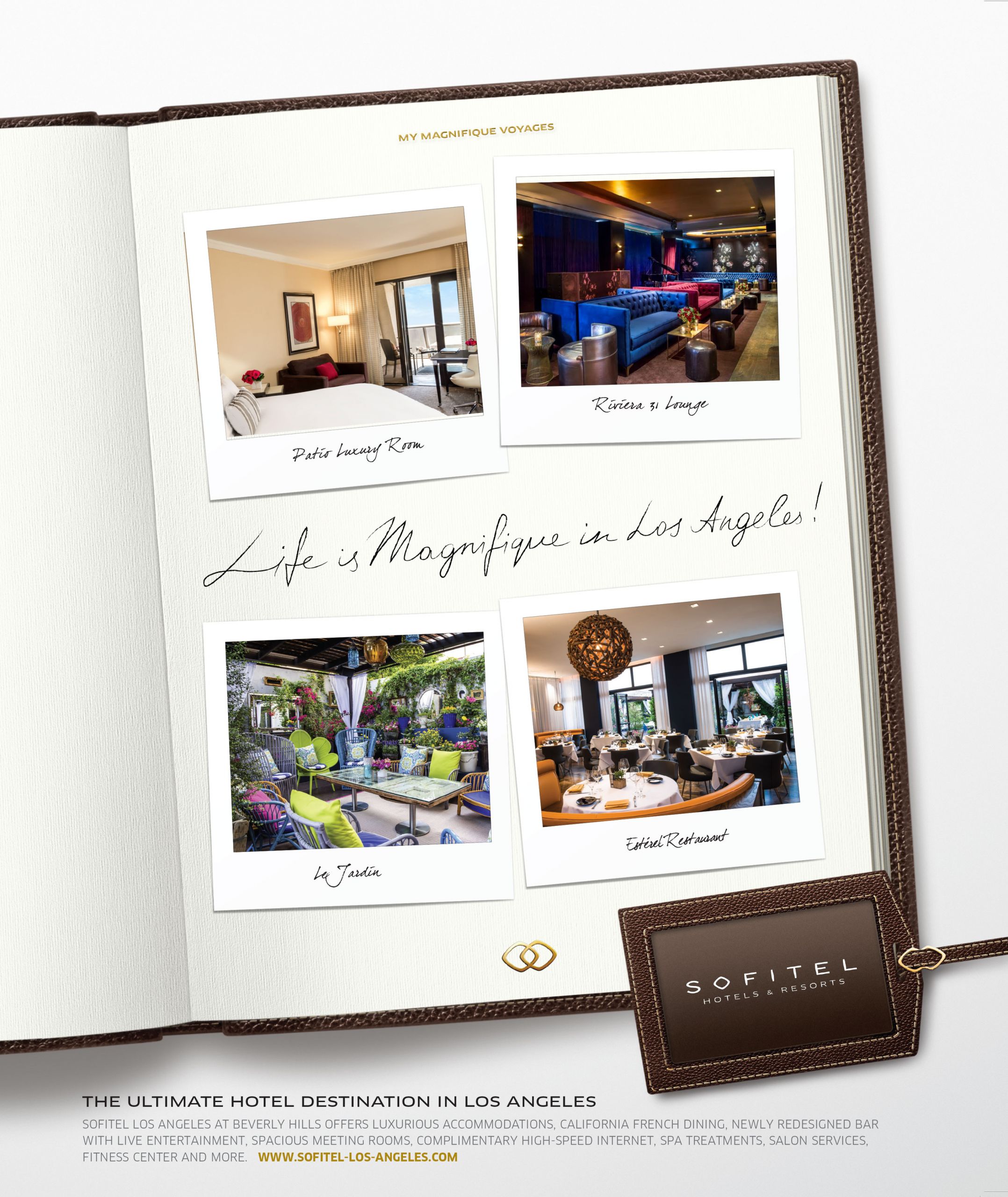 Pardon me, but I am a foodie, and I always talk about good food. BKLYN is a Gastro in the Pen Square area, where I enjoyed amazing quality eats and drinks together with relaxed and cool vibes. And let me tell you, they spread love, the Brooklyn way!
For breakfast, head over to the Nautilus restaurant. Treat yourself to delicious International and Caribbean dishes at our acclaimed on-site restaurant in Willemstad. Open for breakfast, lunch and dinner, Nautilus offers a flavorful buffet and a la carte dining in relaxing indoor and outdoor settings.
Ohh and don't miss lunch at Plasa Bieu (old market) located in the heart of Punda, in Willemstad. The place to find local food, a wide variety of local dishes. The ingredients are bought daily to ensure fresh, tasty meals. Some of the favorite dishes include braised salted pork street, bòkel (salted mackerel), kabes ku higra (cup and liver stew), kadushi (cactus soup), bonchi kòra (red bean bean soup), and iguana soup. Dishes are served with rice and beans, funchi (polenta), mashed potatoes or fries. Indulge in classic Curaçao cuisine. Another great lunch spot is at the Bijblauw situated in Pietermaai, the most vibrant area of Curaçao. BijBlauw has an international kitchen where both Caribbean and European dishes are served. The combination between these kitchens makes for a nice mix, something for everyone! Every day the chef uses fresh products for delicious meat, fish, and vegetarian dishes.
Willemstad district tour with Curaçao Green Wheels. Curaçao Green Wheels is a young and innovative scooter rental specialized in high quality electric scooters. Today, your city tour will be done on these electronic scooters.  The historic city of Willemstad, a UNESCO World Heritage site, is must-see. You'll explore the city's four district's Otrobanda, Punda, Scharloo & Pietermaai and see the city's best sights including the Queen Emma Floating Bridge, Wilhelmina Plaza, the Governor's Mansion, the art murals and more. Painting workshop at Francis Sling Art Cave is a powerful in-between activity and a great way to get in touch with your creativity. In 2018 Francis Sling emigrated to Curaçao to the neighborhood of Scharloo. His colorful home, gallery and workplace became a main attraction to locals and tourist, and a perfect place for his famous paint workshops.
Pre-Dinner Extravaganza is a visit to Cocktail Workshop at Ochenta Cocktail Bar. The newest addition in the trendy Pietermaai district, with knowledgeable and experienced bartenders serving cartful cocktails made with local brands and using the freshest ingredients. And then, head over for Dinner at the Bario Urban Street Food, prepared by Chef Heinrich Hortencia is a dream! Bario is a food market in Otrobanda that has multiple food options, a cocktail bar and a Snèk where guests can taste local food, experience history, music and art. Chef Heinrich is a talented young chef who has worked in several large restaurants including Shore. While living in the Netherlands, he worked in a Michelin star restaurant. At Bario, he creates amazing dishes using local inspirations to elevate Curaçao's local dishes. You can truly taste his passion for food and personality in his dishes.
Let's do Brunch, Curaçao way, at Hofi Cas Cora. It is insanely cool "Farm to Table" experience. Hofi Cas Corais a centrally located family farm on the island of Curaçao. Their house baked breads are out of this world, and they also serve egg dishes, waffles, sandwiches, salads, baked goods, with mostly home-grown or locally sourced produce. Do yourself a favor and explore the farm and its cutest animal kingdom.
A visit to Den Paradera Herb Garden is a magical experience and a healthy one.
'Den Paradera' is Dinah Veeris' home port in Curaçao. Many of the ingredients that are found in Dinah's products originate from her garden. In addition to the fact that many medicinal and caring herbs grow for production, the garden also serves as an educational function on the island. Tourists, as well as school children, are welcome to gain knowledge and to be amazed about the use of medicinal herbs. A truly healing experience!
Bon Bini to Curaçao!
Elena Vasilevsky
What to Do in Curacao:
Corendon Mangrove Beach Resort 
Renaissance Curaçao Resort & Casino 
Playa Piskadó / Blue Room / Tourrific Curaçao