Editor's Letter
Music is Life!
This magical Fall-Winter issue is all about the music and the best life experiences to add to your "To Do" list for 2023.
"Music is a higher revelation than all wisdom and philosophy. Music is the electrical soil in which the spirit lives, thinks, and invents." – Ludwig van Beethoven.
"Life don't come to you, Memphis. You gotta take it. We must take it. Because ain't nobody handing it to us." – Libba Bray
Destination Memphis! This city is where legends are made. Artists such as John "Piano Red" Williams, Lillie Mae Glover, Sleepy John Estes, McKinley Morganfield (best known as Muddy Waters), Sam Chatmon, Joseph Lee "Big Joe" Williams, B.B. King, Johnny Cash, Jerry Lee Lewis, and Elvis (the King himself) were among the most important creatives that shaped the distinctive Memphis blues sound of the mid-twentieth century. While the magic of Downtown Memphis is palpable, at the center of it all is a hotel that holds the key to its heart. Hyatt Centric Beale Street Memphis is the first and only hotel to acquire a famous Beale Street address.
"Winter is coming," said Jon Snow, which means South Florida is calling you. It's always a good idea to ease the winter cold by escaping to the sunnier shores of Las Olas at Fort Lauderdale. It's a perfect destination for fun in the sun. The best way to enjoy your stay in "The Venice of America" is at the Hyatt Centric Las Olas, which offers its guests a sleek sky-high pool with unbelievable city views, and a modern American menu featuring global culinary influences.
Gracing this season's cover is Canadian singer-songwriter and "pop-punk princess" Avril Lavigne. In 2022, Lavigne released her seventh studio album. Love Sux (her first under Travis Barker's DTA Records) features vocal collaborations with artists like Machine Gun Kelly, Blackbear, and Blink-182's Mark Hoppus. Songs such as "Bois Lie" and "Bite Me" tap into the nostalgic sound Lavigne embraced 20 years ago, inspiring a new generation of girls with her empowering progressive pop-punk ways.
"Be true to thine own self" and "Bring your own uniqueness into the world," says sex-symbol Brock O'Hurn, our Fall-Winter edition's Man Cover star. In 2016, he made his big screen debut in Tyler Perry's "Boo! A Madea Haloween," a role he reprised in the 2017 sequel. After a series of TV appearances, including HBO's smash hit "Euphoria" and more recently playing Torsten in the HBO comedy "The Righteous Gemstones," O'Hurn is on the path he first dreamt of as a child.
When you are in Brooklyn and stuck between the three bridges, in the heart of the borough's trendiest neighborhood, Williamsburg, the focal point is right on the waterfront. The location, the experience, and the most beautiful sunset view you can imagine sit right before your eyes while you dine at the best Williamsburg waterfront location, The Sea Wolf. And just a short walk to Greenpoint, you can find several gastronomic staples, each specializing in its own competence. Wasabi, the longest-standing Japanese Indonesian staple, offers traditional Japanese dishes fused with Indonesian flavors and a French influence brought to you by Robby and Cristin Wijaya. And the newly opened U-Omakase offers a 13-course unique omakase dining experience where patrons leave themselves in the hands of chefs Yasu Hirashiki and Luis Durand.
If you watched the movie "Under the Tuscan Sun" and prayed to visit Tuscany, do it! The beautiful Renaissance Tuscany Il Ciocco Resort & Spa in Barga is waiting for you. This hospitality gem overlooks the peaceful Serchio Valley. It is one of the most relaxing and rewarding travel destinations among the Tuscan hills. The property offers beautiful rooms with a view of the Tuscan mountains. You can also enjoy the panoramic views in the heart of Lucca, where time stands still in a historic property, the Grand Universe Luccahotel. It was recently rebuilt and is full of exciting surprises.
The fun abroad continues with our Fall-Winter Musical Edition, as we invite you to experience 'Prelude of Existence' at Grand Universe Lucca. There, local composer, Andrea Anfuso, curates a personal musical prelude (just for you) after meeting with you and understanding your key personality traits. That's right, you can bring home an original musical masterpiece created just for you.
For enchanting experiences, key destinations, and inspiring personalities, read the issue, take it all in, and create your own Winter Wonderland resolutions for 2023.
May your troubles be less, your blessings be more, and nothing but happiness come through your door.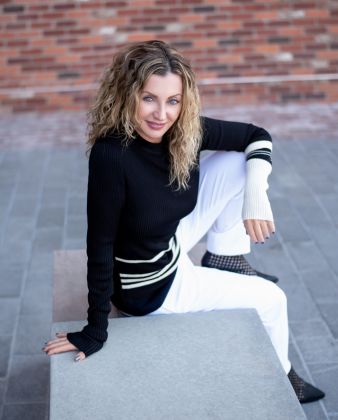 With love,
Elena Vasilevsky
(Editor-in-chief)